2009
2009 Extras!
November 2009
Educators explore connections between land and sea
Educators from around the island explored ways to bring coral reef education into their classrooms at the 2009 Teacher Camp.
The teacher workshop based on the "Ridge to Reef" theme looked at the connections between land and sea, and explored ways in which teachers can share that knowledge with students. Land-based pollution is one of the greatest threats to coral reefs today.
Together with field experts, the teachers toured Kagman Wetland Education Island, Garapan Watershed and Tank Beach - part of the Forbidden Island Marine Sanctuary. The camp was held Saturday, Nov. 21.
Teachers took home activity folders, which will help them develop lesson plans. As a follow-up to the camp, upon completion of three "Ridge to Reef"-related lesson plans, teachers and their classes will embark on educational field trips funded by Mariana Islands Nature Alliance (MINA).
The camp is a combined effort of MINA, Coastal Resources Management Office, the Division of Fish and Wildlife, the Division of Environmental Quality and the CNMI Coral Reef Initiative.
The following is a list of camp presenters and topics:
Brooke Nevitt, Coastal Resources Management: Ridge to Reef: Making the Connections
Lisa Eller, Division of Environmental Quality: Watersheds
Laura Williams, Division of Fish and Wildlife: Wetlands
Kathy Yuknavage, Mariana Islands Nature Alliance: Marine Debris
To learn more about upcoming Teacher Camps, contact Brooke Nevitt, CRM Education and Outreach Coordinator at 664-8300.
CTSI, Fiesta Resort and Saipan Grand Hotel Eliminate trash for MINA's Adopt-A-Bin Program!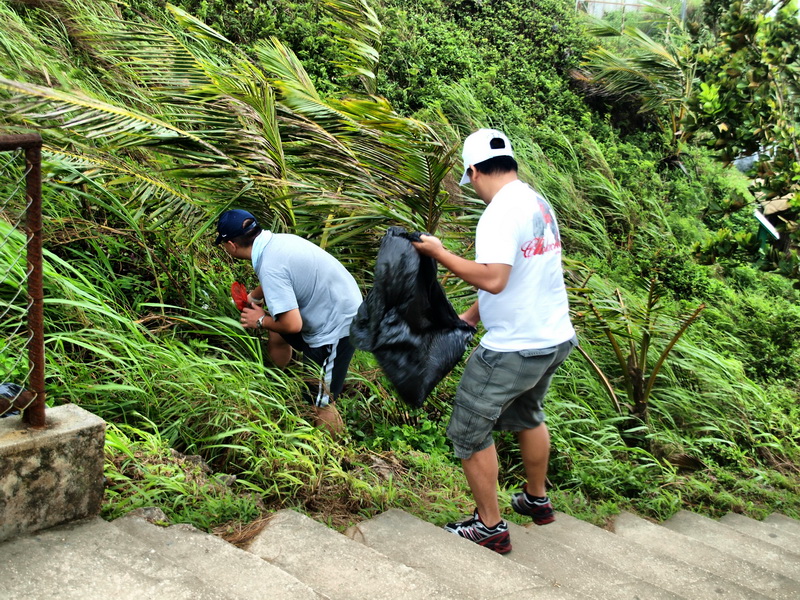 Volunteers from CTSI, Fiesta Resort and Saipan Grand Hotel brave dizzying heights, mountainside winds, and tropical rainshowers to ensure their designated Adopt A-Bin site was free of any trash and other debris! Over the course of their sponsorship with MINA's Adopt-A-Bin program, over 640 volunteers from these three businesses worked tirelessly to ensure they help MINA acheive their environmental goals and keep our islands free of trash that could very well end up in our fragile marine environments. Here is a snapshot of CTSI, Fiesta Resort, and Saipan Grand Hotel's environmental stewards in action.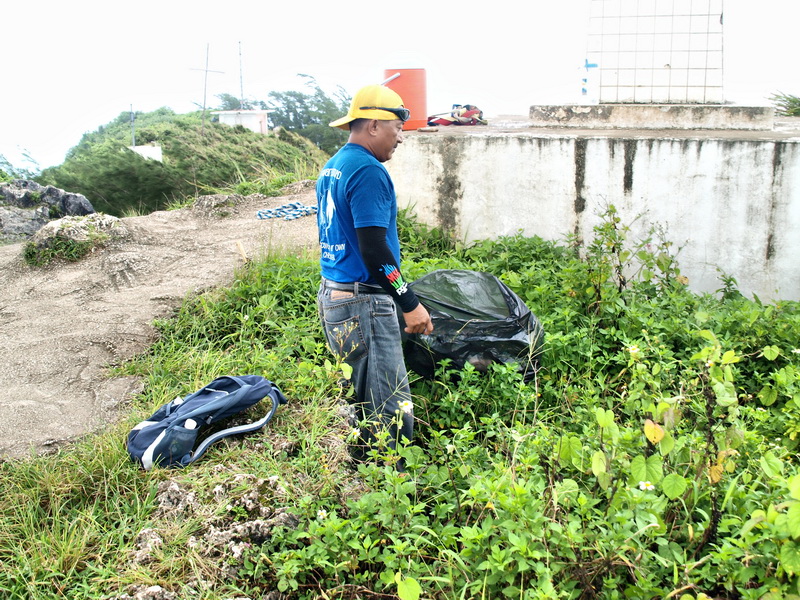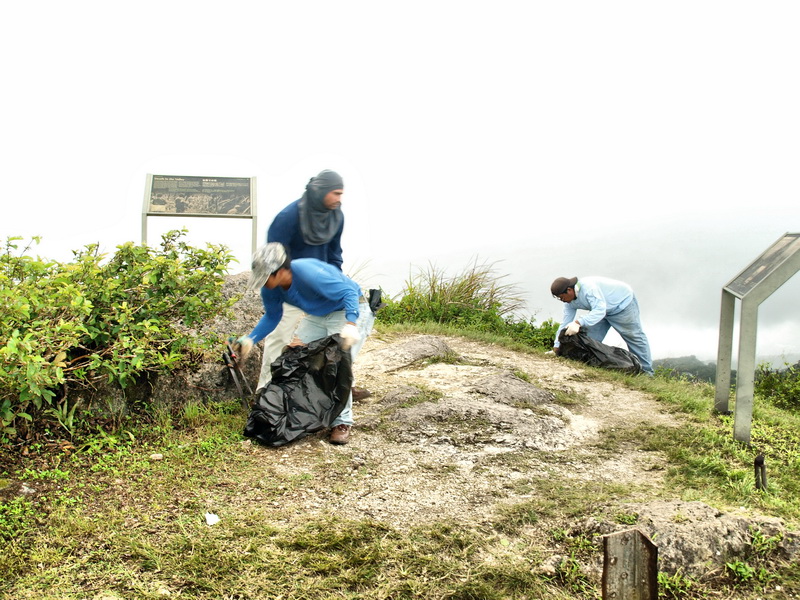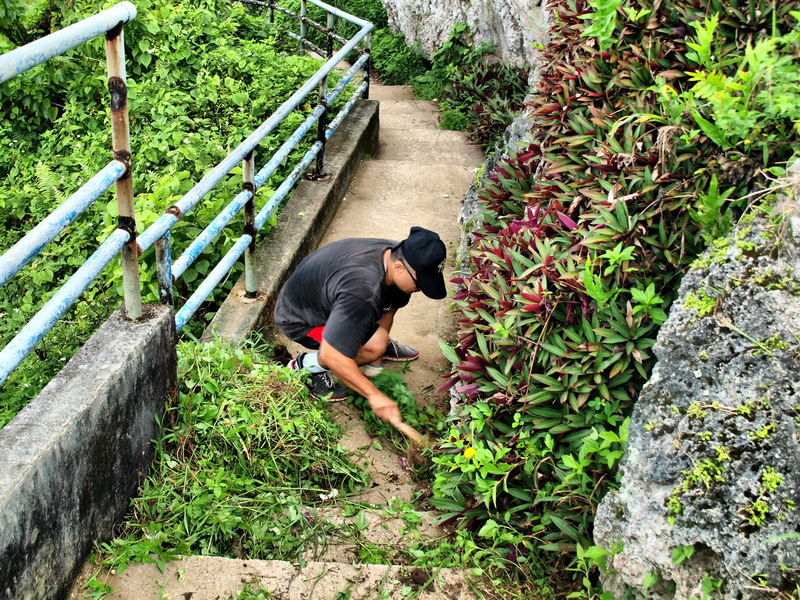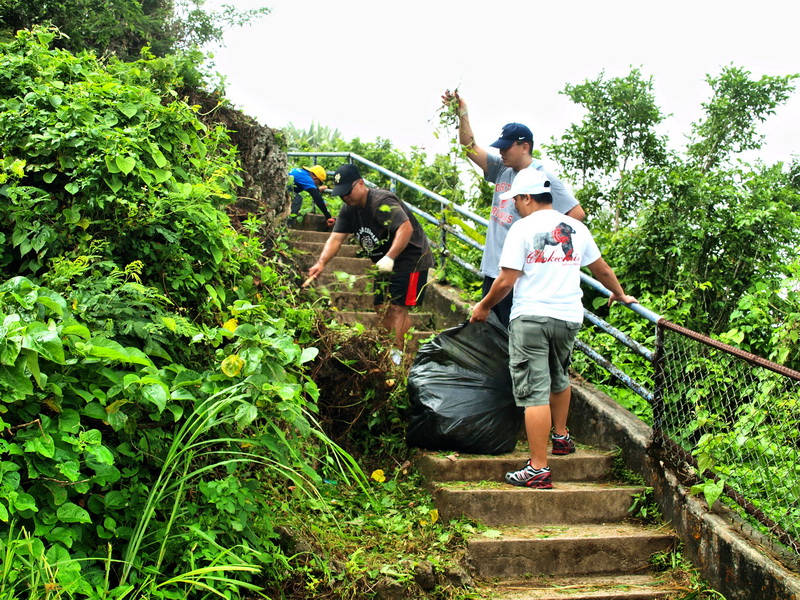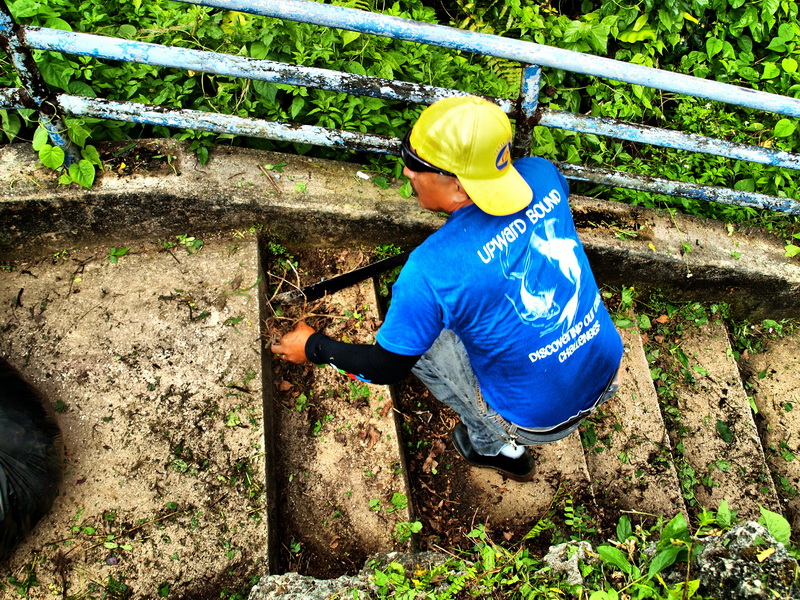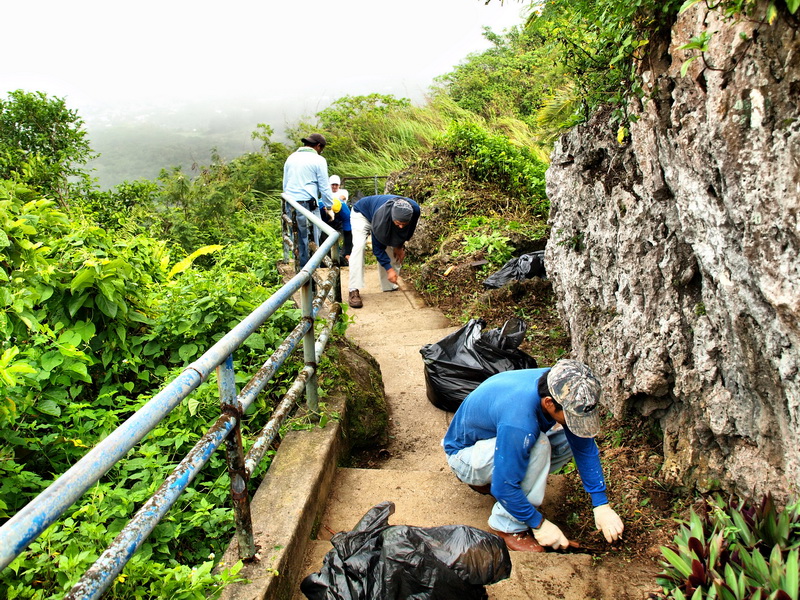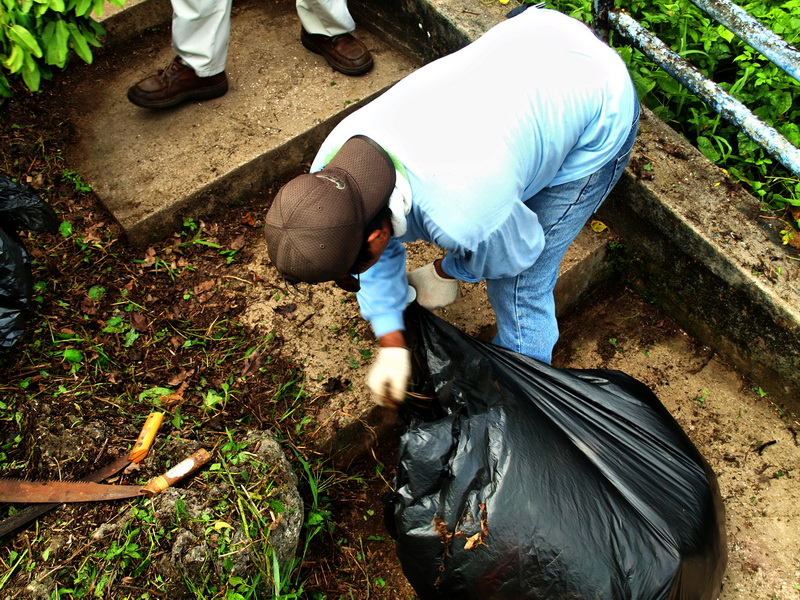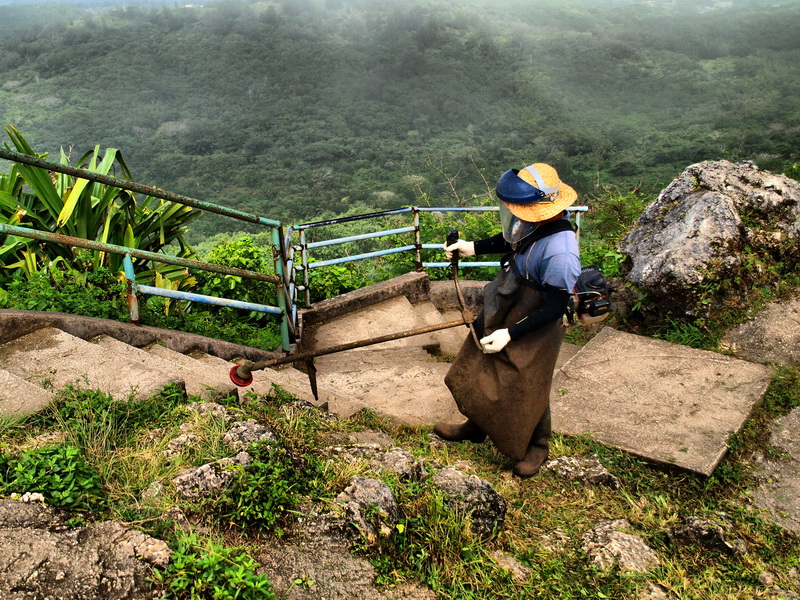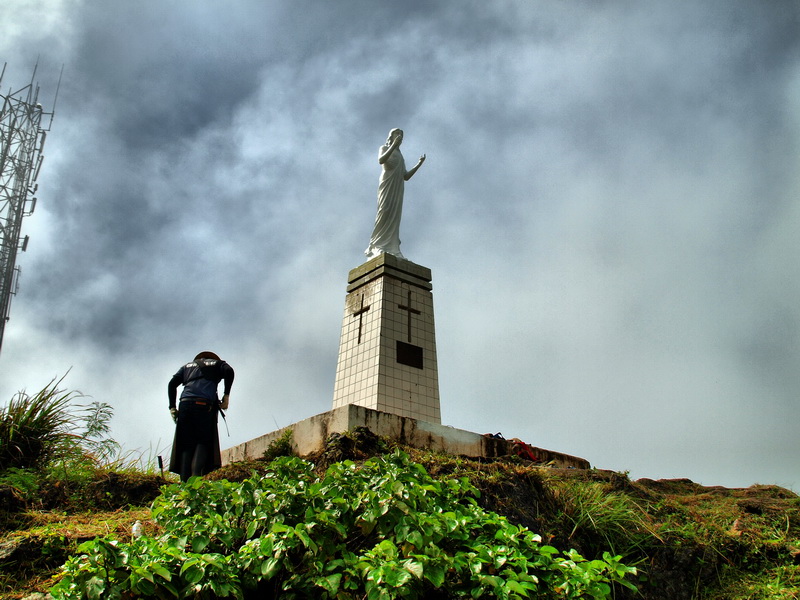 Coastal Resources Management Office Sponsors Three Bins!
The Coastal Resources Management Office (CRM) has joined MINA's Adopt-A-Bin Program by sponsoring three recycling and mixed waste bins. After waiting for 3 long months, CRM was able to secure some federal funds to help pay for the trash hauling services for each of the bins for 2 years. The bins were placed at three locations: Paupau Beach, San Isidro Beach, and Coral Ocean Point. " Now that we have all these bins installed at various beaches throughout the island we hope that the people will continue to dispose their trash properly and help reduce or prevent trash from entering our lagoon" says MINA's Executive Director, Sam Sablan. As part of the Adopt-A-Bin Program, each sponsor is responsible to organize at least 2 beach cleanups per year at their sponsored site. Thank You Adopt-A-Bin Sponsors!
Community Alliance for Marine Debris Prevention!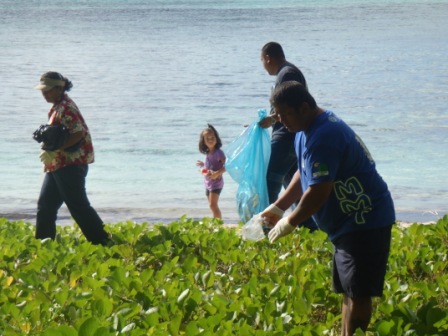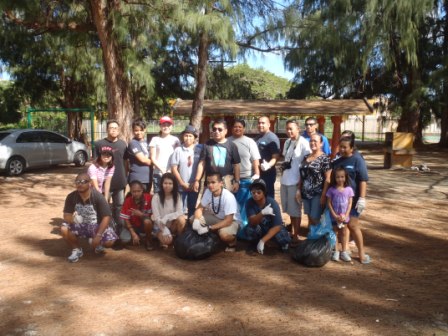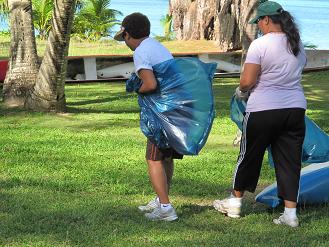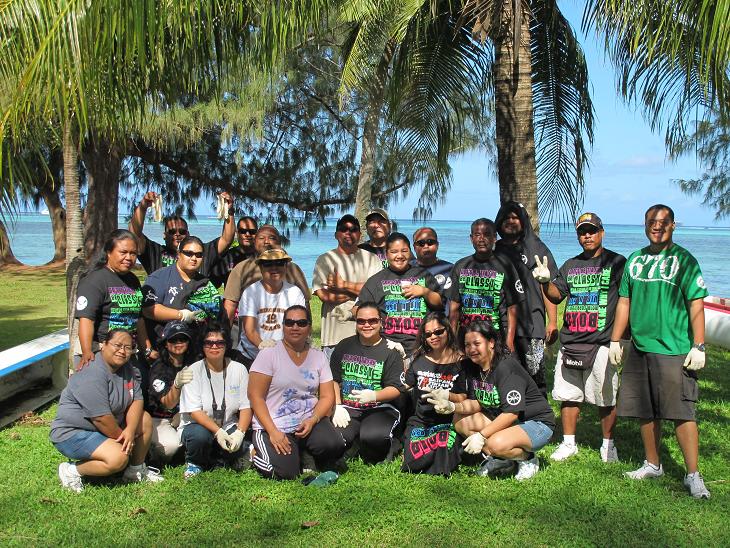 Volunteers from Northern Marianas College, Coastal Resources Management, Department of Public Health, and Mariana Islands Nature Alliance take part in obliterating trash from our beautiful beaches.
A weekend of beach clean-ups was what Saipan ordered, as an alliance of community efforts from volunteers at the Coastal Resources Management Office, Northern Marianas College Service Learning Program, the Department of Public Health and the Mariana Islands Nature Alliance obliterated trash on two of Saipan's beautiful beaches.
Last Friday, the beaches behind Lali 4 obtained a thorough cleanup as students from NMC's Service Learning Program partnered up with CRM's employees to clean up their Adopt-A-Bin site. It seems the cleanup efforts have had a positive effect in recent months. "Maybe because it was before a weekend, but the beach seemed cleaner than the other times I've been here," added Jon Igitol, Outreach Coordinator of Mariana Islands Nature Alliance.
On a separate event held last Saturday morning, the Department of Public Health and the Mariana Islands Nature Alliance organized a beach cleanup at the Civic Center beach areas. Over 20 volunteers from DPH and MINA were present.
The effort was successful for both cleanups! In total, about 31 bags of trash and wood debris were collected, 2% of which are recyclable items.
Kids4Kids Carnival RESCHEDULED to November 11th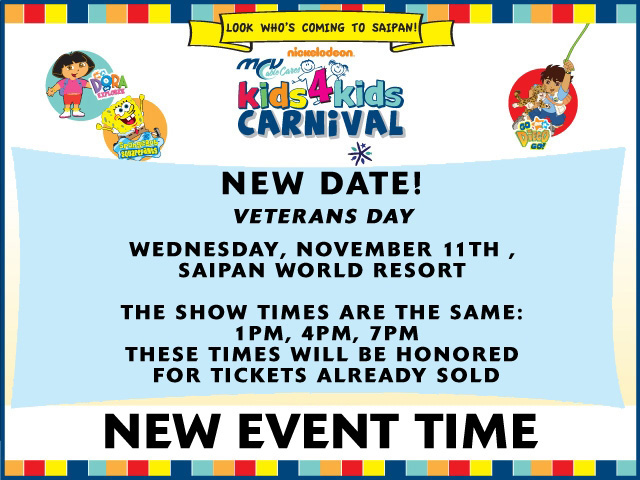 Please join us November 11th at the World Resort Jungle Park to meet Sponge Bob and Dora the Explorer. Stop by MINA's Marine Debris Removal learning station to find out what you can do to keep Sponge Bob's home free and clear of marine debris.
MINA Featured in NOAA Coastal Service Magazine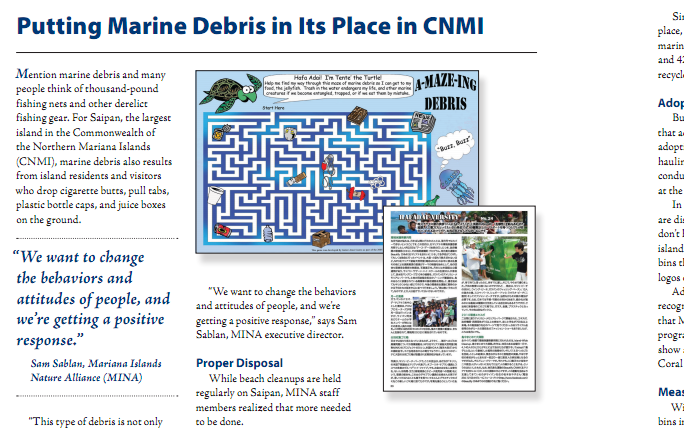 MINA continues to receive recognition for it's efforts in the field of environmental awareness. Founded in the Mariana Islands, this non-profit organization has been reaching out to the community through various means to promote a more friendly environment on the island of Saipan. In the past few months the staff of MINA have teamed up with volunteers from various schools to tackle different events doing such things as distributing recyclable bags at the Thursday Street Market, Tuesday Farmer's Market, and Sabalu Market, introducing the Adopt-A-Bin program to the island, deputizing students of different elementary schools, etc, all in a huge effort to prevent marine debris from entering Saipan's waters.
After an over-the-phone interview with Executive Director Roberta Guerrero and Project Manager Jolly Anne Cruz, NOAA attained all the information necessary to put together an article that would feature MINA in a popular environmental magazine. For the text version of this article click here , or to view the PDF version click here.
For more information on MINA please call 233 REEF, send us an email at minaoutreach@gmail.com, or drop by our office on Gualo Rai Ceenter uint 103 to see how you can become a volunteer and do your part to help out.
October 2009
MINA organizes 350 event - A Call for Climate Action
On October 24th—People from around Saipan will gather to participate in the largest day of climate change activism ever. Participants will join more than 2,000 communities in over 150 countries as part of a global day of action coordinated by 350.org to urge world leaders to take bold and immediate steps to address climate change and reduce carbon emissions.
Events in Saipan will include:
A marine monitoring demonstration at one of several coral bleaching sites

An eco-bag giveaway to promote recycling and reuse at Payless Supermarket

A gathering of church members in recognition of the issue of climate change to form a human 350 at Mt. Carmel Cathedral lawn

A gathering of ocean sports athletes at a community-wide canoe paddling competition at the Fiesta Resort.
All events will occur at approximately 9:00 a.m. on October 24, 2009.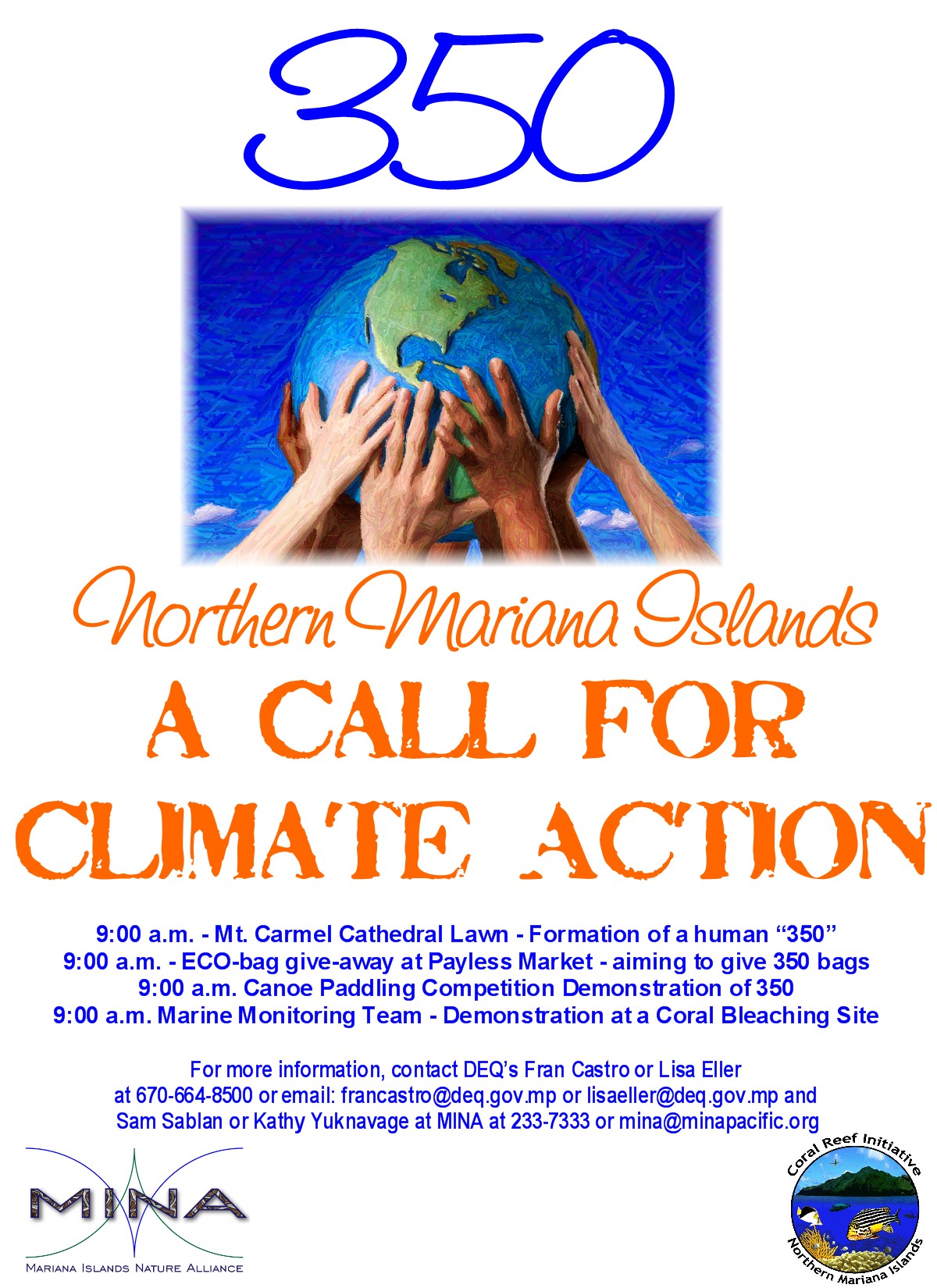 September 2009
MINA Receives Marine Debris Grant
The Mariana Islands Nature Alliance (MINA) aims to cut the amount of Saipan's marine debris and promote recycling through a project newly funded by the National Oceanic and Atmospheric Administration's Marine Debris Program.
A local nonprofit, MINA received a $100,000 competitive grant from NOAA to fund its project titled, "Establish an Island Culture of Recycling to Reduce Marine Debris in Saipan's Waters."
Through the grant, industrialized recycling bins will be purchased and placed in 7 high visibility beach sites. The project objectives are to: 1) prevent harm to living marine resources by reducing the amount of land-based marine debris entering Saipan's waters; 2) restore natural scenic views to revive the CNMI as an eco-tourism destination; and 3) extend the life of Saipan's Landfill through increased recycling.
MINA will accomplish these objectives by conducting an 18-month Marine Debris Education and Outreach Campaign to increase public awareness of debris impact by 25% and to establish an Island Culture of Recycling, through the promotion of proper waste separation and disposal, thereby reducing the amount of land-based sources of marine debris by 70%. These strategies will remove both real and perceived barriers to proper waste disposal, resulting in a decrease of beach litter and marine debris.
MINA will also partner with businesses to promote a community "Adopt-A-Bin" Program, which will pay for recycling bin acquisition and, maintenance and waste hauling. Each business will be able to place their logo on bins, sponsoring them for one (1) or more years. The program will promote and provide recognition for Saipan's eco-friendly and community-oriented businesses.
The grant also provides job opportunities for a part-time Executive Director and a project manager for the Marine Debris program.
MINA is a nonprofit organization dedicated to the conservation of the diverse natural resources of the Northern Mariana Islands. MINA's members come from all walks of life and are united by the clear understanding that the people of the Northern Mariana Islands have the right and responsibility to act as stewards of their natural inheritance.
For more information, please contact the MINA Office at 670.233.7333, email mina@minapacific.org or visit http://minapacific.org.
June 2009
Pacific Islands Environment Conference
Register for the Pacific Islands Environment Conference which will be held on June 22-26, 2009 at the Saipan World Resort. You can register online at www.deq.gov.mp. Topics include: alternative energy, climate change, the Micronesia Challenge, Marianas Military Buildup, Coral Reefs and Watersheds, Brownfields, Water and Wastewater and Education and Outreach.
February 2009
US Military Expansion
Would you like to comment or express your concerns about the proposed expansion of US military training exercises in the CNMI?
A copy of the draft Environmental Impact Statement (DEIS) for the Mariana Islands Range Complex as well as a comment submission form is available at the Mariana Islands Range Complex Environmental Impact Statement website.
NEPA workshop
Public hearings are an important part of the National Environmental Policy Act (NEPA) process. Want to learn more about your role? MINA will be co-hosting a NEPA workshop for the general public this Summer in coordination with the National Park Service. The specific date and time will be announced via email and on this webpage approximately two weeks before the event.
Talakhaya revegetation continues!
A total of 21, 498 tree and grass seedlings were planted at the Talakhaya watershed.
The watershed is located on the island of Rota. It has suffered from illegal burning and severe soil erosion. Local resource agencies, schools, community organizations and volunteers are partnering to restore this watershed.
MINA continues to assist in this revegetation project in facilitating the payment of volunteer stipends to approximately 25 unemployed residents of the island of Rota. Future revegetation efforts are in the planning phase.