2019-2020
Learning About, Interacting With, and Actively Conserving Our Natural Resources
Participating Schools and Participants
Admiral Herbert G. Hopwood Middle School

Ms. Riya Nathrani

Irene Wang

Laura Wang

Leilani Attao

Princess Gerardino

DanDan Middle School

Mr. James Montenegro

Jett Montenegro

Mai Peters

Mharc De Belen

Mount Carmel School

Mrs. Eleonor Alejo

Mercedes Cruz

Riana Travilla

Tiana Torres

Tyana Tesiro

Saipan Community School

Mr. Justin Cook

Drei Camacho

Leighton Palacios

Lola Guerrero

Sheryne Yang

Saipan International School (2 Teams)

Mrs. April Liske-Clark

Andrew Chung

Andrew Sablan

Jinie Thompson

Pyper Liske-Clark

Jason Yu

Lya Kim

Phoneix Gross

Zi Hao (Michael) Zhou
Workshops
Orientation

Environmental Stewardship – MINA

Micronesia Challenge – Pheona David, Micronesia Challenge Young Champion / Office of Planning and Development

Reef Report – Rodney Camacho, Bureau of Environmental and Coastal Quality (BECQ) Division of Coastal Resources Management (DCRM

Climate Change – Mallory Muna, BECQ DCRM & Colleen Flores, BECQ DCRM

Conservation Action Plan(ning) - MINA

Laolao Bay Reveg Site Field Experience

Ridge to Reef and The Plants In-Between – Zachary Williams, BECQ DCRM

Fire Hazard and Mitigation – Ilan Bubb, BECQ DCRM / NOAA Coral Fellow

Ocean Awareness Field Experience

Coral Reef Initiative – Mallory Muna, BECQ DCRM & Colleen Flores, BECQ DCRM

CNMI Sea Turtles – Carey Demapan, DLNR

Marine Protected Areas / Marine Debris – MINA

CNMI Snorkels – David Benavate, Denise Perez, John Iguel & Rodney Camacho, CNMI Marine Monitoring Team

Final Presentations

Guest Speaker: Shannon Sasamoto, Miss Northern Marianas (former SFEC participant)

Participating SFEC School Participants
School Project Objectives
Admiral Herbert G. Hopwood Middle School

Proposes to preserve and restore the beauty of their old campus by planting trees and flowers in addition to collection rainwater through a rainwater collection system to be used to water the plants.

DanDan Middle School

Proposes to restore lost shade trees from Super Typhoon Soudelor and Yutu with local fruit trees that will be benefitted as bird habitat, shade and rainwater control.

Mount Carmel School

Address the effects of climate change on campus through outreach and upcycled collected plastic water bottles instead of sending them to the landfill.

Saipan Community School

Reduce the overall campus/beach trash by 90% by installing trash cans along the beach side behind the campus grounds and monitoring amount collected and planting trees on campus.

Saipan International School (Team I)

Proposes to plant 100 trees on campus, convert 100% incandescent bulbs to LED within SIS campus and decrease air-conditioning usage in each classroom by one hour per day.

Saipan International School (Team II)

Proposes to plant 15 fruit trees on campus, build four raised garden beds and achieve two days per week where snacks are provided from the garden instead of store-bought items by September 2022.
Knowledge Survey Results and Comparison
Questions
What is Climate Change?

What are the effects of Climate Change?

What are the causes of Climate Change?

Marine Protected Areas (MPAs) do what?

Name the MPAs of the CNMI.

What activities are restricted at the Managaha Marine Conservation Area?

What is a watershed?

What are the functions of a watershed?

Where does water from the street and parking lots go?

Do you know of any watersheds on Saipan?

If you marked yes to question 10, please name a watershed.

What is a coral?

What types of coral reefs are found on Saipan?

What is environmental stewardship?

What are the 6Rs?

What are the actions of an environmental steward?
Results
Collaborations
Bureau of Environmental and Coastal Quality (BECQ) - Division of Coastal Resources Management (DCRM)
Department of Lands and Natural Resources
Press / Media Releases
February 20, 2020 - MINA to hold annual conservation event for schools
October 14, 2020 - MINA's Schools for Environmental Conservation Orientation: A virtual success
November 12, 2020 - Schools for Environmental Conservation: Preparing for the Future with MINA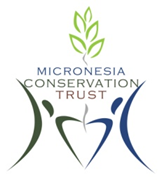 Funding for this year's SFEC program was provided by the Micronesia Conservation Trust with the region's aim to meet the goals of the Micronesia Challenge: 2020 Milestone and Beyond.
Last Updated 2/17/2021