2017-2018
---
Environmental Camp 2017-2018
Schools for Environmental Conservation
Learning About, Interacting With, and Actively Conserving Coral Reefs in the CNMI
Hafa Adai and Tirow! The Micronesia Island Nature Alliance is pleased to reintroduce the Schools for Environmental Conservation Program with an exciting new theme, "Learning About, Interacting With, and Actively Conserving Coral Reefs in the CNMI." This program provides students and teachers the opportunity to gain hands-on experience, not only to learn about the CNMI's unique coral reef ecosystem, but also help promote and encourage environmental stewardship on their school campuses and throughout the island community. The keystone of this project is the participation of Saipan's high school and middle school teachers and a small group of their students working together to create a Conservation Action Plan (CAP).
MINA has observed that participating students pursue careers in environmental science and return to the Marianas to continue promoting biodiversity, environmental conservation, and sustainable living. Through this program, we hope to continue to encourage the next generation's interests in the environmental field.
To learn more about MINA's programs and how we empower communities for conservation, contact us at minaoutreach@gmail.com, visit our website at www.minapacific.org, like us on Facebook @MINAPACIFIC, and/or call us at 233-REEF.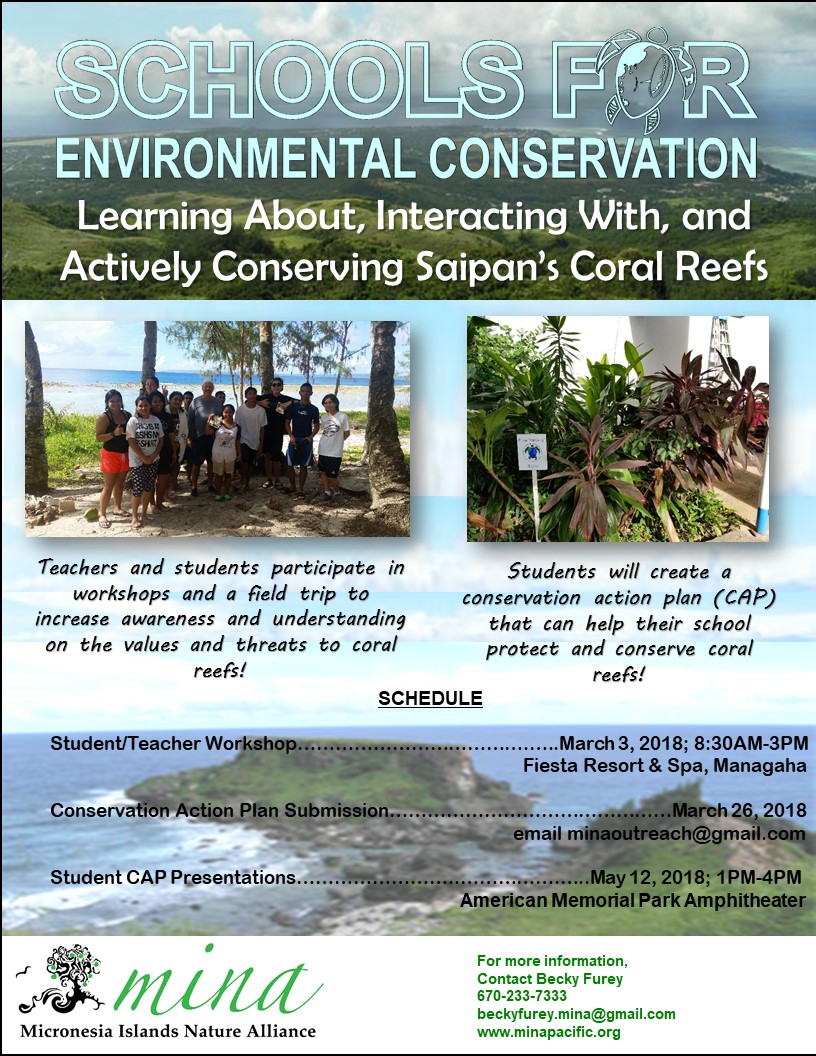 For more information, contact Becky Furey at beckyfurey.mina@gmail.com or 233-7333.
---

The Environmental Camp Program is funded by the Department of Interior Coral Reef Program. For more information, click on www.doi.gov to visit their website.
Press Releases
Schools for Environmental Conservation
March 08, 2018
Micronesia Islands Nature Alliance hosted a coral reef conservation workshop this past weekend for teachers and students from various high schools and middle schools on island as part of their "Schools for Environmental Conservation" or SFEC program.
Participants attending the workshop included students and teachers from Saipan Southern High School, Kagman High School, Mount Carmel High School, Tanapag Middle School, Dandan Middle School, and Francisco M. Sablan Middle School.
Coral reefs have become a growing concern worldwide, and part of MINA's efforts in conservation in the region is to align this year's programs with the Third International Year of the Reef.
The curriculum designed for this one day educational workshop introduced awareness of the concept of "think global, act local."
Presentations from environmental experts in the CNMI focused on the theme of "Learning About, Interacting With, and Actively Conserving Coral Reefs."
Jihan Younis of the Division of Coastal Resources Management; Dr. Lyza Johnston of the Bureau of Environmental and Coastal Quality; David Benavente of DCRM; Mallory Muna of DCRM; and Brooke Nevitt, former Executive director and MINA volunteer, presented a wide array of information, with lectures and activities including the Micronesia Challenge, Coral Reefs 101, CNMI Marine Monitoring Program, Conservation Action Planning, and ways the community can get involved to help protect and conserve the islands' precious coral reefs.
One of the most important components of MINA's "Schools for Environmental Conservation" is the development of Conservation Action Plans or CAPs. The students involved in last weekend's workshops are now in the process of developing these CAPs to help their respective schools ameliorate the threats to coral reefs and promote environmental stewardship among their peers. Students will present their CAPs this May.
In addition to the workshops, SFEC participants were treated to a field trip to Managaha to join a CNMI Snorkels event, a hands-on opportunity where they learned about the marine ecosystem while enjoying the island's pristine waters.
All these activities are completely funded by MINA with support from the Coral Reef Initiative/Natural Resources Program in the Office of Insular Affairs.
MINA expresses its sincere appreciation to all teachers, students, presenters, volunteers, and MyCapitures Photography for making this year's SFEC a huge success.
To learn more about how MINA empowers communities for conservation, visit MINA's Facebook page, email MINA at minaoutreach@gmail.com, or call MINA at 233-7333 (REEF).
Participants of MINA's Schools for Environmental Conservation gather together before heading back to Saipan.
MINA Program Manager Becky Furey explains the next steps to participants.
CNMI Snorkels events at Managaha led by DCRM's Jihan Younis and Mallory Muna.
Students from Dandan Middle School discuss their conservation action plan for their school campus.
Issac Tenorio of Dandan Middle School learning about the CAP process.
Clarissa Masga of Francisco M. Sablan Middle School explores ideas with her students.
Brooke Nevitt provides steps on developing a sucessful conservation action plan.
David Benavente of DCRM provides information on the CNMI Marine Monitoring Team.
CNMI Snorkels at Managaha.