School Efforts
School Presentations and MINA's Litter Patrol

MINA is now providing class room presentations to teach our elementary, middle and high school students about the hazards posed by marine debris and how to prevent their contribution to this worldwide problem please view our teachers presentation here.
Elementary students attending classroom presentations on Marine Debris Prevention are asked to pledge their time to show family, friends and neighbors how to recycle. The Litter Patrol is also asked to volunteer time to set up recycling stations at home, during family picnics, and other social gatherings.
I promise to throw litter away,
and show others how to recycle the right way,
I will respect my ocean and the land,
by protecting it with my own two hands,
I need to care,
because out island is our home to share
Pledging students are deputized as Litter Patrol officers and given these badges to wear while performing their pledged dutires. If you are a teacher and would like MINA to give your class a presentation please contact Jolly Ann Cruz at minaoutreach@gmail.com to schedule a time and date.
MINA volunteers were able to get this enthusiastic young group of individuals to play the 'how long until its gone' game, where these young ladies actively tried to figure out the proper placement of the magnet cards on the environmental timeline.
MINA Deputizes New Litter Patrol Officers!
MINA has been busy throughout the past months developing and conducting presentations at local public and private schools about the dangers of marine debris. This month, MINA Director Sam Sablan, Outreach Coordinator Jon Igitol, and Micronesia Challenge Intern David Sablan Jr. gave presentations to Ms. Obie Diamante's 3rd grade class, and Ms. Naomi Ada's 5th graders at Mt. Carmel School, as well as the entire Kagman Elementary School 2nd grade class headed by Ms. Ernesta Funkugub, Ms. Lacey Nerdig, Ms.Ma. Hellena Jebehn, Ms. Imee N. Talon, and Ms. Amber Sankkinen. The students learned what marine debris was, the main types of trash found on our islands, and the importance of recycling and proper waste management. In total, 124 students from Mt. Carmel Elementary School and 90 2nd grade students from Kagman Elemantary School were all deputized as MINA Litter Patrol Officers. We congratulate and commend them for being part of the difference our islands need!
SCS 8th grade students sweep Susupe Park of possible Marine Derbis!
On a hot sunny mornig right before lunch, Mr. Schrader's Physical Education class came out to Susupe park to prevent about 30 pounds of possible marine debris. For one hour in the sizzling sun, these students climbed the old japanese bunkers and got on their knees to make sure no trash was left behind. As they got into pairs of two, they sped off covering the whole Susupe park, avoiding the huge puddles of water and but still having fun. Lets give a round of applause for our young environmental stewards!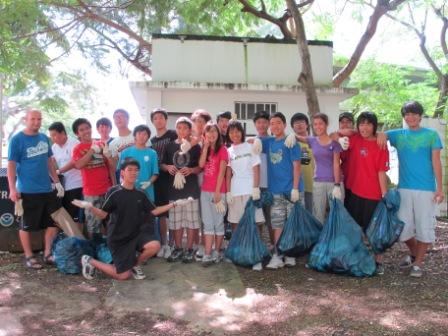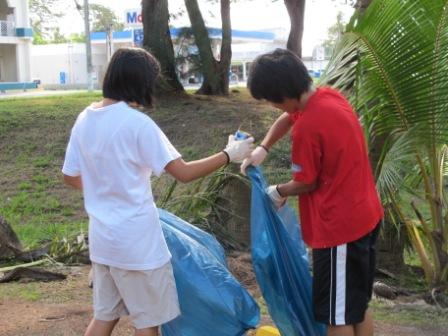 MHS Dolphins obliterate waste around their campus!
Ms. Springer's Health Sciences class took time out of their busy class schedules and worked together in the blazing Saipan afternoon to give back to their high school by eliminating trash and other harmful debris in and around the MHS campus areas. More than 9 full bags of trash were collected with many students searching in storm drains and thick sword grass to find hidden plastics, aluminum cans and cigarette packs among a plethora of discarded waste. MINA applauds these bright young individuals for their anti-littering efforts!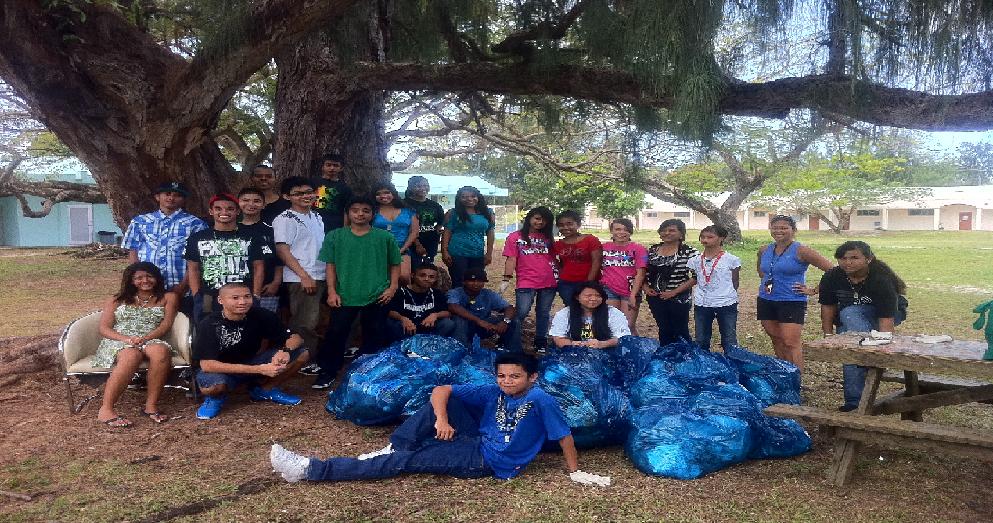 Ms. Springer's students proudly show Dolphin pride!
Garapan Elementary School 1st Graders Destroy Garbage at Marine Beach!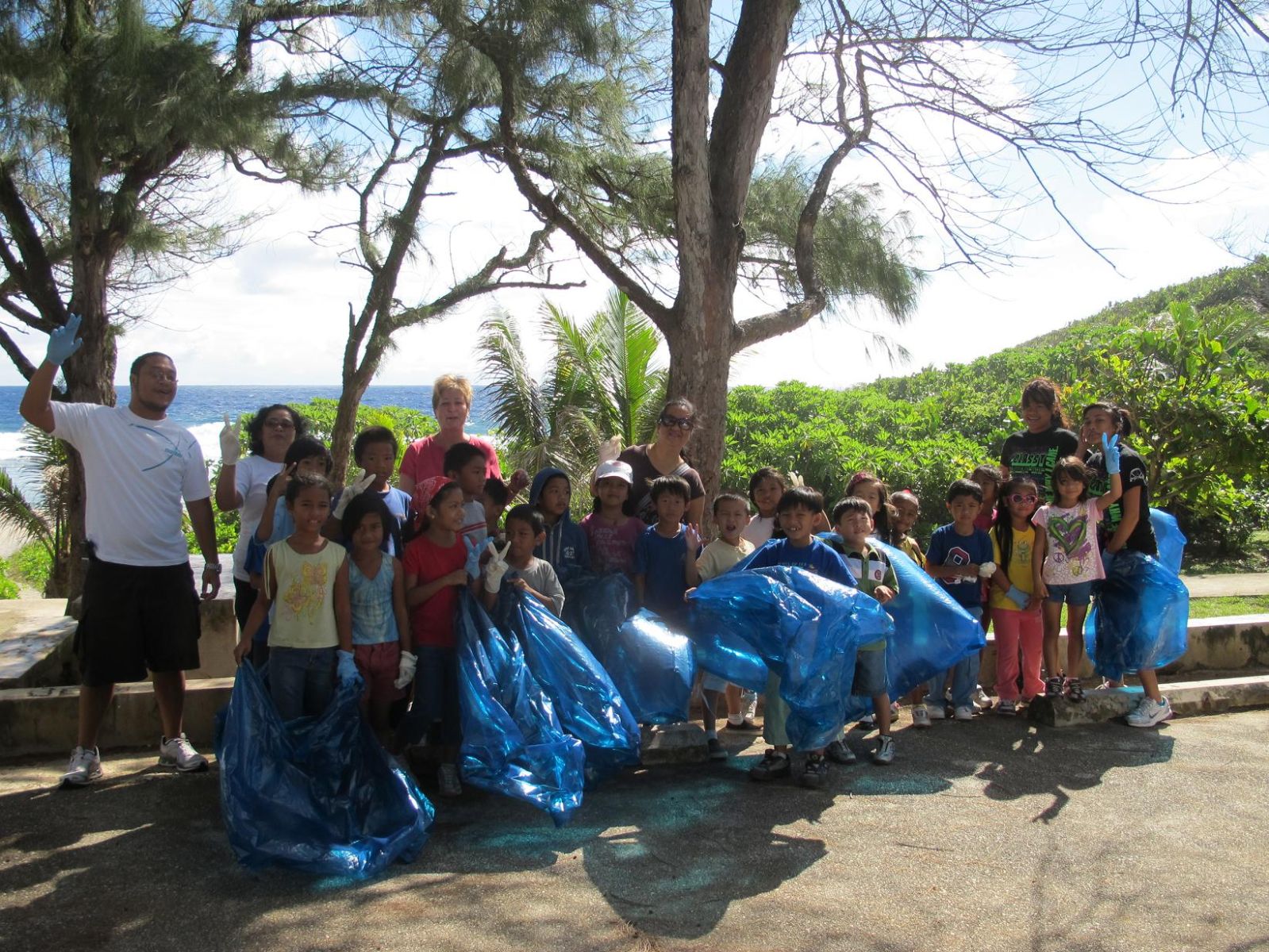 A day at the beach wasn't the only thing on these bright first graders minds! Julie Curry's 1st Grade class from Garapan Elementary School took time on a Friday morning to take a trip down to Marine Beach and learn about the real dangers of marine debris, what happens when trash is washed onto our beaches from sources outside the island due to the sea currents, and what we could do to prevent and protect marine life from the abundance of refuse present in our waters. Rachel Zuercher from the Coastal Resources Management offices took time out of her day to speak to the students about wetlands and the various plant and animal species at Education Island, and through an exciting activity showed the students how all the species were interconnected and dependent of one another. Here are some sights and sounds from this amazing day!
Oleai Elementary School 3rd Graders Become Litter Patrol Officers!
Following in their 5th grade classmates stead, the entire 3rd Grade Class at Oleai Elementary School took the pledge to become the latest Litter Patrol Officers! Outreach Coordinator Jon Igitol presented to the class to teach the students about what common types of Marine Debris is found around the island, the dangers they pose to many types of marine life, and what they could do to prevent the spread of debris from land based sources of pollution. We applaud these young environmental stewards for stepping up and being the real change Saipan needs to remain beautiful and serene! Here are some sights and sounds: