2008
September 2008
Coral Reef Teacher Camp
On September 4th and 5th Coastal Resources Management Office, Mariana Islands Nature Alliance, and the Pride Campaign hosted the 2008 Coral Reef Teacher Camp. Working in conjunction with PSS Professional Development days, the Teacher Camp was an opportunity for teachers to learn about the CNMI's coral reefs and how to incorporate coral reef education into their lesson plans.
During the two day camp, experts from the Division of Fish and Wildlife, the Division of Environmental Quality, Coastal Resources Management Office, and MINA discussed with teachers a range of topics from coral reef biology to enforcement. The group also went on field trips to talk and learn about coral reefs outside the classroom and in the field.
In addition to these activities, teachers met Primo, the Yellow Crowned Butterflyfish. As the mascot for the CNMI Pride Campaign, Primo's mission is to introduce the community to his special species and remind people about the importance of caring for our reefs. The Yellow Crowned Butterflyfish is found only in the Marianas—no where else in the world! If you see Primo at school, at the Street Market, or any other event, be sure to say "hi."
To successfully complete the camp, each teacher will contribute three lesson plans. Two of which will take place in the classroom, and one which will take students out into the field for a "hands-on" learning experience. And, it doesn't end there. These lesson plans will be shared with other teachers and incorporated into next year's teacher camp program.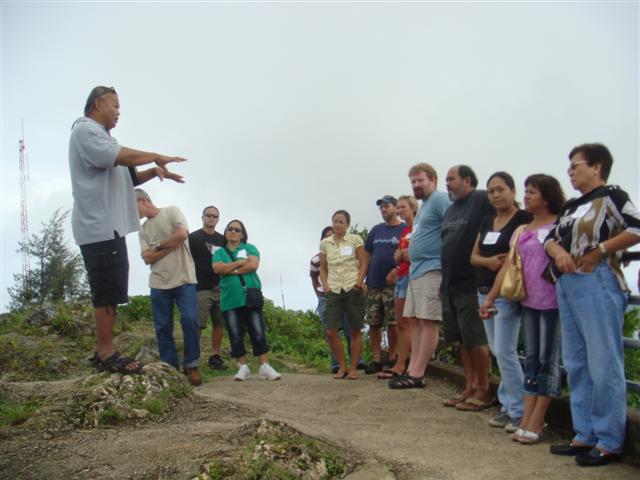 For more information, or to participate in the next Teacher Camp, call Brooke Nevitt at Coastal Resources Management Office 664-8320 or send an e-mail to pridecnmi@gmail.com.
Celebrity Cleanup A Success!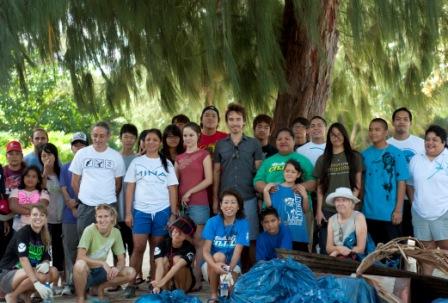 About 30 volunteers got together to cleanup the beach behind Aquarius Resort on Sunday. Mainly comprised of Southern High School YEA Club, Beautify CNMI!, MINA volunteers and other smaller organizations teamed up to welcome Sharkwater film Director Rob Stewart to the islands. He was really impressed as to how clean our beaches were and that he looked forward to seeing more beautiful sites while on island.
May, 2008
Thank You Light in the Eve!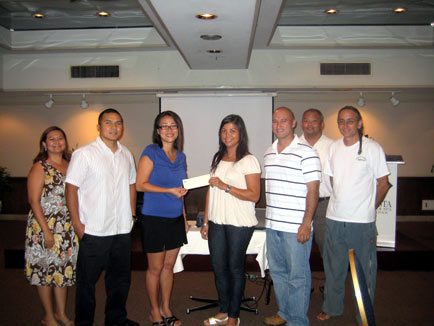 L-R MINA Board Member Reina Camacho, LITE's Peter Sablan, LITE President Teresa Kim, MINA Chair Fran Castro, MINA Vice-Chair Laurence Boyer, MINA Secretary Chuck Sayon
and MINA Board Member Ron Smith accept the check from Light in the Eve.
The Mariana Islands Nature Alliance (MINA) received $6,000 from the Light in the Eve Foundation (LITE) at MINA's annual general membership meeting held on Friday, May 30 at the Fiesta Resort and Spa. The $6,000 will go towards the 2008 Teacher Summer Camp.
New Board Member
MINA would like to welcome their new board member, Ms. Agnes M. Sablan also known as Sam. Sam has recently moved back to her home in Saipan. She is also a member of Famoksaiyan, a successful nonprofit organization in Northern California. Sam also attended the Government of New Zealand and the South PacificCommission's (SPC) Fisheries Training Section for Seafood Enterprise Operations and Management for Pacific Island Women, and also graduated from the School of Culinary Arts in San Francisco.
Board Size Reduced
By vote of the board, the MINA By-Laws have been amended to reduce the number of the Board of Directors to 9.
Current Board Members
Frances A. Castro, Chair
Laurence Boyer, Vice-Chair
Chuck F. Sayon, Secretary
Vacant, Treasurer
Kathy L. Yuknavage, Board Member
Reina C. Camacho, Board Member
Ron Smith, Board Member
Agnes M. Sablan, Board Member