2010
2010 EXTRAS
2010 International Coastal Cleanup Report
A letter from Rachel Zuercher of CRM, part of the Coastal Cleanup Planning Team:
Hafa Adai everyone,
First, I want to thank you all for participating in the 2010 International Coastal Cleanup. By volunteering in huge numbers (1,089 people!), you have shown CRM, DEQ and the entire nation that we are serious about combating marine debris and keeping our environment clean and healthy for the next generation.
We received 27 data sheets back, and were blown away by all your hard work to collect information regarding marine debris in Saipan. Data here only reports about 1/2 of the trash that was cleaned up by all your groups (27/53 volunteer groups), so the entire Cleanup had an even larger impact than is shown. This is huge!! Here are totals on a few types of trash that were collected: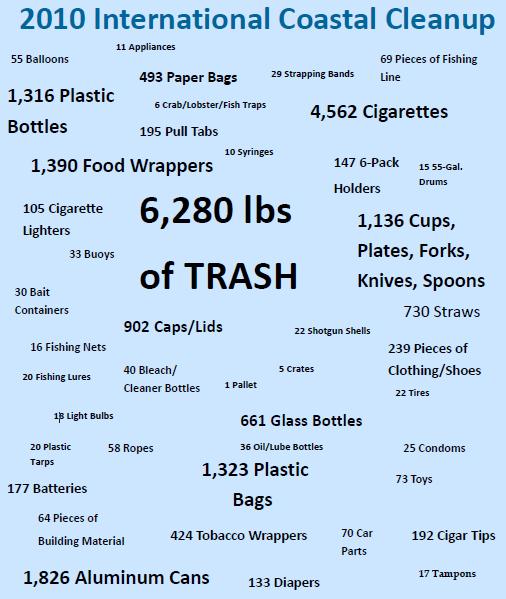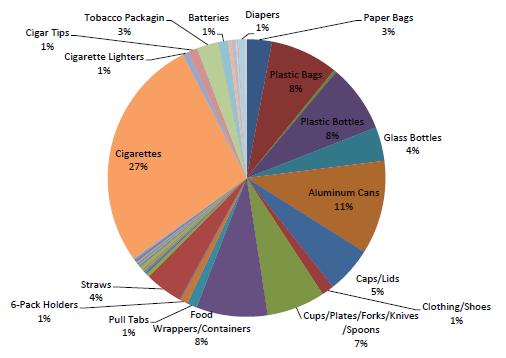 Total weight of the trash (for all 53 groups) was 6,280 pounds. In four hours, we kept more than 3 tons of garbage from entering the Pacific Ocean. We removed toxic waste from the shoreline, carried dangerous debris from our beaches, and properly disposed of hundreds of items that could entangle and threaten marine wildlife! For more information on trash removed, please see the attached PDF files. If you have questions, concerns or comments regarding the Cleanup and/or the marine debris issue in Saipan, please do not hesitate to contact me (rachel.zuercher@crm.gov.mp or phone: 664-8316).
Again, thank you all so much. We couldn't do it without you.
Coastal Cleanup Planning Team
Rachel Zuercher
CNMI Coastal Resources Management Office
PO Box 10001, PMB 59
Saipan, MP 96950
Phone: (670) 664-8305
Fax: (670) 664-8315
2010 International Coastal Cleanup Fact Sheet on CNMI's Most Littered Items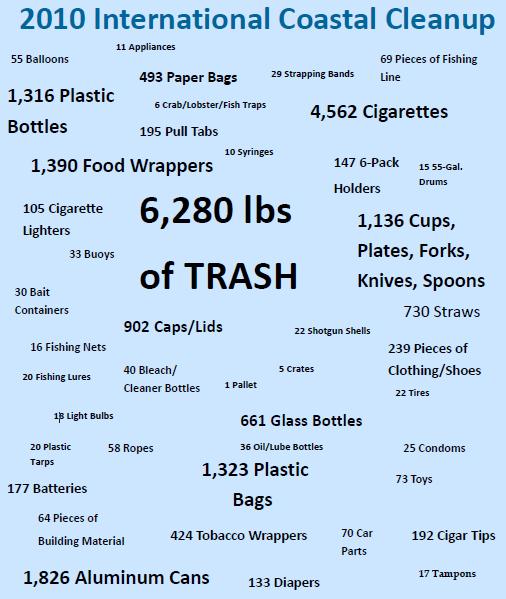 Top Five
1. Cigarettes
2. Aluminum Cans
3. Plastic Food Wrappers
4. Plastic Bags
5. Plastic Bottles
December 2010
THANK YOU KATHY YUKNAVAGE & KAREN T. CABRERA!
Kathy Yuknavage, our Marine Debris Project Manager and Karen T. Cabrera, our Admin.Assist. & Outreach Coordinator are no longer working for MINA. Kathy Yuknavage is now working full time at their Brabu Pharmacy while Karen Cabrera moved to the states.
Kathy Y. was responsible for managing the marine debris project and has done an excellent job in making it a success. She established and implemented the Adopt-A-Bin program, the Litter Patrol Officers, School Presentations, the Volunteer Program, and other aspects of the project that contributed to its popularity and success. Although her contract expired in October 2010, she remains an active member of MINA and a proud co-founder.
Karen T. Cabrera resigned from MINA in late September 2010. She handled all administrative duties, updated our websites on a weekly basis, and is responsible for designing our new MINA t-shirts for both members and marine debris volunteers, invitations, and other materials used for outreach and education.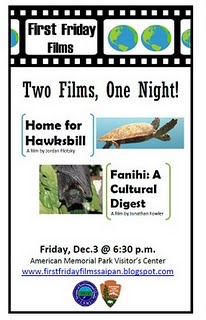 First Friday Films: Double Feature!
Coming up on Friday December 3rd at 6:30pm, First Friday Films will be screening two short films at the American Memorial Park Visitors center that highlight two threatened and endangered species here in the CNMI; the Fanihi (Marianas flying fox bat) and the Hawksbill seaturtle.

Fanihi: A Cultural Digest, a short film shot in the CNMI by Jonathan Fowler, discusses the complex issue that is the conservation of this import animal. The film examines the ecological role the Fanihi plays on our islands as well as the cultural importance it has with the chamorro people.

Home for Hawksbill, a short film by Jordan Plotsky, tells the inspiring story of how three distinctly different cultural groups in the Solomon Islands came together to help protect this endangered species. The film details how these communities went from hunting the turtle to localized extinction to providing a safe haven for the animal that mutually benefits all the groups involved.

For planning purposes, the two films combined have an approximate run time of about 50 minutes. As always, First Fridays Films is free and open to the public. Find more information here.
October 2010
Fourth Installment of First Friday Films: Blue Ribbon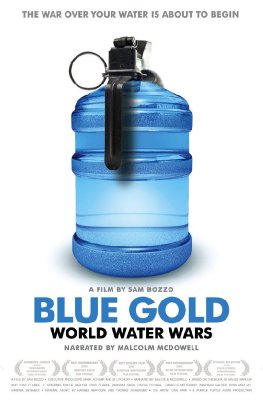 On Friday November 5th, First Friday Films will be screening the film Blue Gold: World Water Wars at 6:30pm at the American Memorial Park Visitors Center.
Four-time "Best Documentary" award winner, Blue Goldsheds light on the waste and overuse of one of our most precious resources: fresh water. The film discusses the practices that have lead to the dwindling supply of this limited resource and follows various examples from around the globe of people struggling to maintain their access and rights to water.
"differs from many others of the same vein in offering opinions and ideas from a varied number of professionals and experts that could lead to tangible solutions."
- HESO Magazine
"A must see film for every person on the planet."
- Greenmuse.com
Please join us for this wonderful film. For planning purposes, the film is 90min long. You can see the trailor below or learn more about the film by visiting their website here.
Thanks for getting "Trashed" with us on Friday!
A Letter From Aric:
Hello Friday Flickers,
Thanks for everyone who made it out to Trashed on Friday; it's great to see some of the same faces every month along with a bunch of new ones, so thanks for continuing to make these events a success.
Attached to this email are two great resources. One is a very simplified home composting how-to; the other is the DEQ overview of available recycling programs here in the CNMI. Please feel free to distribute, and especially to use. Additionally, below are two links to good composting sites that can give you a bit more information and some alternative methods depending on how serious of a composter you would like to become:
As announced Friday, next month we will be screening the film Blue Gold on November 5th. The film examines the wasting and over use of limited global fresh water supply and the conflicts that are building because of it. More information on the film including the trailer can be found at the website below:
As always, keep checking our website for more updates and more information on upcoming events.
Cheers,
Aric
Coral Management Fellow
Division of Environmental Quality
PO box 10001, PMB 59
Saipan, MP 96950
Phone: 670-664-8513
Fax: 670-664-8540
aricbickel@deq.gov.mp
Fourth Installment of First Friday Films: Trashed
By Aric Bickel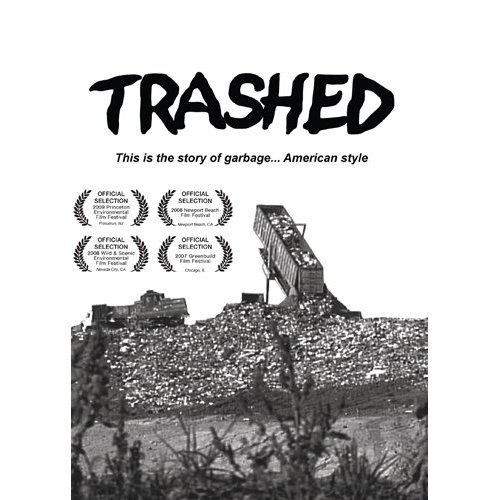 Official selection of the Newport Beach Film Festival, TRASHED takes us headfirst into the world of garbage. The documentary aims to show the world just what happens to solid waste after it leaves our hands and homes. TRASHED encourages viewers to rethink the way that we consume products, reconsider the amount of waste we produce, and refocus on the pervasive environmental issue of over-consumption.
Following the film, Steve Hiney from the Soild Waste division of Public Works will be talking a little trash and taking questions from the audience.
For planning purposes the movie is 77min long and starts at 6:30pm at the American Memorial Park Visitors center, but come early as we will have reusable grocery bags courtesy of DEQ for the first 50 attendees and a bunch of great lobby exhibits for you to browse through (doors open at 6:00pm).
As always the event is free and open to the public. For more information on this movie and our other films, including trailers, please visit our website at firstfridayfilmssaipan.blogspot.com
We hope to see everyone this Friday!
MINA Participates in 2010 International Coastal Clean Up Day
September 25, 2010 Executive Director Sam Sablan and Outreach Coordinator Karen T Cabrera were at the MINA office early Saturday morning loading up the gear needed for the international clean up. A box of MINA shirts, a box of recyclable bags, boxes of water, and a recyclable bin display are just some of the items that needed to be transported to MINA's adopted site in San Roque, Pau Pau Beach. Clean Up efforts started a little past 8 AM, and the amount of volunteers allowed MINA to wrap up by 10 AM.
In the spirit of the International Coastal Clean Up Day Efforts, MINA did not stop at that, but soldiered on to clean up two other locations--North Tanapag Beach and Outer Cove Marina. MINA's Outreach Coordinator asked a couple of volunteers to initiate a small clean up effort at these two separate locations, and the volunteers proceeded to help without any complaints. These individuals were able to collect enough trash at Tanapag Beach to fill up one 55-gallon trash bag, and three 13-gallon trash bags were filled up by removing debris located at Outer Cove Marina. Removing debris from Outer Cove Marina proved to be a struggle due to the miscellaneous types of trash being stuck between the large boulders surrounding the dock itself. It was also difficult to remove the thick ropes and debris due to the waves crashing into the boulder formation. These volunteers finished cleaning up the Marina at a little past 12 PM.
MINA would like to thank all the volunteers that participated in the 2010 International Coastal Clean Up, whether it was at Paupau Beach, Kilili Beach, Oleai Beach, or any other location, thank you for making a difference!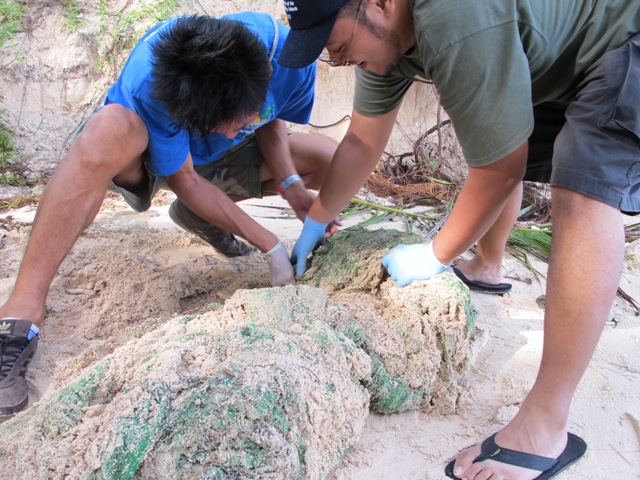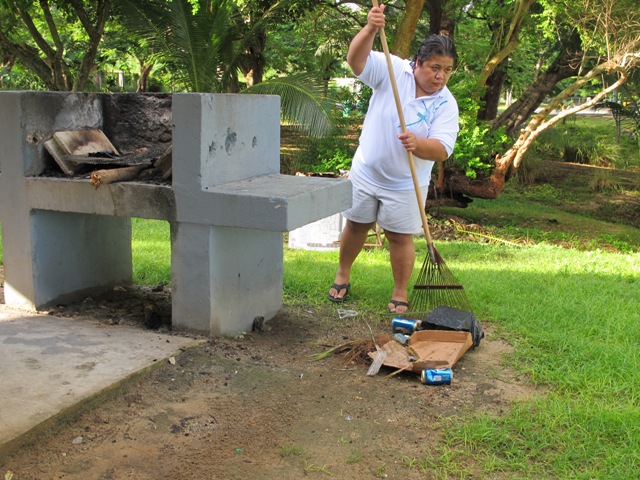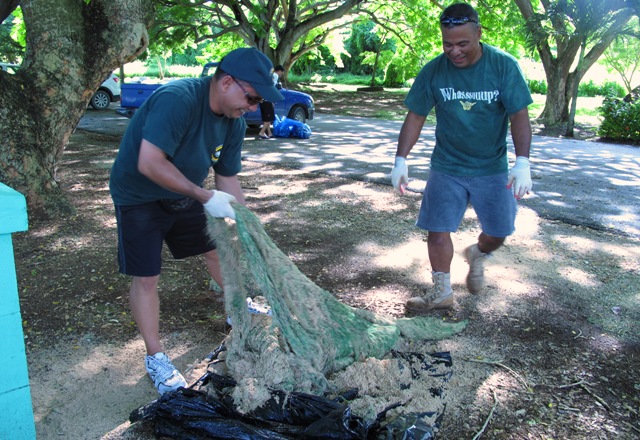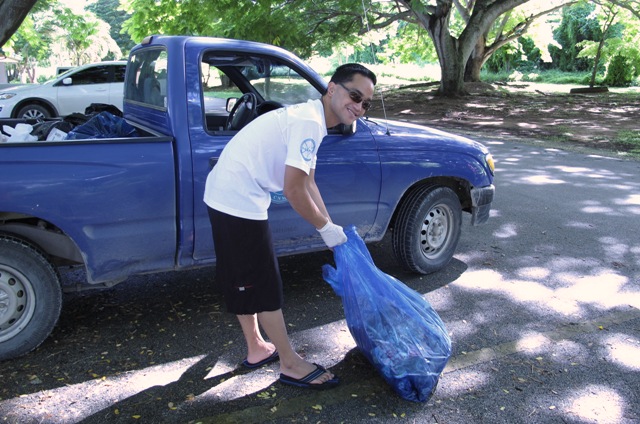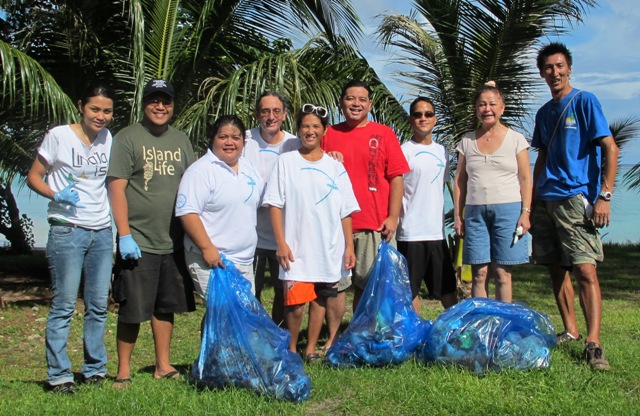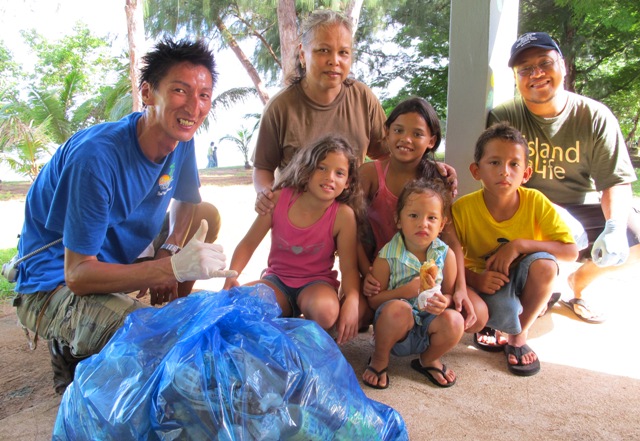 MINA Reaches Out at Street Market
September 23, 2010 What initially started as trying to reach out to individuals passing by the MINA booth on Thursday nights has moved from being a rocky start to a permanent location via invitation. Trying to reach out to other individuals is not an easy task, actually getting other people to care about the environment can be more difficult...but MINA has not given up yet.
Every other Thursday MINA tries to make its presence known by asking individuals to volunteer about an hour of their time to increase people's knowledge about marine debris at the Street Market. Volunteers experience a quick run through of MINA's purpose for the evening, catch on easily, then take over. As individuals, families, friends, and tourists alike pass by the MINA station at Kinpachi Restaurant , volunteers and MINA staff call out asking them to participate.
One of the rewards for participating is a paper flyer/table mat with a turtle and a maze, and the objective is to help the turtle make it out to sea without getting trapped by marine debris; the greater reward is the educational information learned regarding pollution and the environment. However, the treat last Thursday was a bit different--all individuals that participated were able to receive a MINA recyclable bag promoting an Island Culture of Recycling and BYOB, Bring Your Own Bag. Present last Thursday were Marine Debris Project Manager Kathy Yuknavage, Admin/Outreach Coordinator Karen T Cabrera, and volunteers Puy Macario, Jon Igitol, and Jesse Forrester.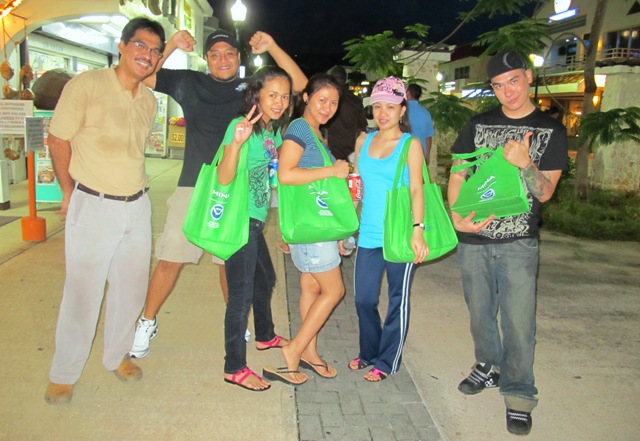 On their way to the Street Market, volunteers Puy, Jon, and Jesse were able to share some environmental information with these individuals who then received their MINA recyclable bags. On their way out of the Street Market, we were able to spot them using their bags to store purchased food instead of using plastic bags.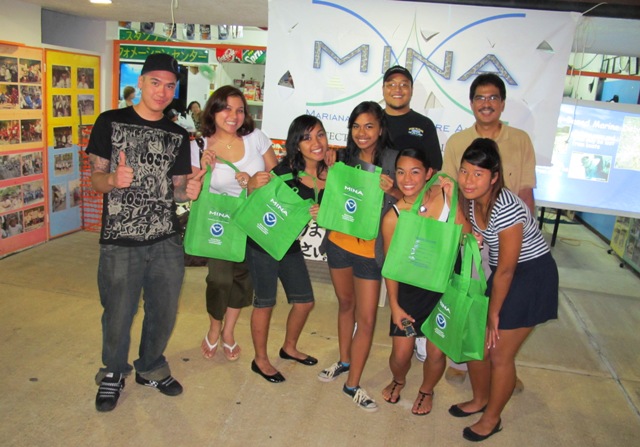 Best choices prior to discussing the correct answers, and then were each rewarded a recyclable bag.
MINA Prepares for 2010 International Coastal Clean Up Day
September 21, 2010 The days leading up to September 24th and 25th are proving to keep the staff of MINA busy at work preparing for the International Clean Up Day, as MINA sends out emails calling on its members, volunteers, and other concerned individuals residing on Saipan to take part in making a difference. For the second consecutive year, MINA will be localizing these international clean-up efforts by adopting PauPau Beach this Saturday, September 25th, 2010, to remove all marine debris from the shore and around the pavilions that line the beach. Will you join MINA and help to make a difference in the environment?
In this photo MINA's Executive Director, Agnes "Sam" Sablan, is looking over the recyclable bags, promoting an Island Culture of Recycling via B.Y.O.B.--Bring Your Own Bag--while examining the shirts and polos that MINA received late last week.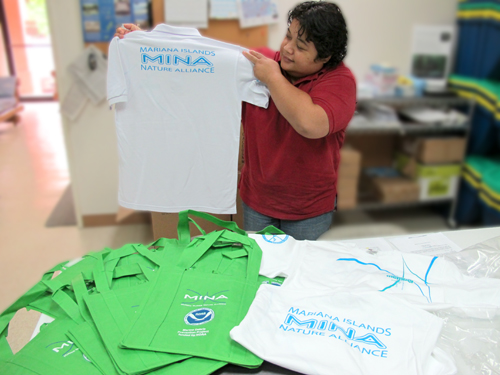 MINA and PMRI Welcomed Coral Reef Task Force with Happy Hour Event
September 15, 2010 The Board of Directors and staff of MINA busied themselves preparing for the Coral Reef Task Force welcoming event. Initially deciding between two different venues and a lengthy list of local dishes, MINA was able to settle on the grounds of the Saipan Museum with just a handful of local finger foods ranging from chicken kelaquen and titiyas, to tuna poke, mutsiyas, and tamales gisu. On September 14th, the members of the Coral Reef Task Force began arriving in rented vehicles and hotel shuttles around 5:30 PM, just as the "Ice Chest Band: because we're cooler than you" began to strum the beat of island acoustic rhythm. Upon their initial arrival, members began intermingling with each other and with representatives from MINA, PMRI, DEQ, and other involved government entities, including the Governor himself.
Coral Reef Task Force members and other invited guests appeared to have been involved in pleasant conversations regarding their current visit to the island and the events that had been taking place. About 30 minutes later, MINA Chairwoman Fran Castro asked everyone to kindly stand and say grace. Some guests began lining up to eat while other guests carried on with their conversations, and eventually made it to the food table to partake in the meal awaiting them. Coral Reef Task Force members and all other guests listened to presentations by Reina Camacho of Mariana Islands Nature Alliance and Dr. Peter Houk of Pacific Marine Resources Institute while eating dinner. After Dr. Houk concluded his presentation, guests made their way into the Saipan Museum. Visitors remarked on how fascinating the museum was due to the ancient latte stone sketches, gold acquired from the sunken ship The Concepcion, and other art forms displayed that depicted the past that once lived in the Marianas.
A little before 8:30 PM members of the Coral Reef Task Force were settled into the hotel shuttle or in their rented vehicles and seen leaving the premises; an early ending to prepare the members for the Conference scheduled for the following day. The Mariana Islands Nature Alliance and Pacific Marine Resources Institute was delighted to host the members of the Coral Reef Task Force.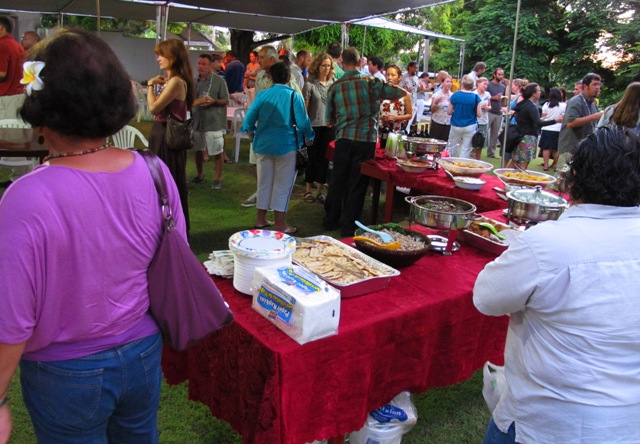 Guests seen socializing prior to eating dinner. MINA Chairwoman Fran Castro asked everyone to rise and say grace.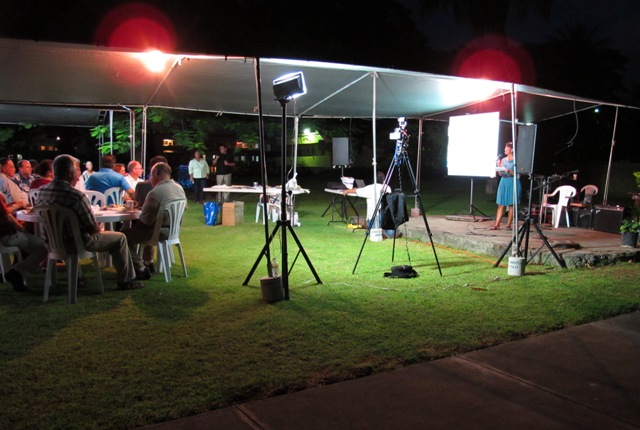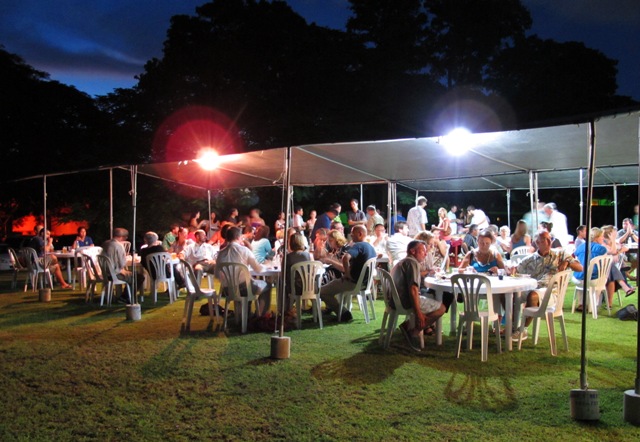 Reina Camacho delivers a presentation during dinner. Guests listening and engaging in conversation during Dr. Houk's marine presentation.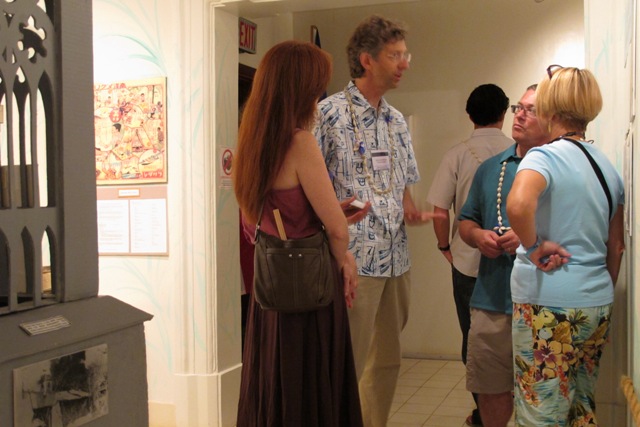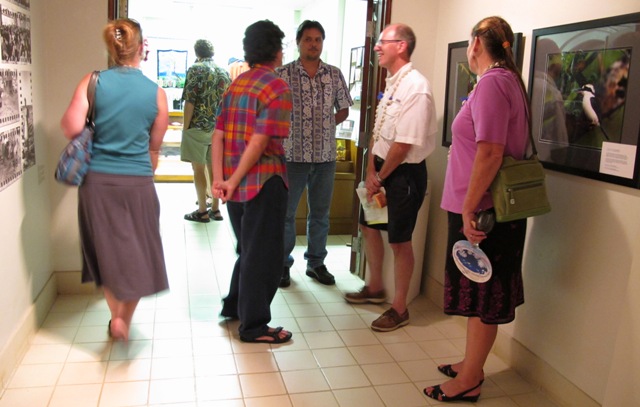 Members conversing inside the Saipan Museum. Members of the Coral Reef Task Force seen conversing with the Saipan Museum Director Robert Hunter.
---
Third Installment of First Friday Films: Dirt!
It's once again time for us to meet at the American Memorial Park Visitor's Center to enjoy September's First Friday Film Dirt!
Think that dirt is simply the brown or black stuff stuck to the bottom of your sandals on a rainy day? Think again because dirt is so much more that that; "We depend on dirt to purify and heal the systems that sustains us."
Join us tomorrow night, September 03, 2010 at 6:30 PM to watch the documentary that won four awards, including the official selection of the 2009 Sundance Film Festival, Dirt!
We hope to see you there!
For more information check out the First Friday Film on Blogspot or watch the official trailer!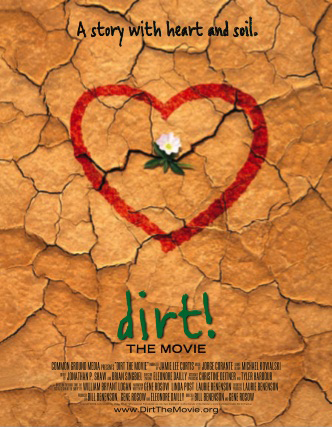 August 2010
Dr. Tighe presents Eco-tourism
Marine Science and Policy advisor Dr. Stacey A. Tighe, based in Honolulu, HI, discussed the many aspects of ecotourism and why it would be beneficial to the CNMI economy during a special presentation held at the American Memorial Park auditorium on August 11, 2010.
Dr. Tighe left nothing out of her one-hour presentation, covering everything from Why ecotourism? and Why the CNMI? to the Themes, Scale, and "Flavors" of sustainable tourism. She offered a memorable quote regarding how ecotourism should be treated, saying "Take Nothing but Pictures, Leave Nothing but Footprints and Waste Nothing but Time", which was listed as one of the basic fundamentals of sustainable tourism.
Prior to the beginning of her presentation Dr. Tighe thanked all the individuals present and MINA for promoting the event amongst its members and members of the local community. The presentation was well attended by all interested individuals.
Click here to see media coverage by the Marianas Variety and Saipan Tribune.
---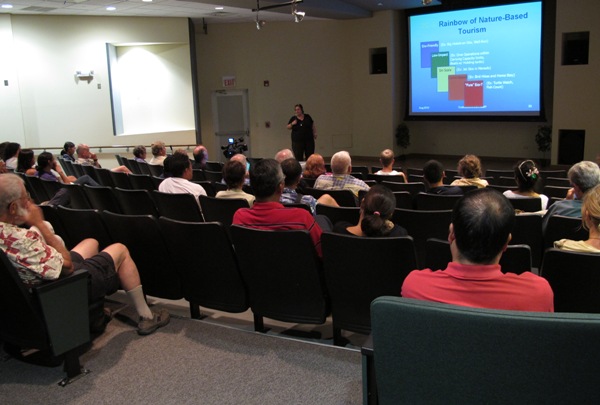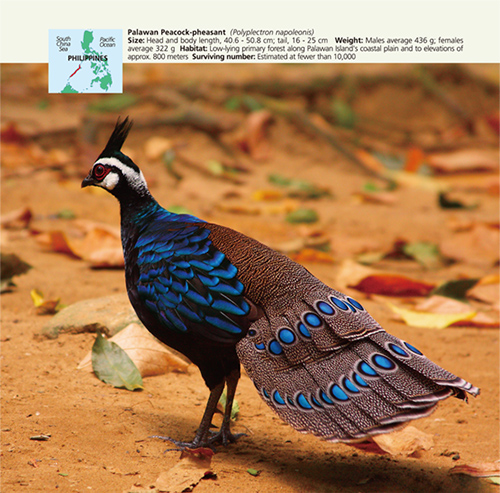 National Geographic & Canon Photo of the Month
Photographer Kurt W. Baumgartner donated ten high resolution photos featuring some of the endangered species found in the Marianas to MINA in May of this year. The photos were shipped to Saipan just in time to be displayed at MINA's annual General Membership Meeting. In front of a full house of then existing and new members, MINA moved through the agenda, but not before thanking the photographer and highlighting his photos, which were displayed around the venue for all members to enjoy. Ranging from the Marianas Crow, to the Marianas Fruit Bat, to the common Tree Snail, MINA members were impressed with the photos, evident by their unending warm comments and expressions of gratitude.
Since then MINA has been displaying the photos at DFS Galleria, and in the coming months this photo presentation will be moved to another venue (that will be announced at a later date) and to the CNMI Museum for the scheduled Coral Reef Taskforce meeting taking place next month. Additionally, Kurt W. Baumgartner's photo of a Palawan peacock-pheasant was featured in July's issue of National Geographic, selected by Canon as that month's issue of Wildlife As Canon Sees It.
---
Pacific Ocean Is Home of Rare Coral
An underwater survey of an atoll in the Marshall Islands accidentally lead Australia's Centre of Excellence for Coral Reef Studies researchers to discover a colony of the world's most rare coral, the Pacific elkhorn, scientifically known as the Acropora rotumana.
Further information, including a photo of the Pacific elkhorn coral, can be found here.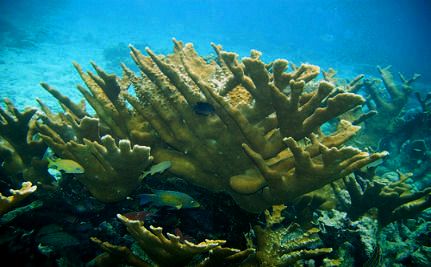 A talk on "Eco-tourism - good for the CNMI?"
will be presented by Stacey A. Tighe on Wednesday, August 11, at 6:00 p.m. at the American Memorial Park auditorium (place not yet confirmed). She will discuss costs and benefits of alternative options, and their compatibility, feasibility in the CNMI. Tighe holds degrees in marine policy, biology and geology, and currently serves as Senior Regional Coordinator and Program Integrator for U.S. support to the six countries on the Coral Triangle Initiative (Indonesia, Philippines, Malaysia, Timor Leste, Papua New Guinea and the Solomon Islands).
July 2010
---

Second Installment of First Friday Films: Sharkwater
Queue the shark music and mark your calendars for the 31 time international award winning documentary Sharkwater. The second installment of First Friday Films will feature a free showing of the film on August 6th, 7:00 PM at the American Memorial Park Visitor's Center.
Sharkwater offers a unique insight of the important role sharks play in our oceans. Director Rob Stewart, addresses how the fear of sharks had led to their mismanagement and how the killing of sharks is damaging to ocean ecosystems and ultimately to humans.
This film along with every other "First Friday Film" is free and open to the public. Any further information can be found here.
---
Saipan Tribune features MINA's Endangered Species Display at DFS Galleria
(a copy of the following article can be found here)

DFS photo exhibit showcases NMI's endangered birds
By DENCIO MANGLONA
Student Intern

Tourists browsing through merchandise at the Duty Free Galleria Saipan are currently being treated to a photo exhibit featuring some of the CNMI's endangered birds.

Veteran nature photographer Kurt Baungartner, in coordination with the Mariana Islands Nature Alliance, came up with the exhibit to support the Micronesian Challenge, a preservation effort by Micronesian territories to preserve their natural resources. In this case, the culturally essential birds of the CNMI.

"We wanted to showcase the wildlife of Saipan," said DFS assistant general manager Vicente Babauta.

The DFS exhibit displays just a few of the photos taken by Baumgartner and includes the Nightingale Reed Warbler and Golden White-eye birds.

Baumgartner's contribution to MINA's efforts in the Micronesian Challenge was well received by the MINA board, according to board member Agnes "Sam" Sablan. MINA received numerous fauna photographs from Baumgartner earlier this year and, together with his wife, arranged for them to be displayed to promote public preservation awareness.

"We're catching up with FSM [Federated States of Micronesia] and because of this [contribution], the people of Saipan," Sablan said.

Copies of the photographs are currently available for purchase and proceeds will fund MINA projects.

MINA members got the chance to look at the photos at the organization's annual membership meeting last April this year.

Baumgartner is a long-time conservationist photographer and has been a member of MINA since the nature organization's inception in May 2005. His photos have been featured in magazines such as the National Geographic.

The exhibit displayed at DFS will be moved around to other public areas, according to Sablan, with the Northern Marianas College being the next venue
Docomo donates to MINA's Adopt-A-Bin Program!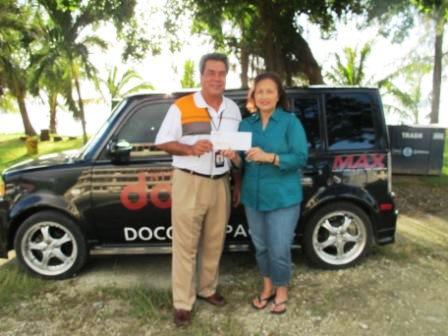 MINA Takes Third Place at the Make-A-Wish "A Child's Wish." Sandcastle Competition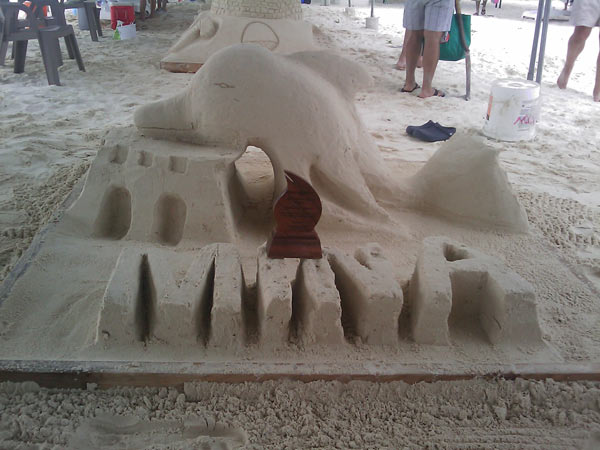 The MINA board, composed of MINA officers Alex Sablan, Ben Babauta and Ron Smith as well as MINA member Wongduen "Moon" Phanthajaitham spent a day at the beach hauling water and shoveling sand to help benefit the Saipan Make-A-Wish Foundation. Hours of sweat and toil paid off unexpectedly in a third-place finish. The MINA entry, showing a dolphin on top of a building, expresses a child's wish that endangered and threatened species will be able to survive and eventually overcome the pressures caused by human activiites. MINA donated back the $100 cash third prize to the Make-A-Wish Foundation.
MINA Sponsors First Friday Film - Black Wave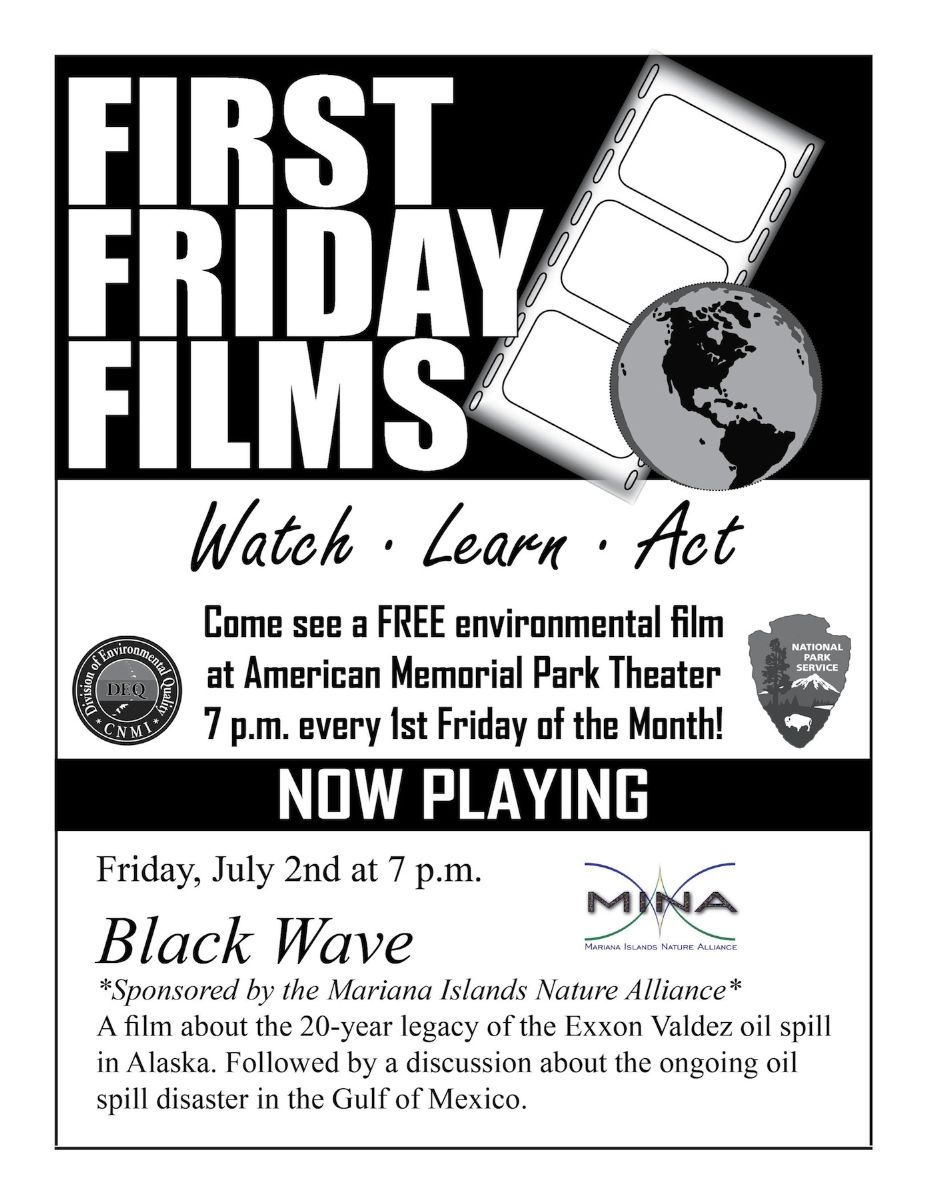 The Mariana Islands Nature Alliance (MINA) together with the Division of Environmental Quality (DEQ) is sponsoring the First Friday Films which will commence on Friday, July 2, 2010 at the American Memorial Park Visitors Center. The first feature film will be Black Wave, a film about the 20-year legacy of the Exxon Valdez oil spill in Alaska. A discussion will follow about the ongoing oil spill disaster in the Gulf of Mexico.
January 2010
MINA Receives $200 from Marianas Bikini Open 2010
MINA was chosen as the receipient of the proceeds from the Marianas Bikini Open 2010 by Hard Rock Cafe and Event Coordinator Sharmaine Esquero. The event featured contestants wearing costumes made from recycled materials, formal wear, and other clothes provided by sponsors such as Hard Rock Cafe. The event is intended to highlight environmental issues among the youth on the islands.