2011
December 2011 Extras!
---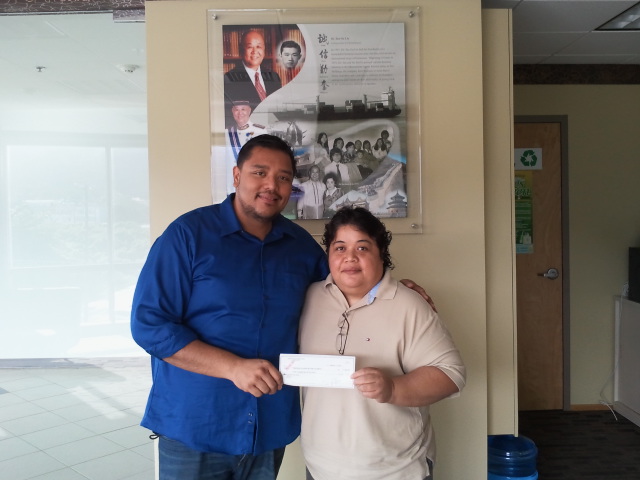 Adopt-A-Bin is back on track!
Photo: Ed Arriola and Sam Sablan
Once again, donations were made to the Adopt-A-Bin program for another successful year of its implementation. Donations were given by Asia Pacific Hotels Inc., Brabu Pharmacy, CTSI Logistics, Docomo Pacific, Errico LLC, Ideal Signs, IT&E, Marianas Trekking, Marianas Visitors Authority, Rotary Club of Saipan, Saipan Computer Services, Tan Holdings, Gregorio Kilili Sablan, and the Marianas Visitors Channel for the year 2011-2012. We here at MINA are grateful for all your kind donations and partnerships and hope for your future prosperity.
---
MINA completes 3 year Strategic Action Planning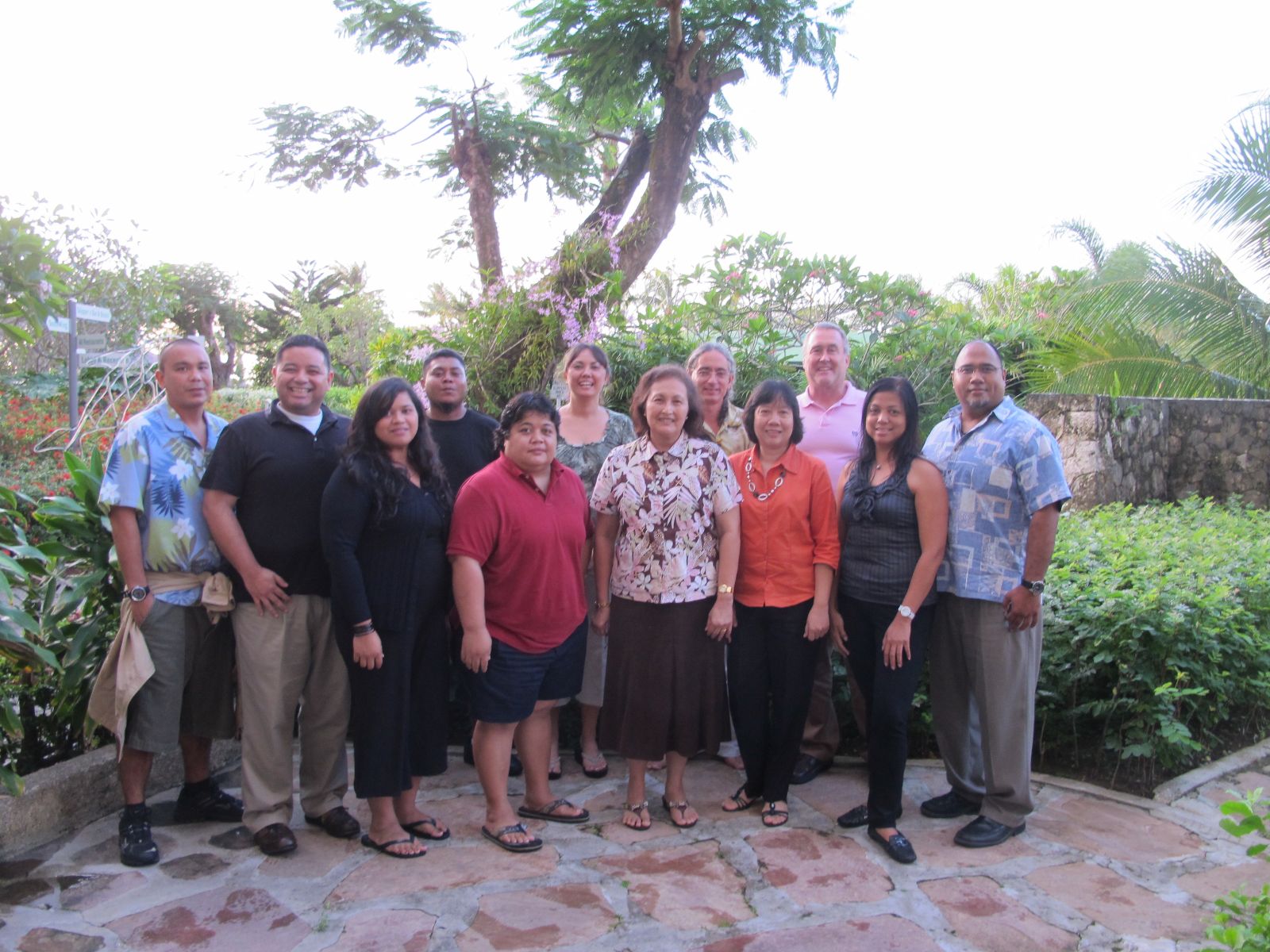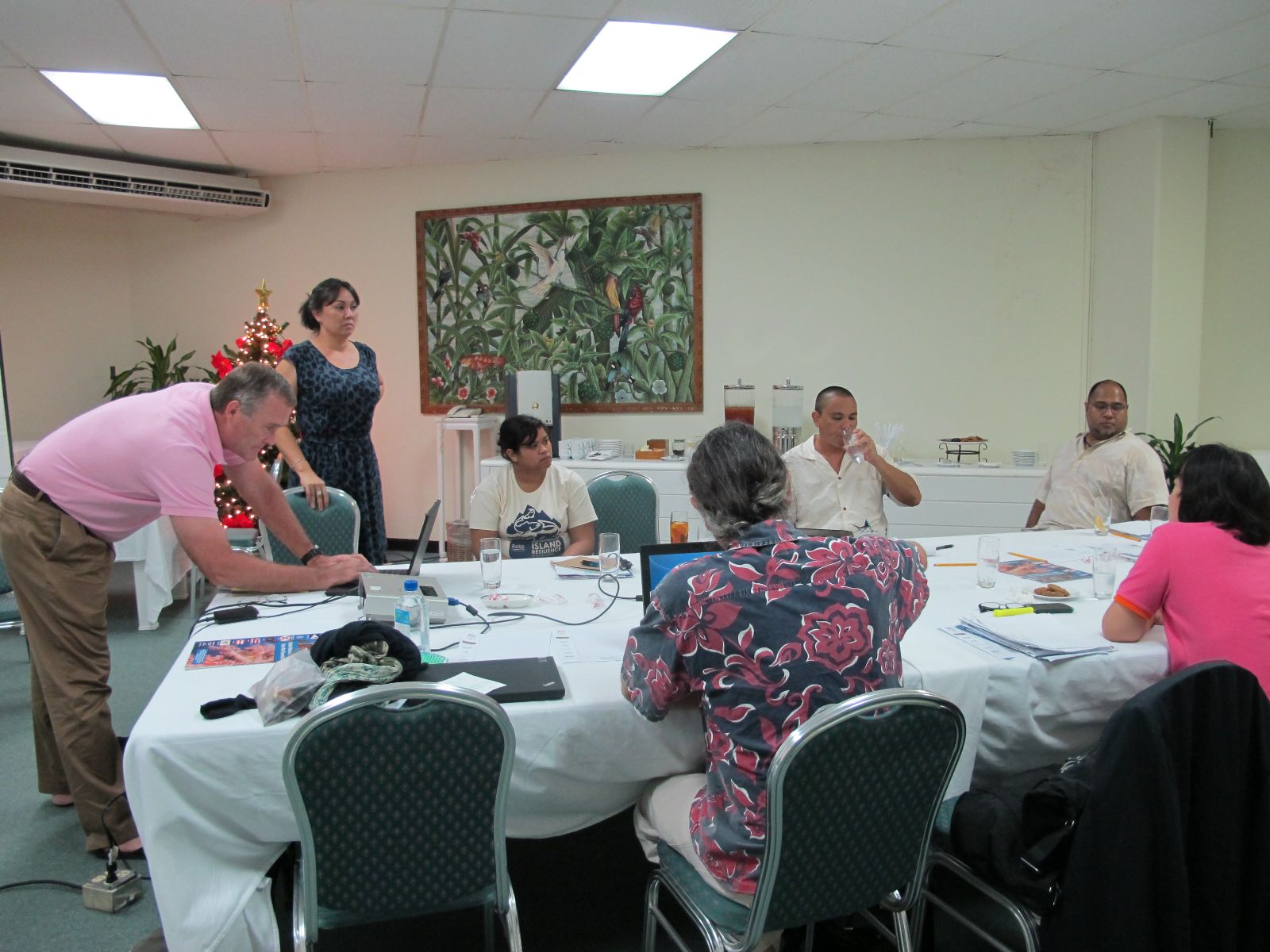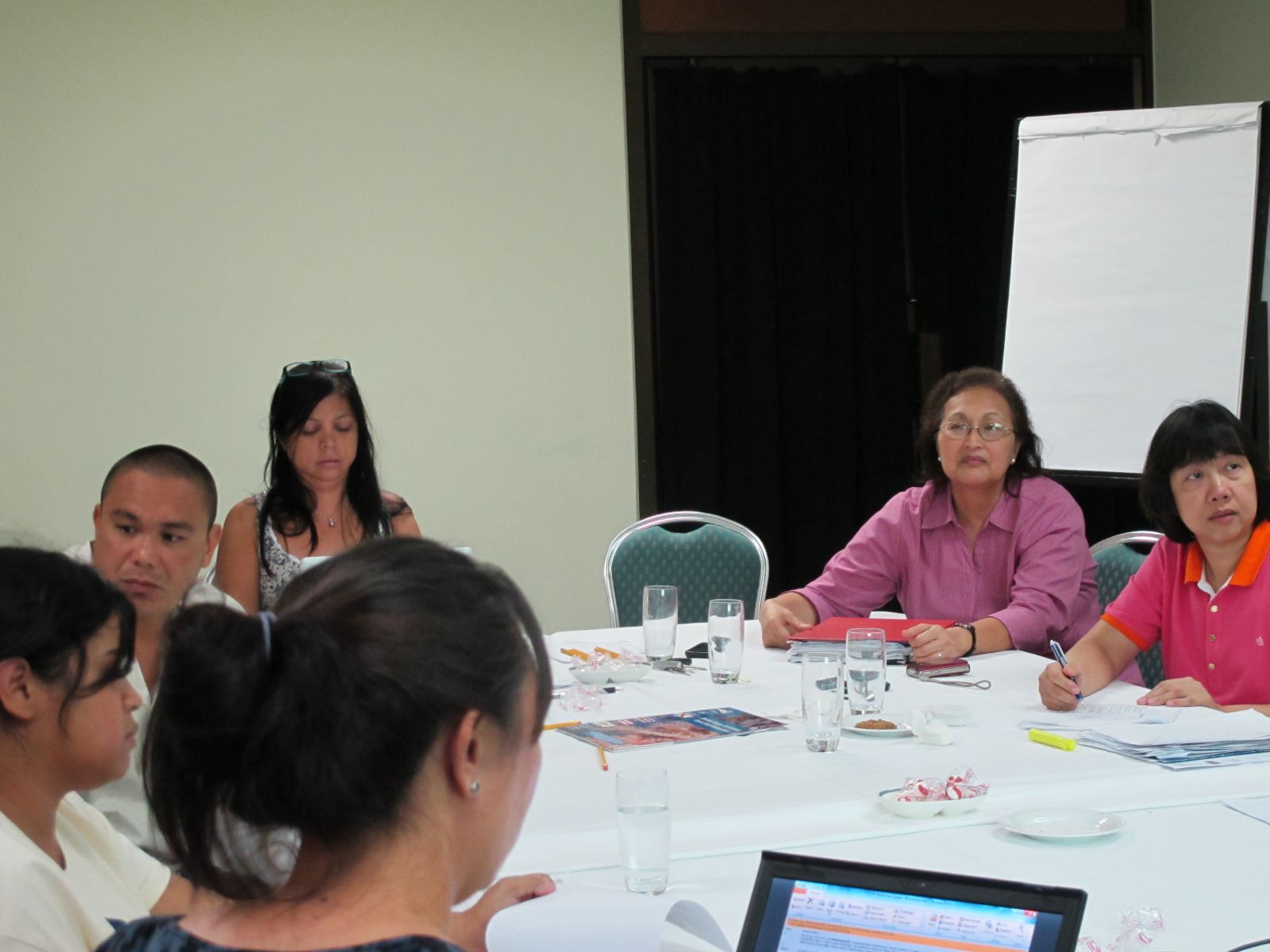 ---
Lions Club members help revegetate Laolao bay!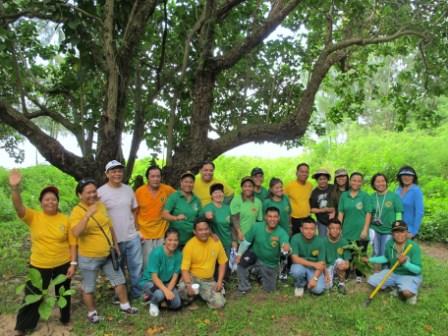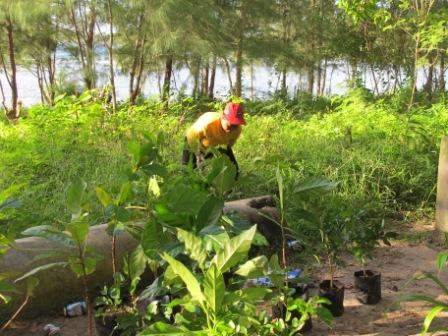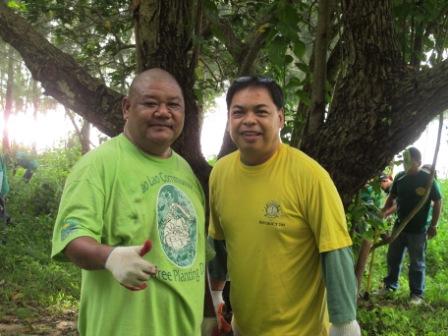 Lions Club members gathered one sunny day to help revegetate our beautiful Laolao bay beach. Armed with pick axes, shovels, and a whole lot of elbow grease, these guys helped prevent even more sediment and runoff that would otherwise hurt our precious coral reefs!
---
CTSI gives Susupe Park an Eco-friendly makeover!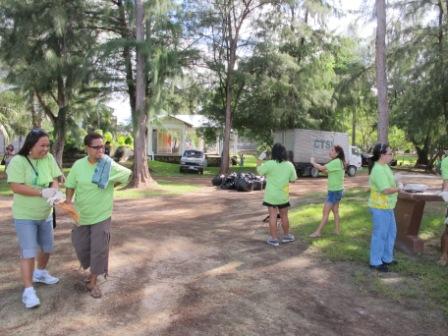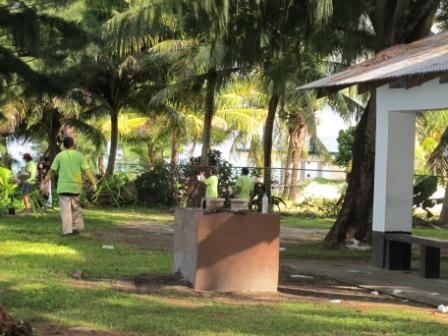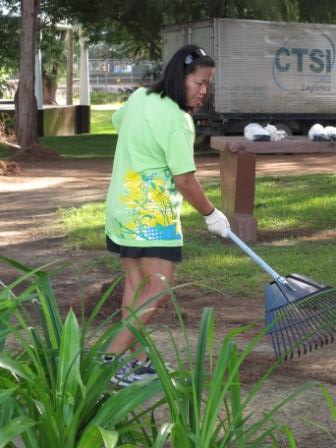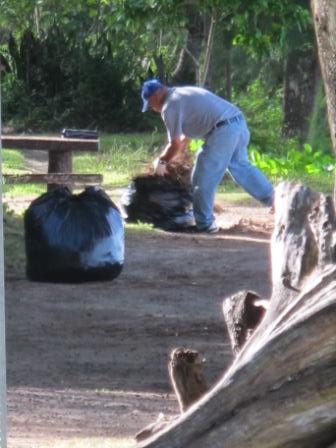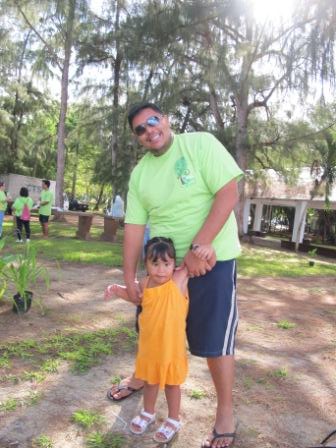 Another fun and productive day at Susupe Park where folks from CTSI came out and gave back to their community. Picking tons of trash left from beach-goers, even the kids came out and gave a helping hand! Two thumbs up for these hard working individuals!
---
September 2011 Extras!
---
Moving Planet CNMI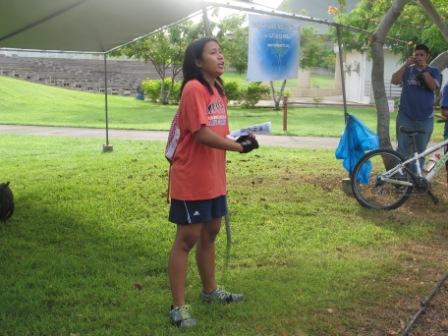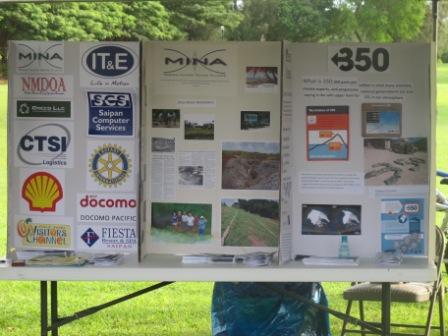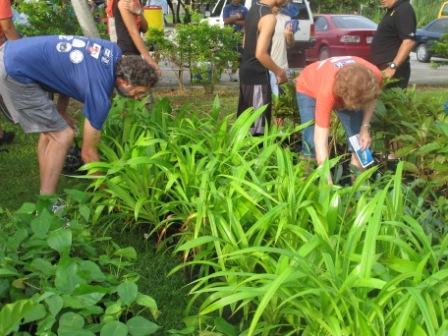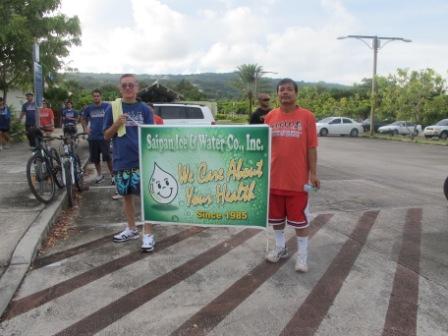 The Science of 350
Scientist say that 350 parts per million CO2 in the atmosphere is the safe limit for humanity. There's currently 389 parts per million (ppm) in the atmosphere. For more information, please click HERE for science factsheets, click HERE for policy facts, and click HERE for solution facts. Please visit their website at www.350.org to find out what the rest of the world are doing to bring awareness to our world leaders.
CRM Adopt-A-Bin Beach Clean Up!
June 24th, 2011 - Volunteers and staff from the CNMI Coastal Resource Management Office held a beach clean up at Coral Ocean Point, one of the many local beaches CRM has sponsored. Big thanks to CRM and their volunteers and staff for keeping six garbage bags worth of trash from ending up in our beautiful waters and harming marine life!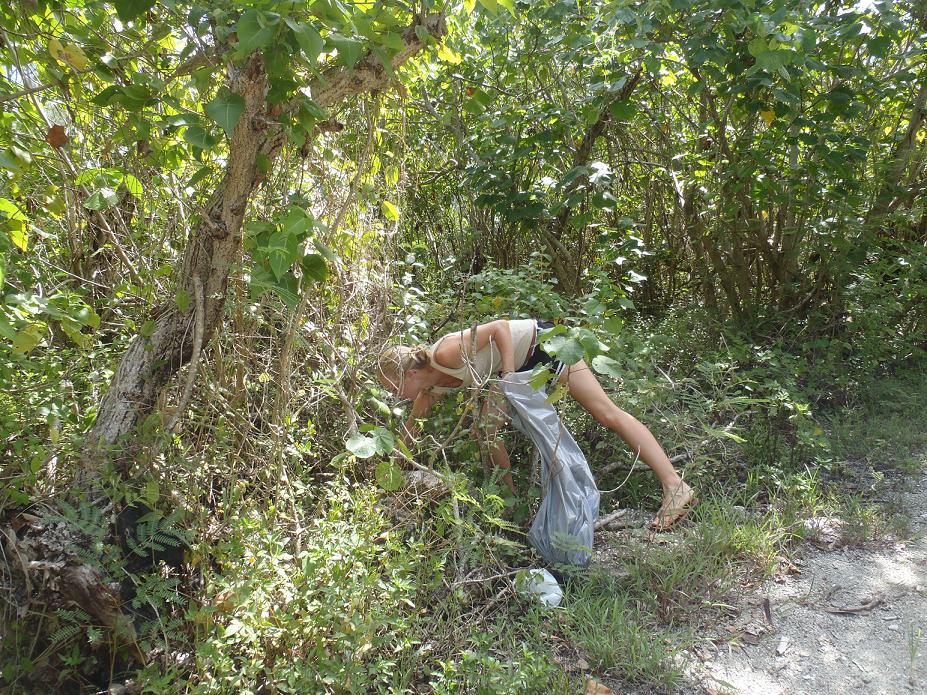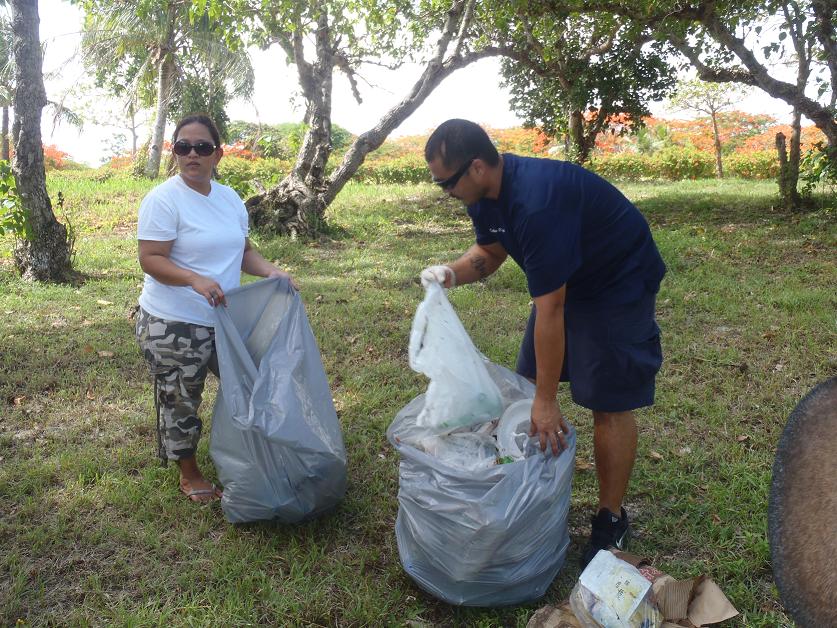 International Coastal Cleanup
Hard Rock Cafe & Mt. Carmel High School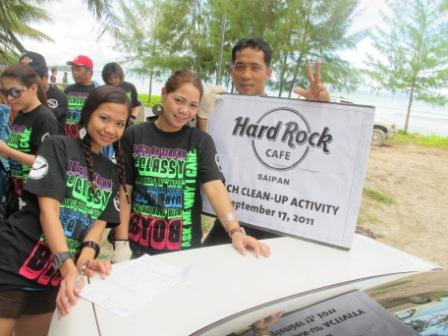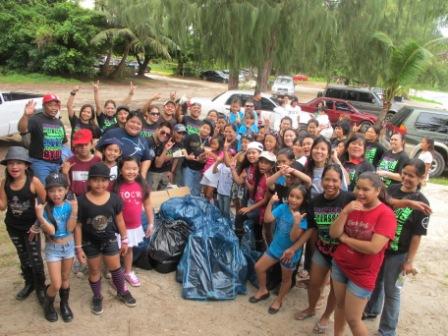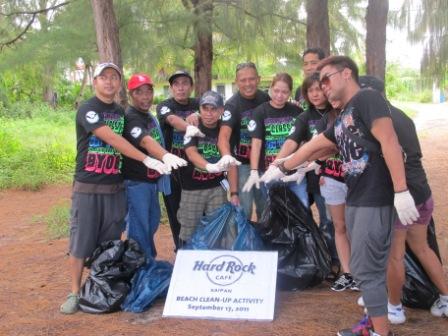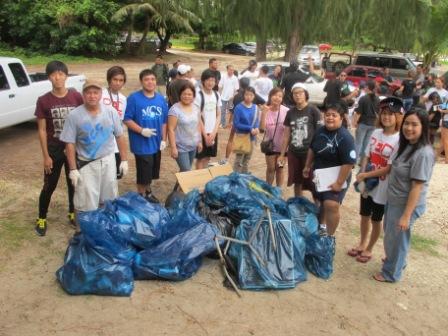 Hard Rock Cafe & Mt. Carmel High School students joined efforts to participate in the 2011 International Coastal Cleanup at Sugar Dock and beach behind Aquarius Hotel. The amount of marine debris collected on this day alone was about 98 lbs. or 42 bags filled with bottles, cans, plastic bags, metals, and numerous small items. Good Job Everyone!
---
Let's keep our beaches clean. It's everyone's responsibility.
---
No Need Bag Photoshoot Teaser!
---
This picture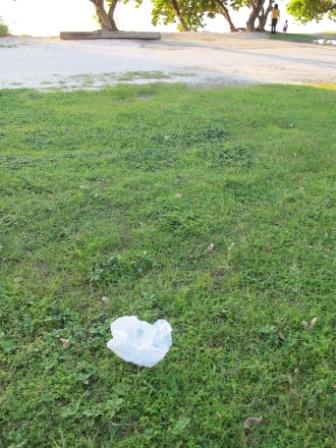 equals this picture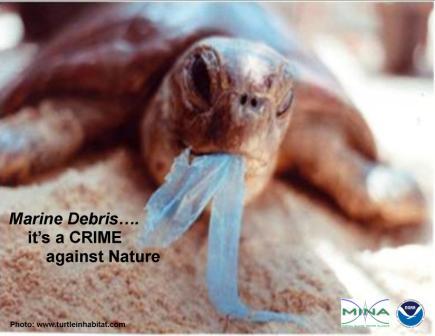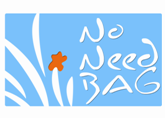 MINA pushes for Plastic Bag ban in CNMI
Plastic State of Mind is a music video from Green Sangha and New Message Media in the San Francisco Bay Area of California, using the power of humor and music to convey the message far and wide: the human species' obsession with short-term convenience is proving to have long-term devastation to our environment. Not only is plastic polluting our ocean, our air, and our landscapes, but even our own bodies. On top of banning single-use plastic bags and other community solutions, each of us needs to examine how we fulfill our own role to stopping our personal convenience addiction and starting to heal our environment. For more information or interview on the message behind the film, contact Stuart Moody at Green Sangha: Stuart@greensanha.org.
This video from YouTube summarizes one of our main goals for our upcoming campaigns... ENJOY!
MINA continues to partner with CRM and DEQ for the "No Need Bag" Campaign. If you would like to volunteer or want more information, please call us at 233-REEF, or email us at admin@minapacific.org.
---
Governor Fitial Signs House Bill 17-94
January 27, 2011, marked a monumental moment for the CNMI. Gov. Fitial signs House Bill 17-94 into law which prohibits any person from possessing, selling, offering for sale, trading, or distributing shark fins in the CNMI. This bill, now public law 17-27, is intended to address the harvesting of sharks for commercial purposes only. "Although shark finning is not an industry in the CNMI but it is a fact that we do have a market that serves shark fin base menus." says Aric Bickel of DEQ.
Aric also says "We wanted to show the international community that the CNMI does not support shark finning and also to avoid or prevent the possibility of establishing such industry here in the CNMI." Authored by Representative Diego Benavente, House Bill 17-94 is now Public Law 17-27. The Governor's office received an overwhelming support for the bill with very few oppositions. "I'm really happy that the legistlature passed it and now that the Governor signed it - it's the law! I'm truly impressed that our leaders and members of the community continue to endorse the Governor's committment to the Micronesia Challenge" says Sam Sablan, MINA Executive Director. Rob Steward, the Director of the numerous award winning film "Sharkwater" was there to capture the Governor signing the bill that will be later shown worldwide
---
House Local Bill 17-26 HS1!
As concerned citizens of the CNMI and Members of MINA, we kindly request for your comments on House Local Bill # 17-26 HS1 authored by Representative Stanley Torres. This bill will drastically change the future landscape and zoning laws on Saipan. Please CLICK HERE to read our new board member Herminia M. Fusco's letter to Governor Fitial, Lt. Gov. Eloy Inos, Rep. Tebuteb and Rep. Palacios to oppose this bill.
To learn more about House Local Bill 17-026 HS1 and about the CNMI's Zoning Laws, CLICK HERE.
To voice your opinion and contact our Government leaders directly, please CLICK HERE.
---
First Friday Film Voting!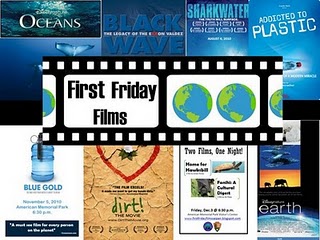 For the annual Environmental Awareness Month (EAM) put on by the Division of Environmental Quality, First Friday Films will be screening a number of movies throughout April, and we want your help to decide which ones will be shown!

Voting can be done on our First Friday Film home page (http://firstfridayfilmssaipan.blogspot.com/) throughout the month of March.

We will have 4 categories that fans can vote in:

Previously Shown Family Films

New Family Films

Previously Shown Environmental Films

New Environmental Films

The winning film from each category will be shown a couple times in April (the schedule will be posted on April 1st).
For more information please click here!
---
Please Sign Petition OPPOSING Telephone Poles to be Installed At Marpi Area!
The Office for Capital Improvement Projects is proposing the installation of new telephone poles to provide additional lighting at Marpi area. However, MINA would like to ask the community to join our efforts and oppose such projects that will change, and possibly ruin the natural and serene beauty that Marpi provides to the local residents and tourists alike. Although the installation of the telephone poles may be made temporary to accomodate future underground installation of ground power wires, we would like to be given the opportunity to voice our concerns and offer alternative solutions other than what is being currently proposed. To support this, please sign the petition today!
---
First Friday Films - Garbage!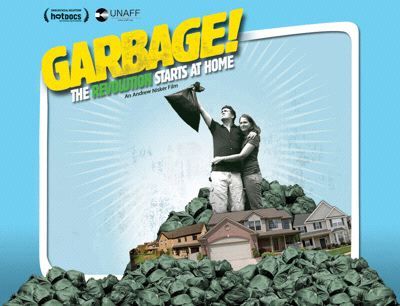 How much trash can one family generate and where does that garbage go? Come to the next First Friday Films on May 6 to find out. Garbage! The Revolution Starts at Home follows the revealing journey of one family after it decides to keep every scrap of garbage for three months.
Writer and director Andrew Nisker takes an average urban family, the McDonalds, and asks them to keep every scrap of garbage that they create for three months. He then takes them on a journey to find out where it all goes and what it's doing to the world.
From organic waste to the stuff they flush down the potty, the plastic bags they use to the water they drink out of bottles, the air pollution they create when transporting the kids around, to using lights at Christmas, the McDonalds discover that for every action there is a reaction that affects them and the entire planet.
The Pacific Historic Parks (formerly the Arizona Memorial Museum Association) Bookstore, located inside the visitor's center, will be open until 8:30pm. All proceeds go to community education programs.
As always, First Friday Films is free and open to the public, and is made possible with sponsorship from the Tan Siu Lin Foundation. For planning purposes, the movie runs 1 hour and 17 minutes long; find more information about the film at HERE.
---
Addicted to Plastic - First Friday Films!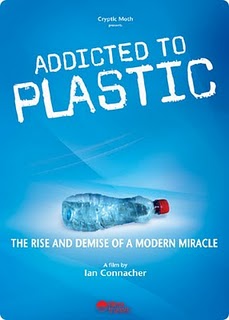 Our next First Friday Film - Addicted to Plastic -reveals the history and worldwide scope of plastics pollution, investigates its toxicity and explores solutions. The show starts at 6:30 p.m. on Feb. 4 at American Memorial Park. Come early to check out our informative lobby displays.
From styrofoam cups to artificial organs, plastics are perhaps the most ubiquitous and versatile material ever invented. No invention in the past 100 years has had more influence and presence than synthetics. But such progress has had a cost.
Addicted to Plastic shows the cycle of many different types of plastics we use everyday, the many threats they pose to our oceans and health, and the challenges with recycling plastic. It is "a wake up-call…a sort of eco-horror movie!" said Dr. M. Cervino of the Woods Hole Oceanographic Institute. It also presents unique and bizarre solutions to reducing, reusing, and recycling this useful yet toxic material.
For planning purposes, the movie runs about 85 minutes long. As always, First Friday Films is free and open to the public. Limited seating is available; please arrive early to ensure entry.
First Friday Films: Disney OCEANS
Disney's OCEANS will be featured at the next First Friday Films event-the first film for 2011. Bring the whole family to enjoy this beautifully shot movie on Friday, Jan. 7 at 6:30pm at American Memorial Park. A trailer for the documentary could be found here.
Nearly three-quarters of the Earth's surface is covered by water and OCEANS boldly chronicles the mysteries that lie beneath. Directors Jacques Perrin and Jacques Cluzaud dive deep into the very waters that sustain all of mankind-exploring the harsh reality and the amazing creatures that live within. Narrated by Pierce Brosnan and featuring spectacular, never-before-seen imagery captured by the latest underwater technologies, OCEANS offers an unprecedented look beneath the sea in a powerful motion picture.??
The Pacific Historic Parks (formerly the Arizona Memorial Museum Association) Bookstore, located inside the visitor's center, will be open until 8:30pm. All proceeds go to community education programs. ??
First Friday Films is a monthly film series brought to you through a partnership with the National Park Service and the Division of Environmental Quality, with generous support from community groups such as the Mariana Islands Nature Alliance.
??For planning purposes, the movie runs about 80 minutes long. As always, "First Friday Films" is free and open to the public. Find more information at www.firstfridayfilmssaipan.blogspot.com. Subscribe to the blog for regular updates on upcoming events.
Calling On All Volunteers!
As part of our on-going effort to increase public awareness of debris polluting Saipan shores, MINA would like to call on its members and all other interested individuals to volunteer their time to help promote an Island Culture of Recycling, aimed specifically at reducing the debris found in the waters surrounding our island. Your time and efforts will assist us in meeting the Micronesian Challenge and improving our solid waste management. If you wish to volunteer and make a difference, you may contact Sam Sablan or Jon Igitol at the MINA office at telephone number 233 – REEF (7333), or send us an email at admin@minapacific.org.