Marine Debris Prevention
No Need For Plastic Bags ....
Single use plastic bags from the supermarket or store can have monstrous effects in the environment. There are dozens of frightening facts about them.
They're made of polyethylene, which is a petroleum product. Four to five trillion are manufactured each year. (Americans alone use 380 billion of these bags.) Only 1% are recycled.
And it takes 1,000 years for these bags to break down -- and that is a misnomer, because the bags simply break into smaller and smaller pieces, releasing harmful toxins and creating tiny toxic plastic bits that find their way into the bodies of birds, marine life and animals.
Marine wildlife is at particular risk to health problems or death due to encounters with plastic bags. It's estimated that 100,000 marine mammals die yearly by eating plastic bags.
Single use paper bags can be equally as ghoulish. Every year, the United States consumes 10 billion paper grocery bags, requiring 14 million trees. (By Kelly Vough, Manager, Pacific Whale Foundation)
---
Public Service Announcement: Dispose of waste properly.
A message from Mariana Islands Nature Alliance (MINA) and paid for with a grant from NOAA Marine Debris Prevention Program.
MINA's No Need Bag Campaign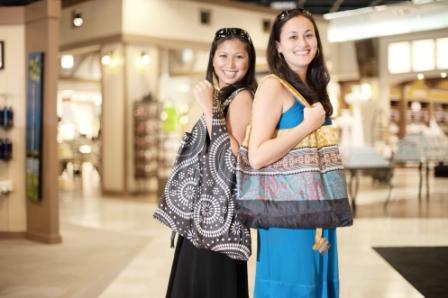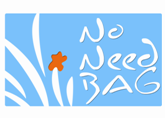 Credit: Photo by John Kyle; Eco-bags by handbags etc; Location - Duty Free Shoppers; models are Kristy Springer & Rachel Fusco; Logo by Lisa Huyhn-Eller
What you can do to help eliminate the use of plastic shopping bags.
Begin with yourself - don't use plastic bags, wherever, whenever! And then ... encourage others;
Start small - say "no" to plastic bags when purchasing 2-3 small items only or carry what you can without plastic bags;
Use reusable bags - Use tote bags or eco-bags. Start a trend here in the CNMI. Be one of the few that are starting to use reusable bags and begin promoting it. This is your chance to make a difference. Tell your friends, encourage your family, and talk about it among your peers. And if you are using reusable bags - keep it clean by washing it when necessary.
Use boxes - You've done it before ..... while shopping at Costco or at the Joeten Price Club. They don't give out plastic bags there. Continue that same practice wherever and whenever you shop;
Encourage your favorite grocery store(s) to stop using plastic bags;
Teach your kids. Make it a family tradition.
Have a tote bag already? Please don't use it as a regular bag. It's a bag for your food whenever you shop. Practice food safety - even when shopping. Bring a small and clean cooler for your meat products. Add ice if your shopping is longer than expected.
Other tips - Bring your own tupperware when eating out; most restaurants charge extra for take out containers;
Carry your own water container wherever you go; and
Bring your own carafe whenever and wherever you order coffee
Plastic Bag Fact sheets - The Problem
Factsheet Credit: Lisa Huynh-Eller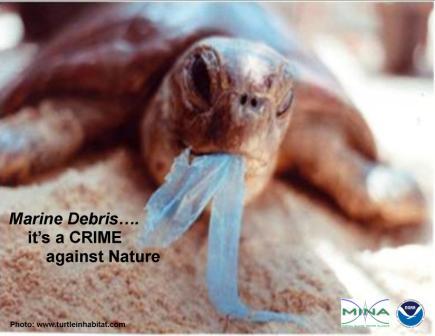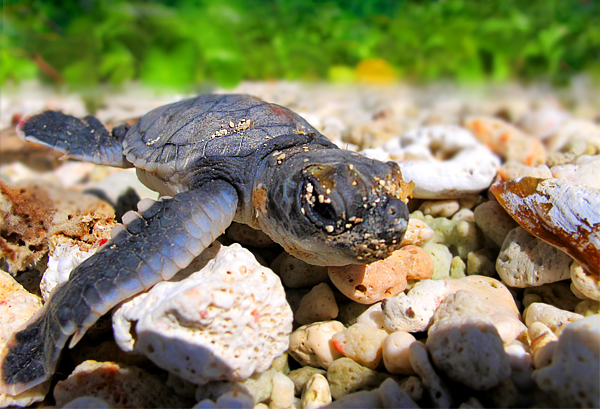 Dangers to Marine Life - The CNMI waters are home to sea birds, turtles, fish, whales and dolphines, and many other organisms. These animals have been known to mistake plastic bags for jelly fish, a common source of food, or to accidentally ingest plastic bags while feeding.
Dangers to Human Health - When plastic bags enter the ocean, the sun and water slowly breaks them down into smaller pieces of plastics. These pieces are eaten by fish, crabs, and lobsters - all animals we like to eat. When we eat fish, we are likely consuming toxic chemicals that are found in plastic. These toxic chemicals have been found to cause birth defects, effect immune system function and decrease fertility.
Did you Know ......
Between 500 billion to 1 trillion plastic bags are used worldwide every year (U.S EPA)
In the CNMI, 1 vendor brings in 1 container (20 ft) full of plastic shopping bags ONLY every six months
It is estimated that 100,000 whales, seals, turtles, and birds die each year from plastic bags ingestion (World Wildlife Foundation)
Less than 1% of the world's plastic bags are recycled. The rest end up as litter or in landfills
China will save 37 million barrels of oil by banning free plastic bags
---
Docomo donates to MINA's Adopt-A-Bin Program!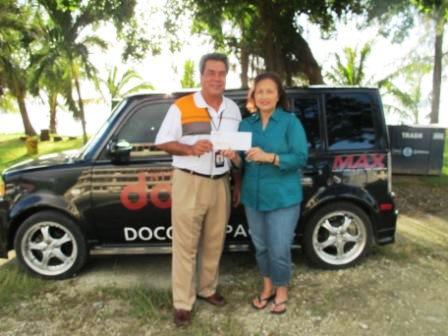 ---
CTSI, Fiesta Resort and Saipan Grand Hotel Eliminate trash for MINA's Adopt-A-Bin Program!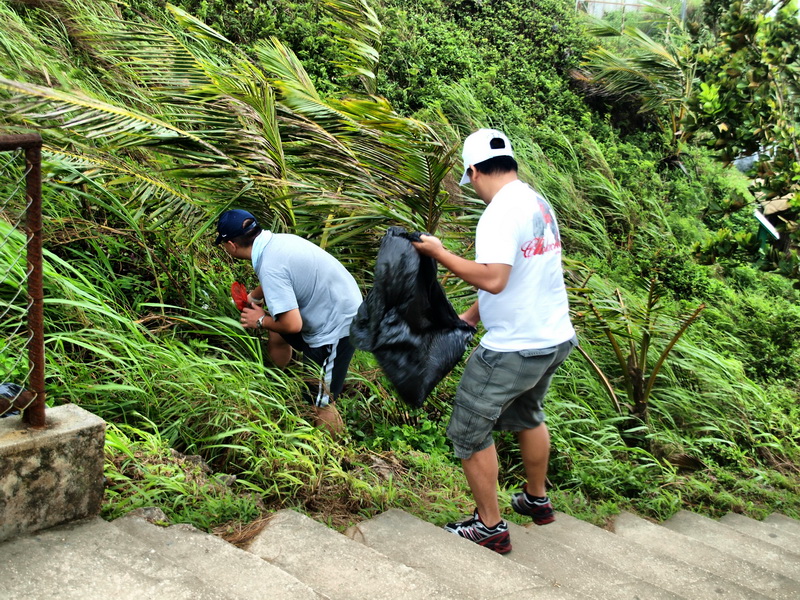 Volunteers from CTSI, Fiesta Resort and Saipan Grand Hotel brave dizzying heights, mountainside winds, and tropical rainshowers to ensure their designated Adopt-A-Bin site was free of any trash and other debris! Over the course of their sponsorship with MINA's Adopt-A-Bin program, over 640 volunteers from these three businesses worked tirelessly to ensure they help MINA acheive their environmental goals and keep our islands free of trash that could very well end up in our fragile marine environments. Here is a snapshot of CTSI, Fiesta Resort, and Saipan Grand Hotel's environmental stewards in action:
---
SCS 8th grade students sweep Susupe Park of possible Marine Derbis!
On a hot sunny mornig right before lunch, Mr. Schrader's Physical Education class came out to Susupe park to prevent about 30 pounds of possible marine debris. For one hour in the sizzling sun, these students climbed the old japanese bunkers and got on their knees to make sure no trash was left behind. As they got into pairs of two, they sped off covering the whole Susupe park, avoiding the huge puddles of water and but still having fun. Lets give a round of applause for our young environmental stewards!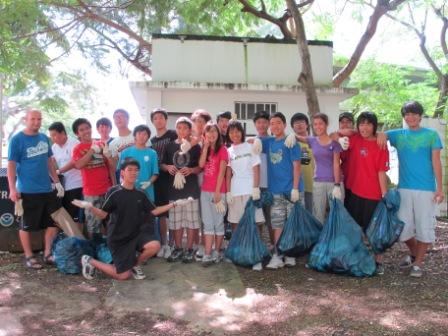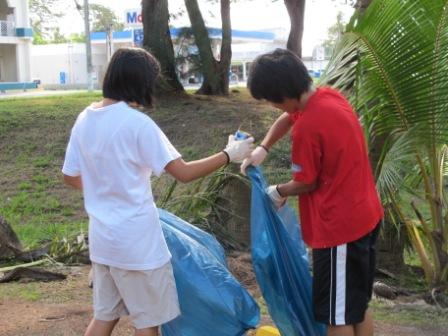 MHS Dolphins obliterate waste around their campus!
Ms. Springer's Health Sciences class took time out of their busy class schedules and worked together in the blazing Saipan afternoon to give back to their high school by eliminating trash and other harmful debris in and around the MHS campus areas. More than 9 full bags of trash were collected with many students searching in storm drains and thick sword grass to find hidden plastics, aluminum cans and cigarette packs among a plethora of discarded waste. MINA applauds these bright young individuals for their anti-littering efforts!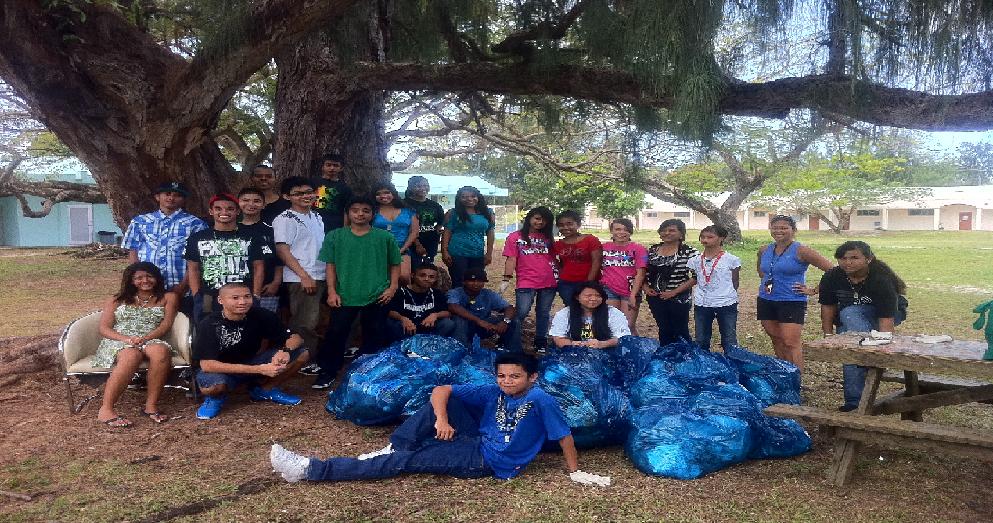 Ms. Springer's students proudly show Dolphin pride!
---
Garapan Elementary School 1st Graders Destroy Garbage at Marine Beach!
A day at the beach wasn't the only thing on these bright first graders minds! Julie Curry's 1st Grade class from Garapan Elementary School took time on a Friday morning to take a trip down to Marine Beach and learn about the real dangers of marine debris, what happens when trash is washed onto our beaches from sources outside the island due to the sea currents, and what we could do to prevent and protect marine life from the abundance of refuse present in our waters. Rachel Zuercher from the Coastal Resources Management offices took time out of her day to speak to the students about wetlands and the various plant and animal species at Education Island, and through an exciting activity showed the students how all the species were interconnected and dependent of one another. Here are some sights and sounds from this amazing day!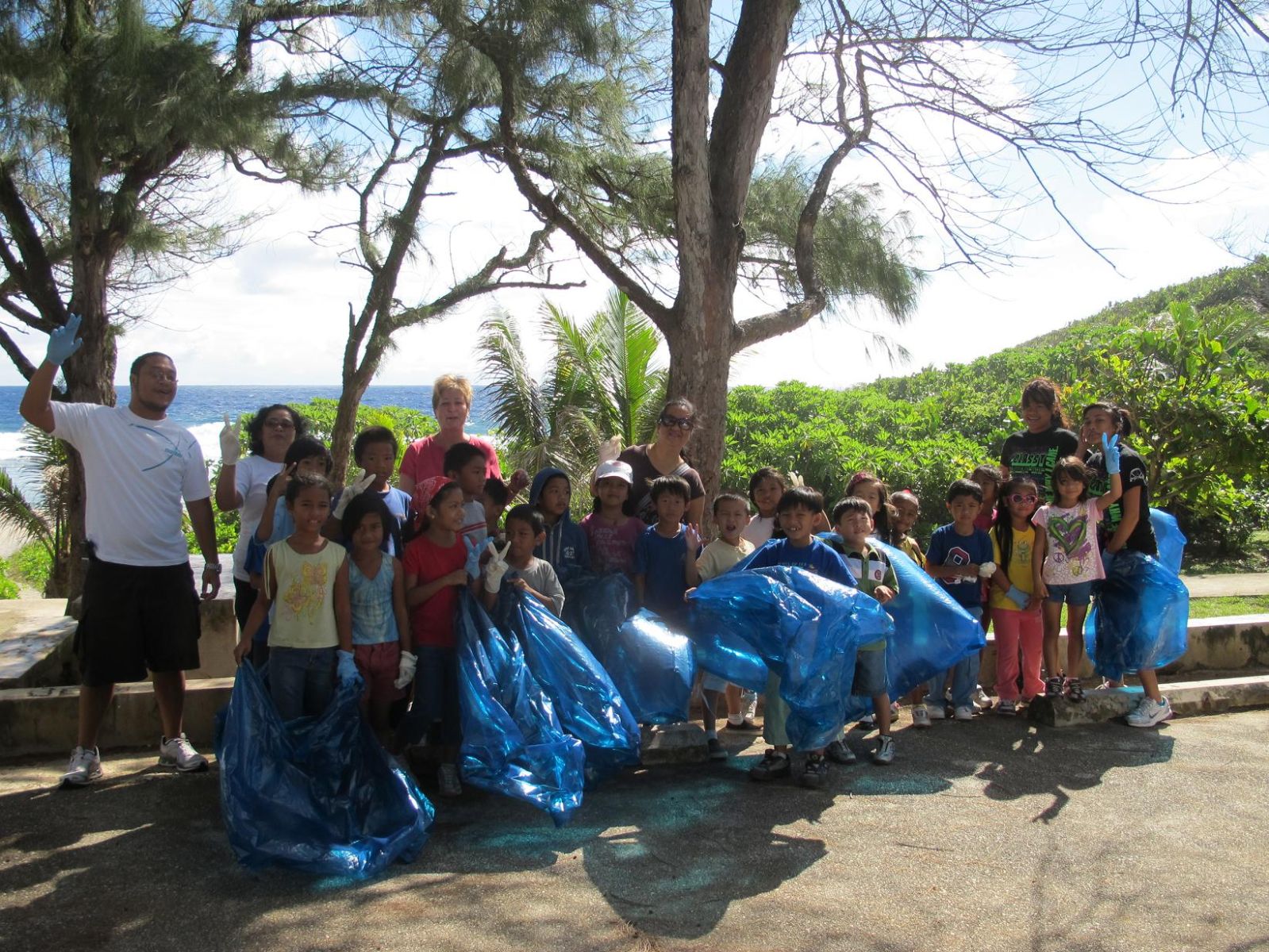 Oleai Elementary School 3rd Graders Become Litter Patrol Officers!
Following in their 5th grade classmates stead, the entire 3rd Grade Class at Oleai Elementary School took the pledge to become the latest Litter Patrol Officers! Outreach Coordinator Jon Igitol presented to the class to teach the students about what common types of Marine Debris is found around the island, the dangers they pose to many types of marine life, and what they could do to prevent the spread of debris from land based sources of pollution. We applaud these young environmental stewards for stepping up and being the real change Saipan needs to remain beautiful and serene! Here are some sights and sounds:
---
2010 International Coastal Cleanup Fact Sheet on CNMI's Most Littered Items
Top Five - 1. Cigarettes 2. Aluminum Cans 3. Plastic Food Wrappers 4. Plastic Bags 5. Plastic Bottles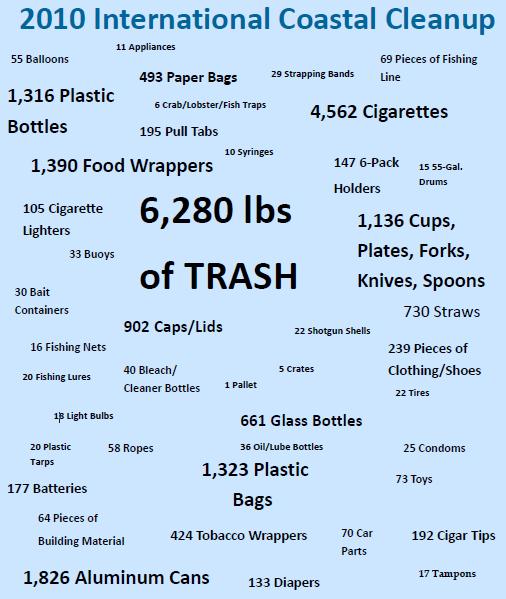 The Solution is Simple - Reduce, Reuse, and Recycle
| | | |
| --- | --- | --- |
| | | |
| Stackable Bins | Recycled Bins | Reusable Bags |
Want to make a difference? Know the issues, get involved. Volunteer now and become an environmental steward ....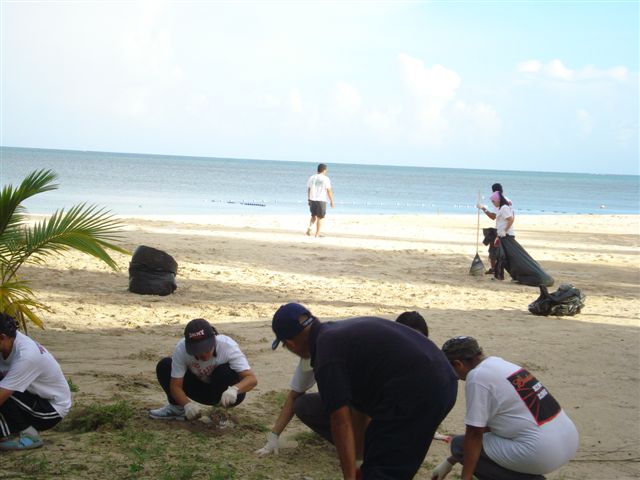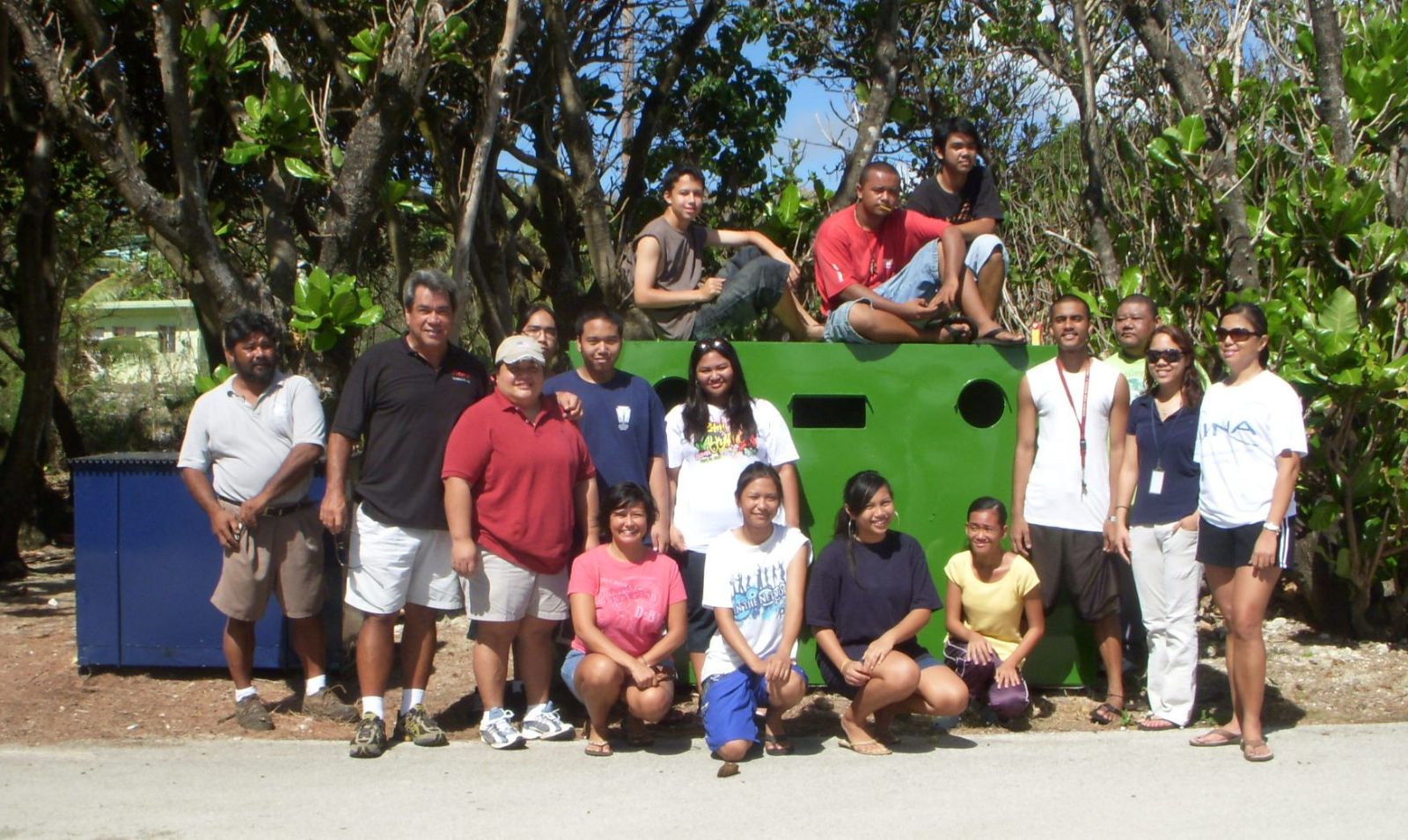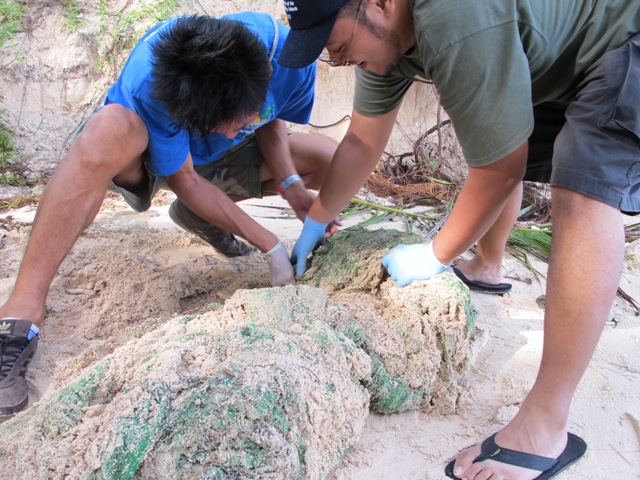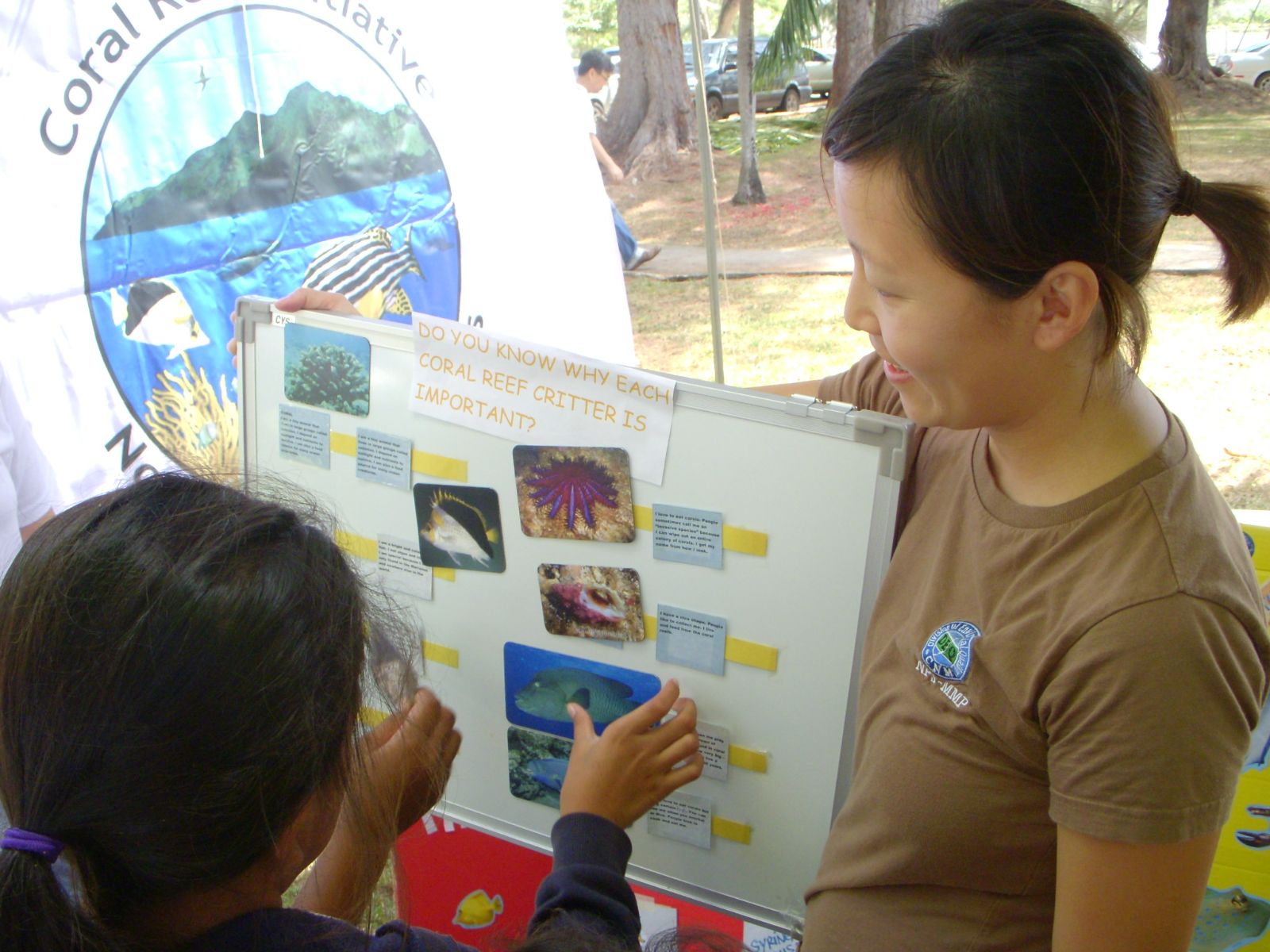 MINA Featured in NOAA Coastal Service Magazine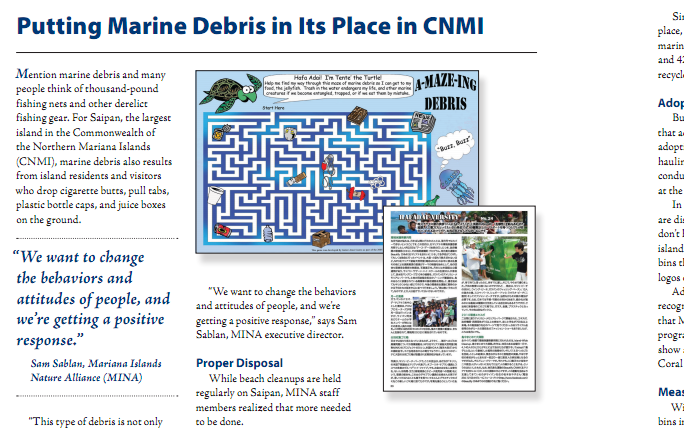 MINA continues to receive recognition for it's efforts in the field of environmental awareness. Founded in the Mariana Islands, this non-profit organization has been reaching out to the community through various means to promote a more friendly environment on the island of Saipan. In the past few months the staff of MINA have teamed up with volunteers from various schools to tackle different events doing such things as distributing recyclable bags at the Thursday Street Market, Tuesday Farmer's Market, and Sabalu Market, introducing the Adopt-A-Bin program to the island, deputizing students of different elementary schools, etc, all in a huge effort to prevent marine debris from entering Saipan's waters.
After an over-the-phone interview with Executive Director Sam Sablan and Marine Debris Project Manager Kathy Yuknavage, NOAA attained all the information necessary to put together an article that would feature MINA in a popular environmental magazine. For the text version of this article click here , or to view the PDF version click here.
For more information on MINA please call 233 REEF, send us an email, or drop by our office on Beach Road to see how you can become a volunteer and do your part to help out.
---
CTSI, Fiesta Resort and Saipan Grand Hotel Eliminate trash for MINA's Adopt-A-Bin Program!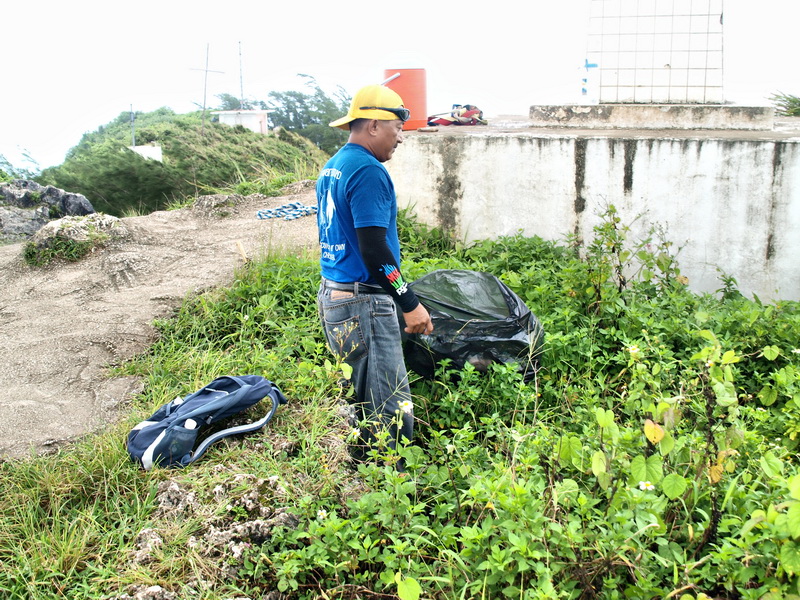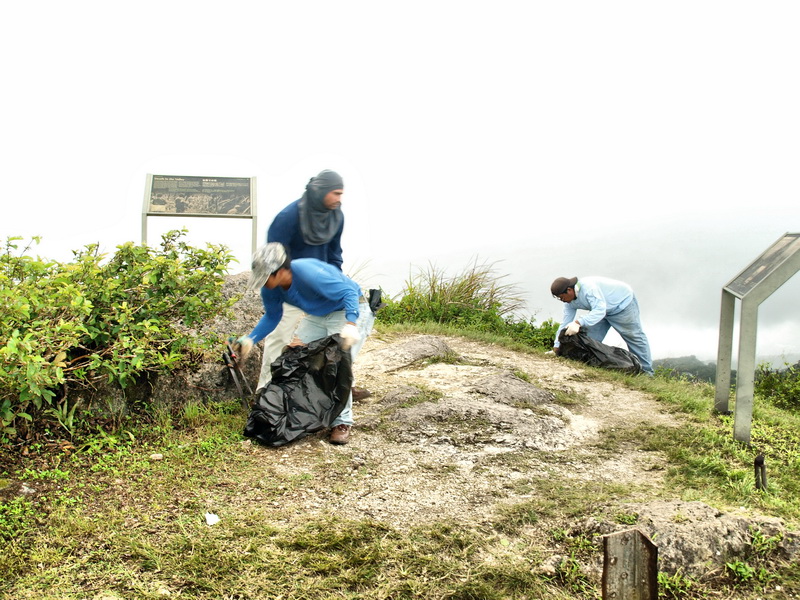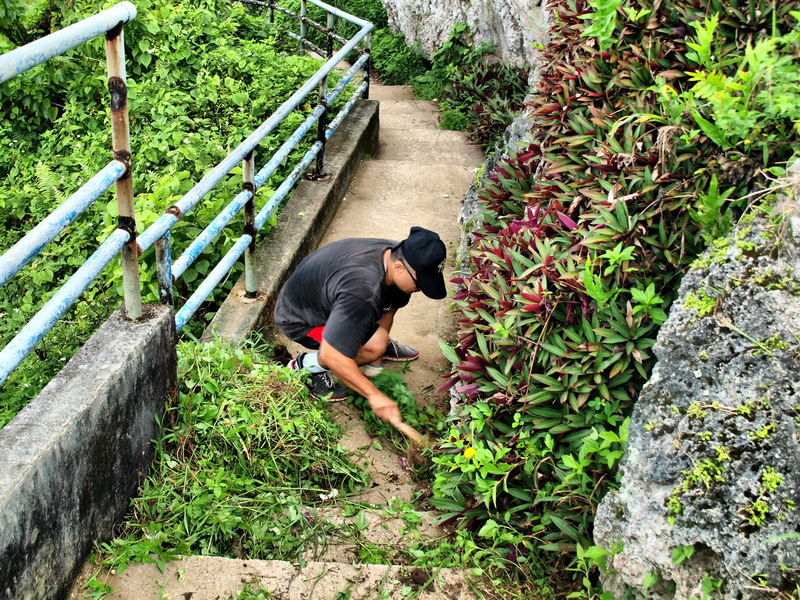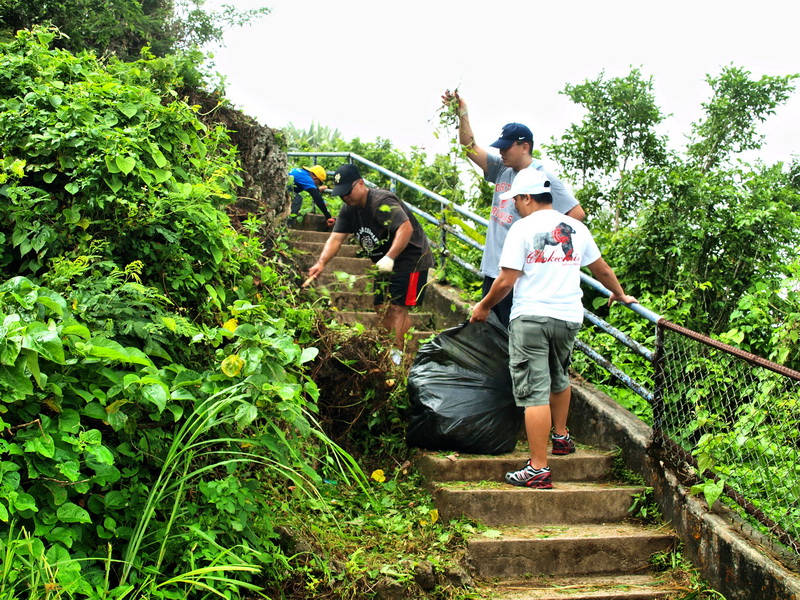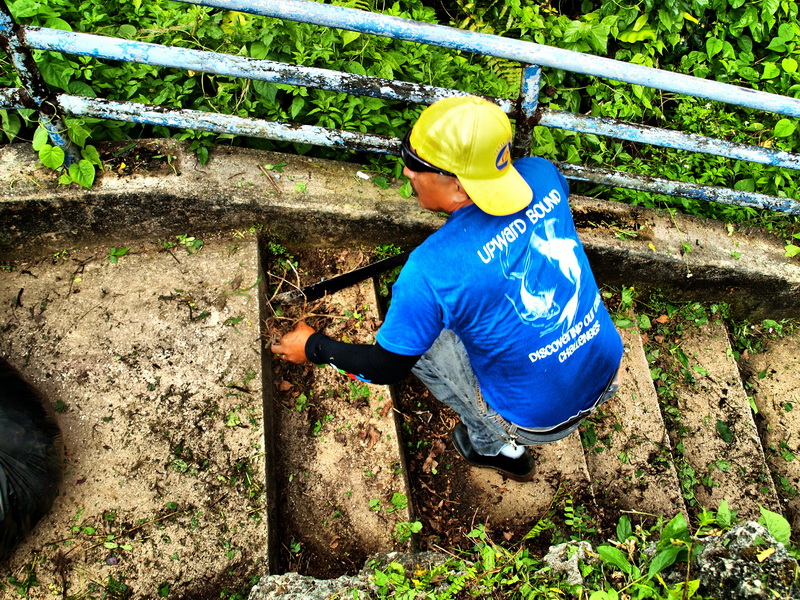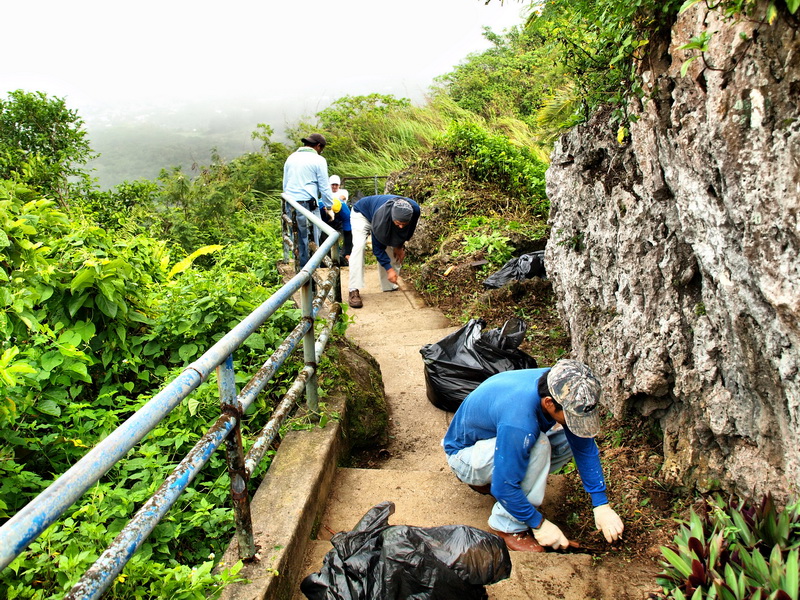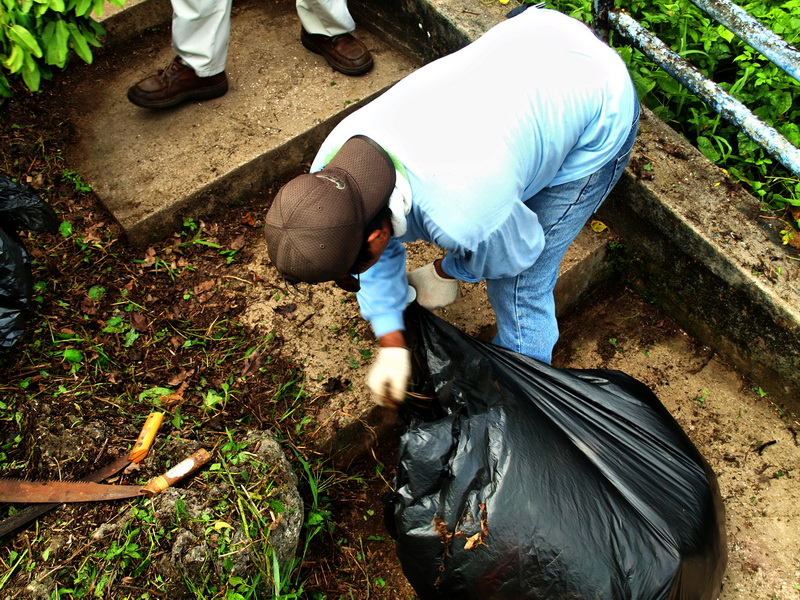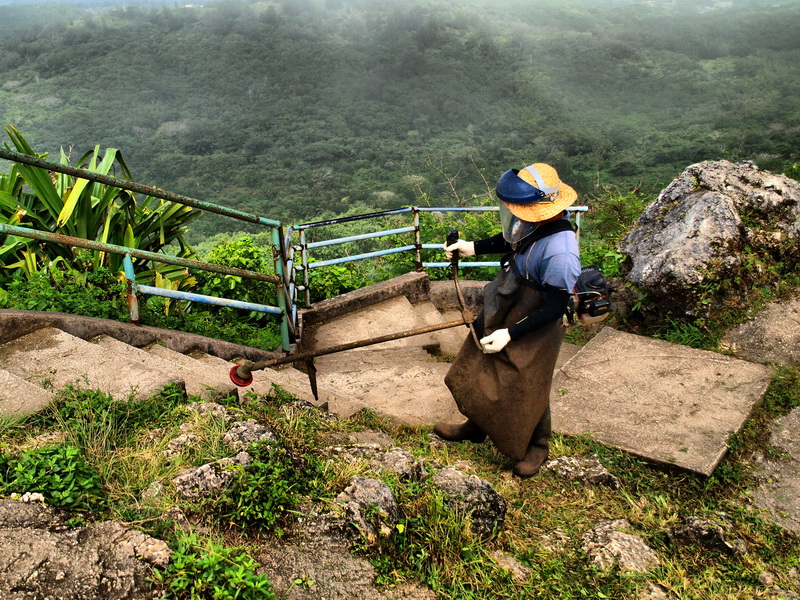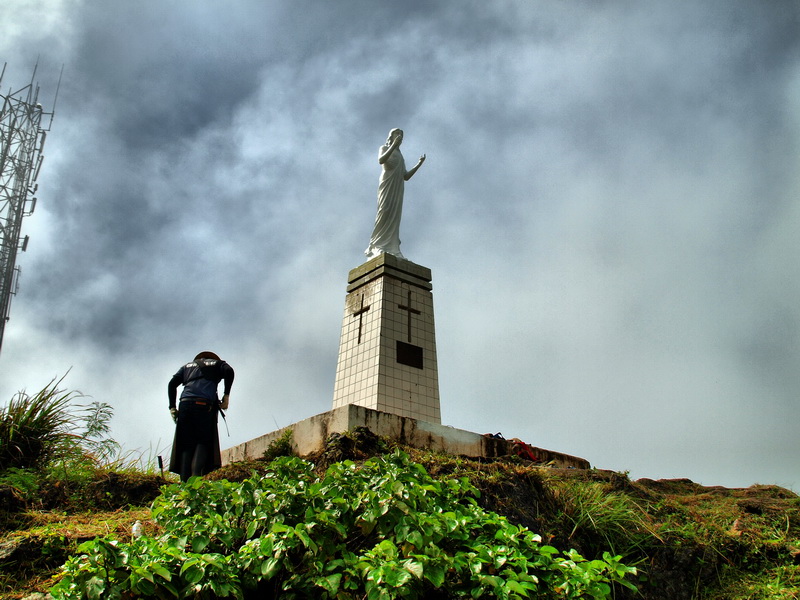 CRM Adopt-A-Bin Beach Clean Up!
June 24th, 2011 - Volunteers and staff from the CNMI Coastal Resource Management Office held a beach clean up at Coral Ocean Point, one of the many local beaches CRM has sponsored. Big thanks to CRM and their volunteers and staff for keeping six garbage bags worth of trash from ending up in our beautiful waters and harming marine life!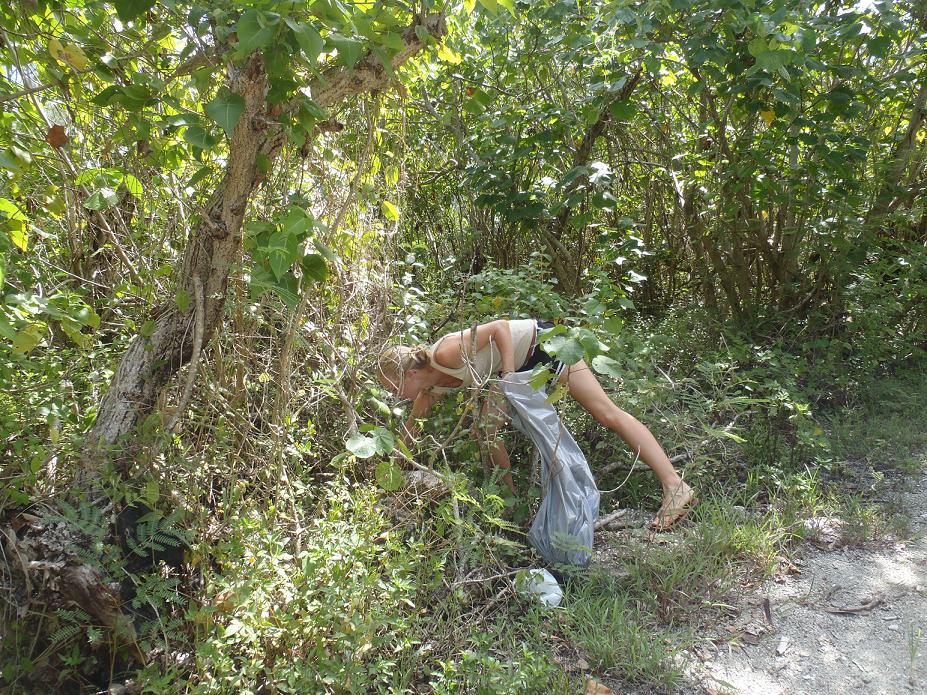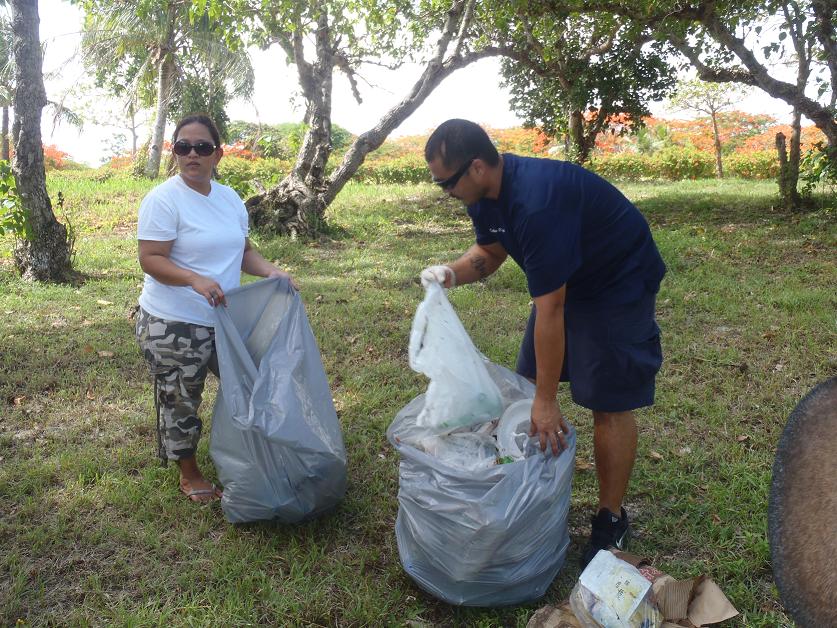 Celebrity Cleanup A Success!
About 30 volunteers got together to cleanup the beach behind Aquarius Resort on Sunday. Mainly comprised of Southern High School YEA Club, Beautify CNMI!, MINA volunteers and other smaller organizations teamed up to welcome Sharkwater film Director Rob Stewart to the islands. He was really impressed as to how clean our beaches were and that he looked forward to seeing more beautiful sites while on island.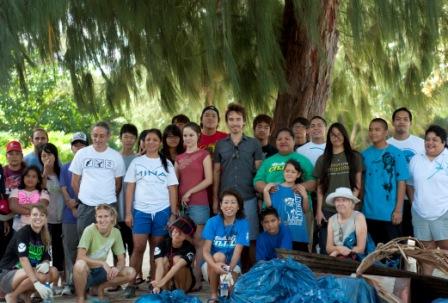 Community Alliance for Marine Debris Prevention!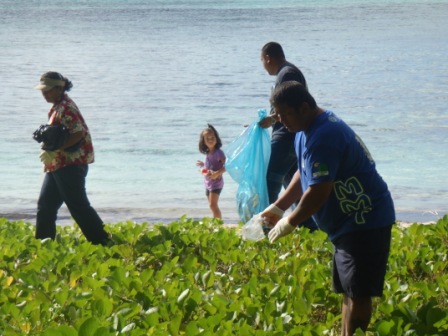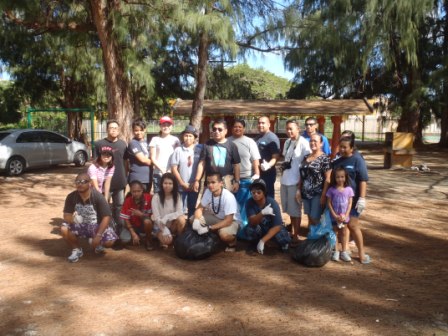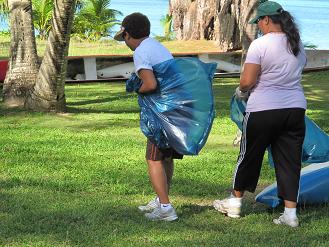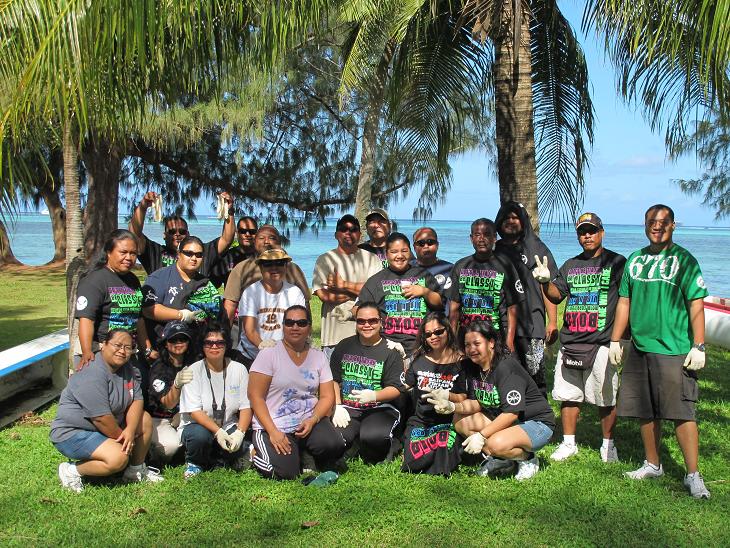 Volunteers from Northern Marianas College, Coastal Resources Management, Department of Public Health, and Mariana Islands Nature Alliance take part in obliterating trash from our beautiful beaches.
A weekend of beach clean-ups was what Saipan ordered, as an alliance of community efforts from volunteers at the Coastal Resources Management Office, Northern Marianas College Service Learning Program, the Department of Public Health and the Mariana Islands Nature Alliance obliterated trash on two of Saipan's beautiful beaches.
Last Friday, the beaches behind Lali 4 obtained a thorough cleanup as students from NMC's Service Learning Program partnered up with CRM's employees to clean up their Adopt-A-Bin site. It seems the cleanup efforts have had a positive effect in recent months. "Maybe because it was before a weekend, but the beach seemed cleaner than the other times I've been here," added Jon Igitol, Outreach Coordinator of Mariana Islands Nature Alliance.
On a separate event held last Saturday morning, the Department of Public Health and the Mariana Islands Nature Alliance organized a beach cleanup at the Civic Center beach areas. Over 20 volunteers from DPH and MINA were present.
The effort was successful for both cleanups! In total, about 31 bags of trash and wood debris were collected, 2% of which are recyclable items.
MINA Volunteer Corps in Action!

Members from Saipan Southern High's YEA club participate in various Marine Debris outreach activities throughout the month of December.
Remember, if you are interested in becoming a volunteer or member please don't hesitate to talk to us at 233 - REEF or send us an email at admin@minapacific.org!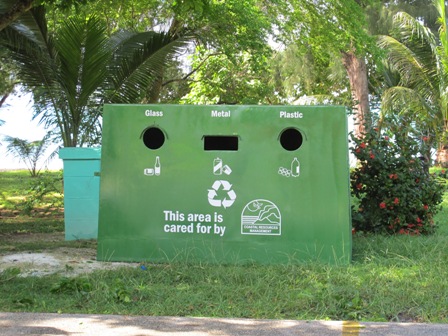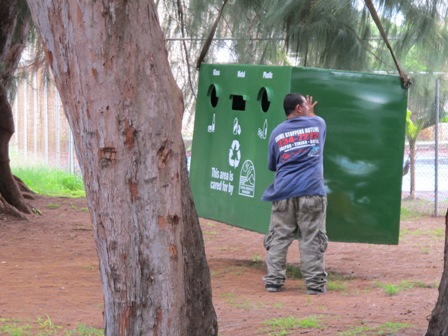 Coastal Resources Management Office Sponsors Three Bins!
The Coastal Resources Management Office (CRM) has joined MINA's Adopt-A-Bin Program by sponsoring three recycling and mixed waste bins. After waiting for 3 long months, CRM was able to secure some federal funds to help pay for the trash hauling services for each of the bins for 2 years. The bins were placed at three locations: Paupau Beach, San Isidro Beach, and Coral Ocean Point. " Now that we have all these bins installed at various beaches throughout the island we hope that the people will continue to dispose their trash properly and help reduce or prevent trash from entering our lagoon" says MINA's Executive Director, Sam Sablan. As part of the Adopt-A-Bin Program, each sponsor is responsible to organize at least 2 beach cleanups per year at their sponsored site. Thank You Adopt-A-Bin Sponsors!

MINA Deputizes New Litter Patrol Officers!
MINA has been busy throughout the past months developing and conducting presentations at local public and private schools about the dangers of marine debris. This month, MINA Director Sam Sablan, Outreach Coordinator Jon Igitol, and Micronesia Challenge Intern David Sablan Jr. gave presentations to Ms. Obie Diamante's 3rd grade class, and Ms. Naomi Ada's 5th graders at Mt. Carmel School, as well as the entire Kagman Elementary School 2nd grade class headed by Ms. Ernesta Funkugub, Ms. Lacey Nerdig, Ms.Ma. Hellena Jebehn, Ms. Imee N. Talon, and Ms. Amber Sankkinen. The students learned what marine debris was, the main types of trash found on our islands, and the importance of recycling and proper waste management. In total, 124 students from Mt. Carmel Elementary School and 90 2nd grade students from Kagman Elemantary School were all deputized as MINA Litter Patrol Officers. We congratulate and commend them for being part of the difference our islands need!
Asia Pacific Hotels Adopt-A-Bin on Mt. Tapochao
After a month of planning, the managers and staff of Fiesta Resort, Century Hotel and Saipan Grand Hotel, gladly stood in the rain last Tuesday to witness the installation of their new MINA Adopt-a-Bin on Mt. Tapochao. "Tourism is our island's foremost industry and the backbone of the CNMI's economy. Our companies are committed to sustaining its future. We thought, 'What better way than protecting Saipan's highest peak, one of our most visited scenic views.'" said Lina Dimaano, Vice President for Finance of Tan Holdings, and the Project Chairman of the organization's Going Green initiatives. "The overlook also holds a special place in many residents' hearts. We hope that by placing bins here, we will encourage visitors to do their share by keeping this beautiful overlook clean for everyone to enjoy."
The bins were hauled up a heavily rutted road and placed in the parking area by Ericco Enterprises, the company contracted by MINA to provide weekly trash collection services to this and 13 other sites. Convenient public mixed waste and recycling bins can now be found at 14 sites, including Wing Beach, Garapan Fishing Base, 13 Fishermen Monument, Kilili Beach, Ada Gymnasium, Susupe Beach Park, Sugar Dock, Obyan Beach, Laolao Beach, Marine Beach, and now, Mt. Tapochao.
"This latest installation ties Saipan's ridges to its reefs and stands as a reminder to all that what we do on land affects our ocean." said MINA Executive Director, Sam Sablan. "Next year, we expect to continue the MINA Adopt-a-Bin Program, as well as several other environmental stewardship projects." said Sablan. "I think self-awareness is a key element of stewardship. This means consciously choosing to do what is right for the environment, even when it may be a bit inconvenient. The smallest task, like picking up litter instead of stepping over it, sends a powerful message to those around you. It's important to protect the one thing that we can never replace – "Mother Earth."
For more information about MINA's Adopt-a-Bin Program and other environmental projects, please visit www.minapacific.org or contact 233-Reef, or kathyjuk@gmail.com.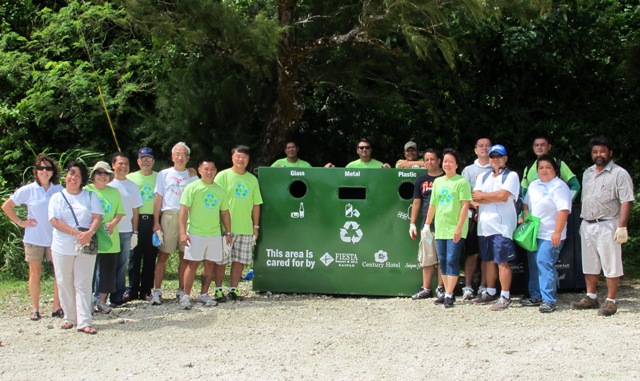 2010 International Coastal Cleanup Report
A letter from Rachel Zuercher of CRM, part of the Coastal Cleanup Planning Team:
Hafa Adai everyone,
First, I want to thank you all for participating in the 2010 International Coastal Cleanup. By volunteering in huge numbers (1,089 people!), you have shown CRM, DEQ and the entire nation that we are serious about combating marine debris and keeping our environment clean and healthy for the next generation.
We received 27 data sheets back, and were blown away by all your hard work to collect information regarding marine debris in Saipan. Data here only reports about 1/2 of the trash that was cleaned up by all your groups (27/53 volunteer groups), so the entire Cleanup had an even larger impact than is shown. This is huge!! Here are totals on a few types of trash that were collected: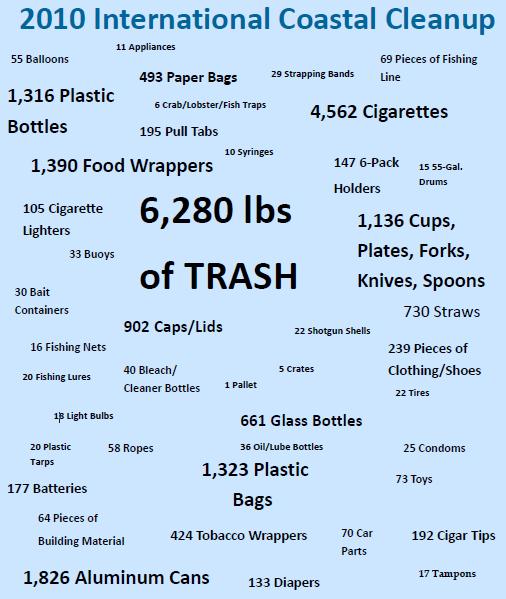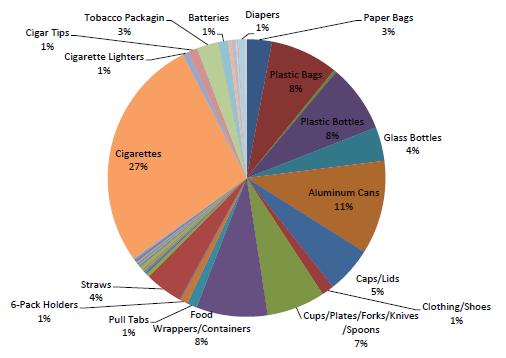 Total weight of the trash (for all 53 groups) was 6,280 pounds. In four hours, we kept more than 3 tons of garbage from entering the Pacific Ocean. We removed toxic waste from the shoreline, carried dangerous debris from our beaches, and properly disposed of hundreds of items that could entangle and threaten marine wildlife! For more information on trash removed, please see the attached PDF files. If you have questions, concerns or comments regarding the Cleanup and/or the marine debris issue in Saipan, please do not hesitate to contact me (rachel.zuercher@crm.gov.mp or phone: 664-8316).
Again, thank you all so much. We couldn't do it without you.
Coastal Cleanup Planning Team
Rachel Zuercher
CNMI Coastal Resources Management Office
PO Box 10001, PMB 59
Saipan, MP 96950
Phone: (670) 664-8305
Fax: (670) 664-8315
MINA Promotes Marine Debris Prevention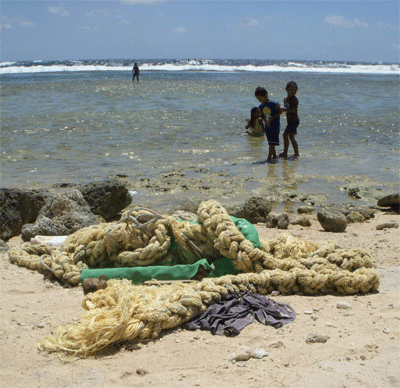 Saipan's reefs and marine habitats are at risk from litter washing into the surrounding waters and becoming marine debris. Saipan's most commonly littered items include: cigarette butts and packaging, pull tabs, plastic bottle caps, and juice box straws and wrappers. These items may seem too insignificant to be considered litter by the people who carelessly drop them on the ground, but this type of debris is not only unsightly; it poses a risk to marine life from toxicity, entanglement, and smothering from its ingestion.
Even small bits of marine debris can last for years in the environment before degrading. NOAA's Marine Debris website reports that cigarette butts can last up to five (5) years, aluminum cans 200, plastic bottles 450, and monofilament fishing line up to 600 years.
"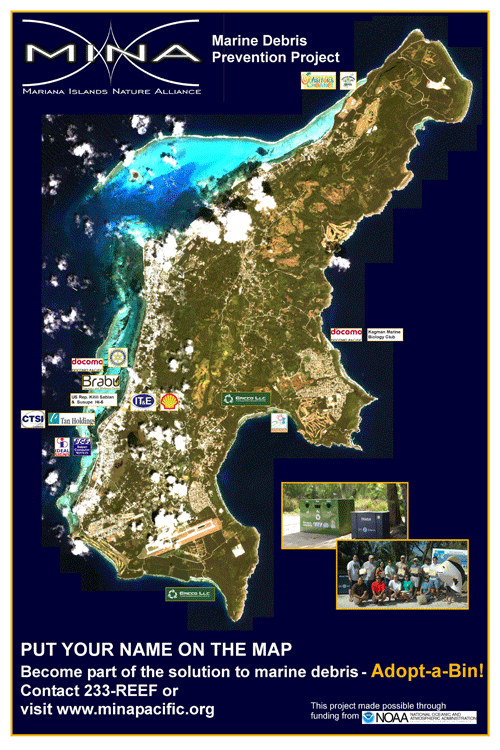 MINA has found that beach clean ups alone are not the answer to marine debris. The barrier to proper waste disposal must be addressed as well. In response MINA proposed and was awarded a grant by the NOAA Marine Debris Program to place conveniently located recycling and mixed waste bins for public use and provide trash collection services at popular beach sites.
Thus far, funding has paid for the fabrication of 17 weather resistant recycling and mixed waste bins thus far at Saipan's most popular beaches and tourist sites. Ericco Enterprises began installing bins at the end of March 2010. Weekly trash collection services commenced immediately. Thanks to the many individuals, families, and businesses that have become part of the solution by "Adopting-A-Bin" we have prevented over17,000 lbs (nearly 8 metric tons ) of trash from becoming marine debris since then. 43% of this trash was separated for recycling!
All our adopters have also agreed to clean up their sites on at least two occassions this year and pay for one year's worth of trash collection services. Trash collection costs a mere $1,000 for a full year and is totally tax deductible. Our present Adopters are:
In return, the Adopters logo is displayed on their bin, and they will be internationally recognized as one of Saipan's eco-friendly and community-oriented businesses in a documentary to be shown at the 25th US Coral Reef Task Force meeting next year in DC.
Please act locally! Before the sun goes DOWN on your fiesta, remember to pick it UP, and THROW it in an Adopt-a-bin. It's that easy. If you would like to learn more about what you can do as a resident to prevent marine debris, please view our presentation here. For more information about how you can add your name to the map please call 233-REEF or contact the Marine Debris Project Manager, Kathy Yuknavage at kathyjuk@gmail.com
Call for Marine Debris Prevention Outreach Volunteers
MINA is looking for outgoing individuals to volunteer their time to help raise community awareness about the hazards posed by marine debris. Litter left on the ground makes its way into our ocean environment; much of it never fully degrades and continues to circulate in what's come to be known as the Great Pacific Garbage Patch (http://marinedebris.noaa.gov/info/patch.html).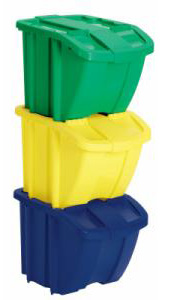 MINA is asking for volunteers to help reduce marine debris by promoting an island culture of proper waste disposal and recycling. Volunteers will spend just a few hours each week on the beach engaging visitors and asking them to use public recycling and trash bins that have been adopted by several local sponsors who pay for their regular trash collection.
Volunteers will be equipped with garbage bags to hand out to beach-goers, and laminated fact sheets that explain the hazards posed to marine life that ingest marine debris or become entangled in it. For their efforts, volunteers will earn a limited edition T-Shirt that they will help design, and a set of 18 gallon UV resistant stackable recycling bins for their home or school.
To learn more about this project made possible through funding from the NOAA Marine Debris Program and how you can volunteer, please contact MINA's project manager Kathy Yuknavage at kathyjuk@gmail.com
School Presentations and MINA's Litter Patrol

MINA is now providing class room presentations to teach our elementary, middle and high school students about the hazards posed by marine debris and how to prevent their contribution to this worldwide problem please view our teachers presentation here.
Elementary students attending classroom presentations on Marine Debris Prevention are asked to pledge their time to show family, friends and neighbors how to recycle. The Litter Patrol is also asked to volunteer time to set up recycling stations at home, during family picnics, and other social gatherings.
I promise to throw litter away,
and show others how to recycle the right way,
I will respect my ocean and the land,
by protecting it with my own two hands,
I need to care,
because out island is our home to share
Pledging students are deputized as Litter Patrol officers and given these badges to wear while performing their pledged dutires. If you are a teacher and would like MINA to give your class a presentation please contact Kathy at kathyjuk@gmail.com to schedule a time and date.
MINA Participates in 2010 International Coastal Clean Up Day
September 25, 2010 Executive Director Sam Sablan and Outreach Coordinator Karen T Cabrera were at the MINA office early Saturday morning loading up the gear needed for the international clean up. A box of MINA shirts, a box of recyclable bags, boxes of water, and a recyclable bin display are just some of the items that needed to be transported to MINA's adopted site in San Roque, Pau Pau Beach. Clean Up efforts started a little past 8 AM, and the amount of volunteers allowed MINA to wrap up by 10 AM.
In the spirit of the International Coastal Clean Up Day Efforts, MINA did not stop at that, but soldiered on to clean up two other locations--North Tanapag Beach and Outer Cove Marina. MINA's Outreach Coordinator asked a couple of volunteers to initiate a small clean up effort at these two separate locations, and the volunteers proceeded to help without any complaints. These individuals were able to collect enough trash at Tanapag Beach to fill up one 55-gallon trash bag, and three 13-gallon trash bags were filled up by removing debris located at Outer Cove Marina. Removing debris from Outer Cove Marina proved to be a struggle due to the miscellaneous types of trash being stuck between the large boulders surrounding the dock itself. It was also difficult to remove the thick ropes and debris due to the waves crashing into the boulder formation. These volunteers finished cleaning up the Marina at a little past 12 PM.
MINA would like to thank all the volunteers that participated in the 2010 International Coastal Clean Up, whether it was at Paupau Beach, Kilili Beach, Oleai Beach, or any other location, thank you for making a difference!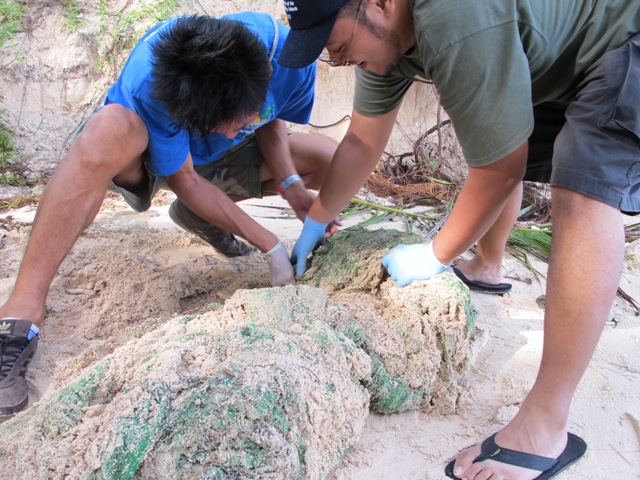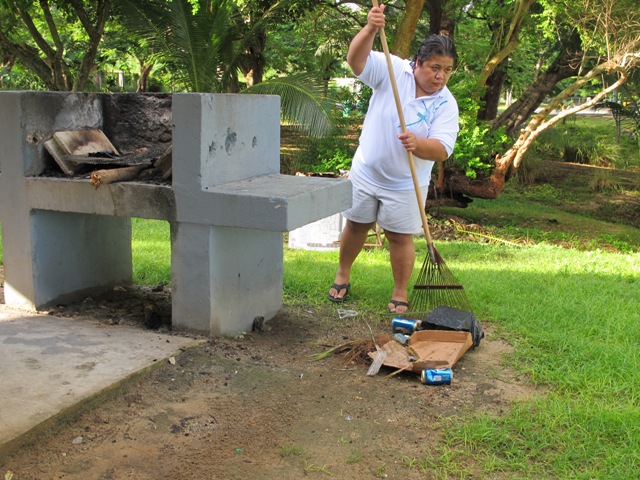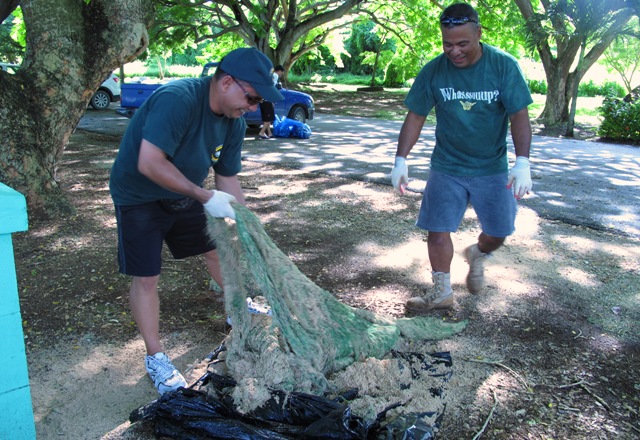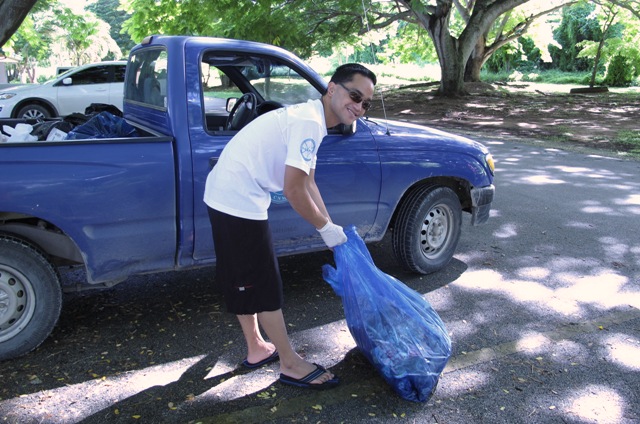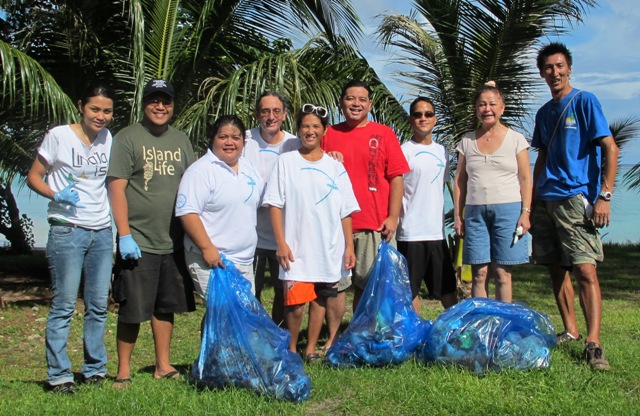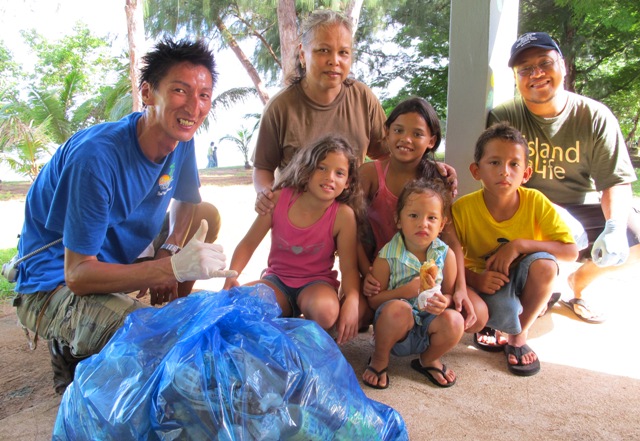 MINA Reaches Out at Street Market
September 23, 2010 What initially started as trying to reach out to individuals passing by the MINA booth on Thursday nights has moved from being a rocky start to a permanent location via invitation. Trying to reach out to other individuals is not an easy task, actually getting other people to care about the environment can be more difficult...but MINA has not given up yet.
Every other Thursday MINA tries to make its presence known by asking individuals to volunteer about an hour of their time to increase people's knowledge about marine debris at the Street Market. Volunteers experience a quick run through of MINA's purpose for the evening, catch on easily, then take over. As individuals, families, friends, and tourists alike pass by the MINA station at Kinpachi Restaurant , volunteers and MINA staff call out asking them to participate.
One of the rewards for participating is a paper flyer/table mat with a turtle and a maze, and the objective is to help the turtle make it out to sea without getting trapped by marine debris; the greater reward is the educational information learned regarding pollution and the environment. However, the treat last Thursday was a bit different--all individuals that participated were able to receive a MINA recyclable bag promoting an Island Culture of Recycling and BYOB, Bring Your Own Bag. Present last Thursday were Marine Debris Project Manager Kathy Yuknavage, Admin/Outreach Coordinator Karen T Cabrera, and volunteers Puy Macario, Jon Igitol, and Jesse Forrester.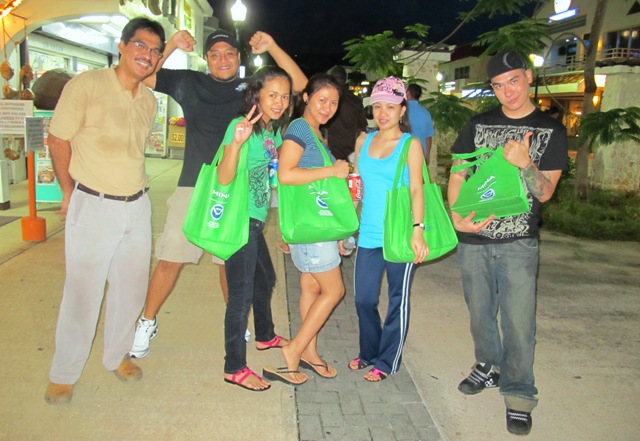 On their way to the Street Market, volunteers Puy, Jon, and Jesse were able to share some environmental information with these individuals who then received their MINA recyclable bags. On their way out of the Street Market, we were able to spot them using their bags to store purchased food instead of using plastic bags.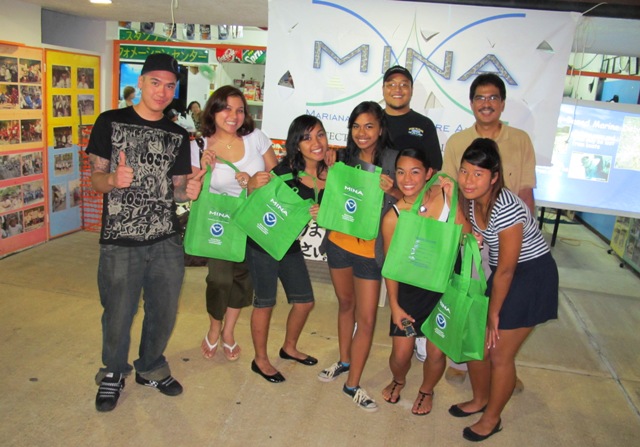 MINA volunteers were able to get this enthusiastic young group of individuals to play the 'how long until its gone' game, where these young ladies actively tried to figure out the proper placement of the magnet cards on the environmental timeline. After many much laughing and criticism the young ladies were able to settle upon the best choices prior to discussing the correct answers, and then were each rewarded a recyclable bag.
MINA Prepares for 2010 International Coastal Clean Up Day
September 21, 2010 The days leading up to September 24th and 25th are proving to keep the staff of MINA busy at work preparing for the International Clean Up Day, as MINA sends out emails calling on its members, volunteers, and other concerned individuals residing on Saipan to take part in making a difference. For the second consecutive year, MINA will be localizing these international clean-up efforts by adopting PauPau Beach this Saturday, September 25th, 2010, to remove all marine debris from the shore and around the pavilions that line the beach. Will you join MINA and help to make a difference in the environment?
In this photo MINA's Executive Director, Agnes "Sam" Sablan, is looking over the recyclable bags, promoting an Island Culture of Recycling via B.Y.O.B.--Bring Your Own Bag--while examining the shirts and polos that MINA received late last week.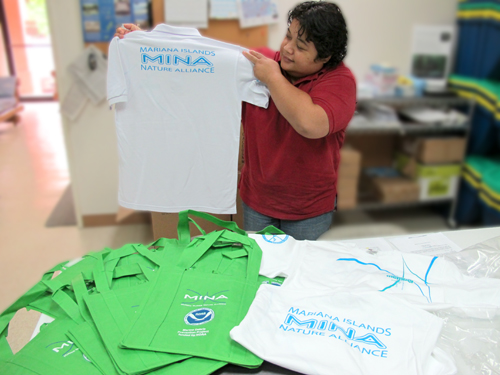 ---
Funding is provided by the NOAA Marine Debris Program
Last Updated 2/27/2015