Archives
December 2011 Extras!
---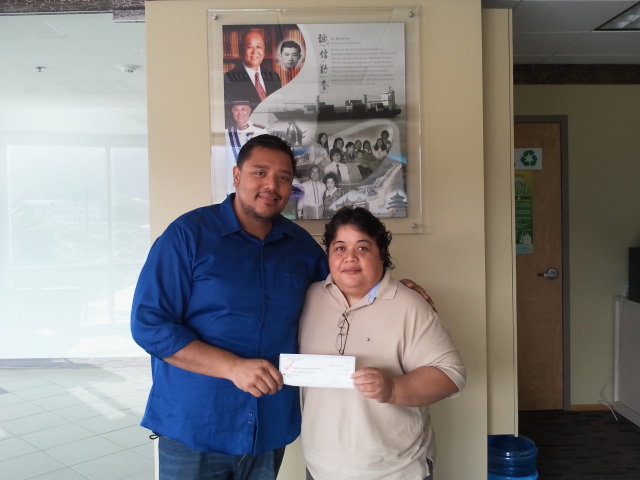 Adopt-A-Bin is back on track!
Photo: Ed Arriola and Sam Sablan
Once again, donations were made to the Adopt-A-Bin program for another successful year of its implementation. Donations were given by Asia Pacific Hotels Inc., Brabu Pharmacy, CTSI Logistics, Docomo Pacific, Errico LLC, Ideal Signs, IT&E, Marianas Trekking, Marianas Visitors Authority, Rotary Club of Saipan, Saipan Computer Services, Tan Holdings, Gregorio Kilili Sablan, and the Marianas Visitors Channel for the year 2011-2012. We here at MINA are grateful for all your kind donations and partnerships and hope for your future prosperity.
---
MINA completes 3 year Strategic Action Planning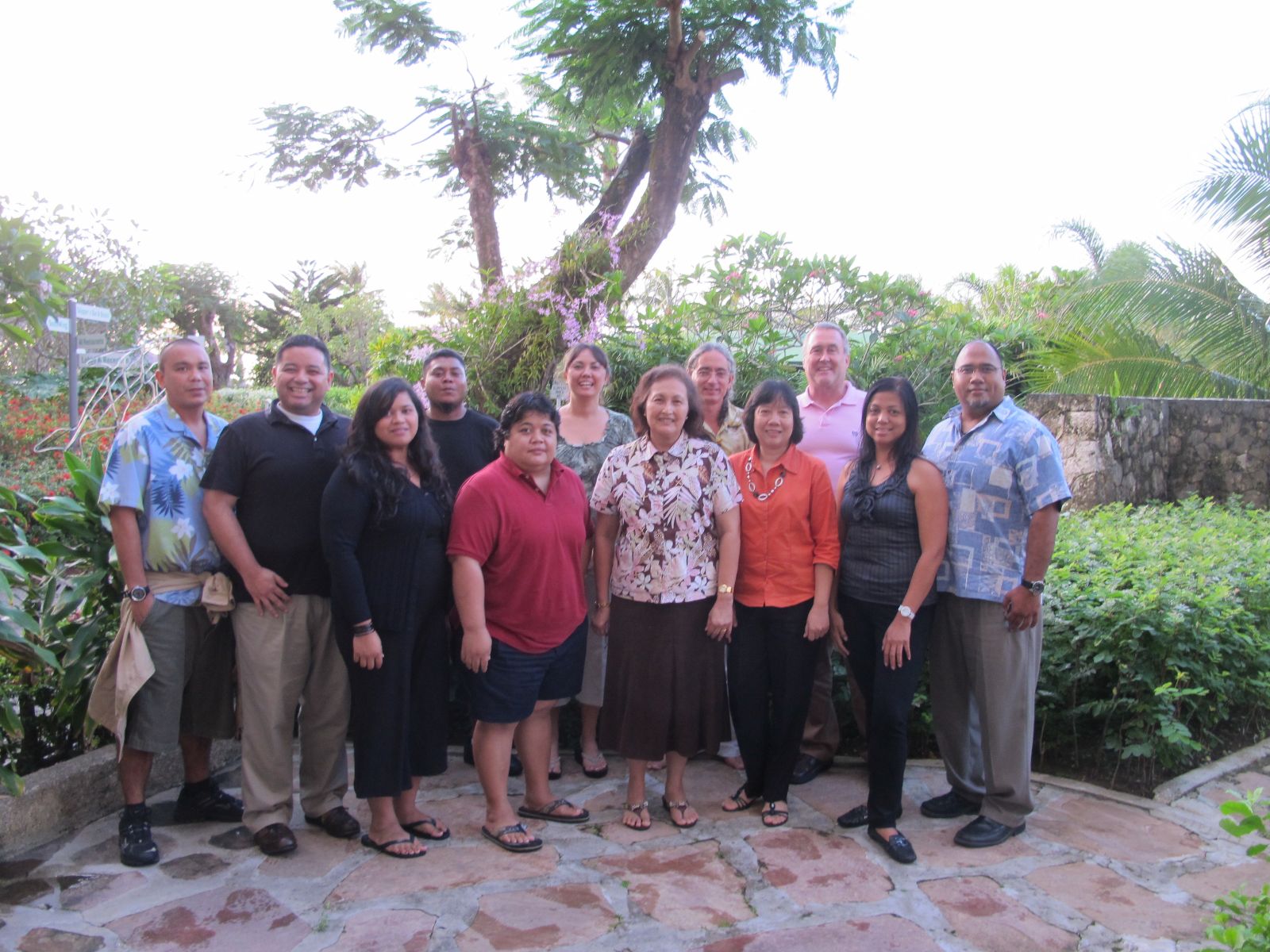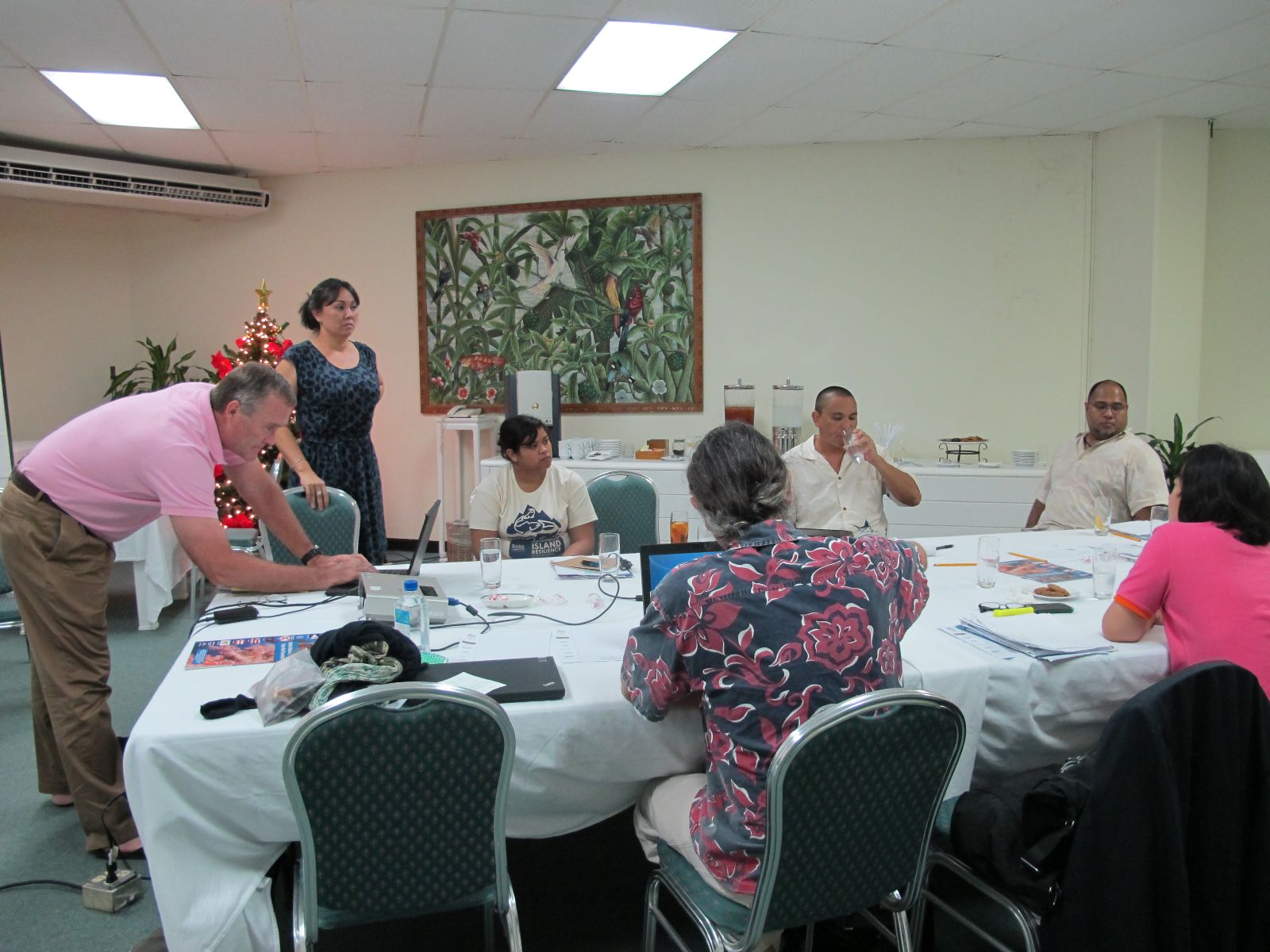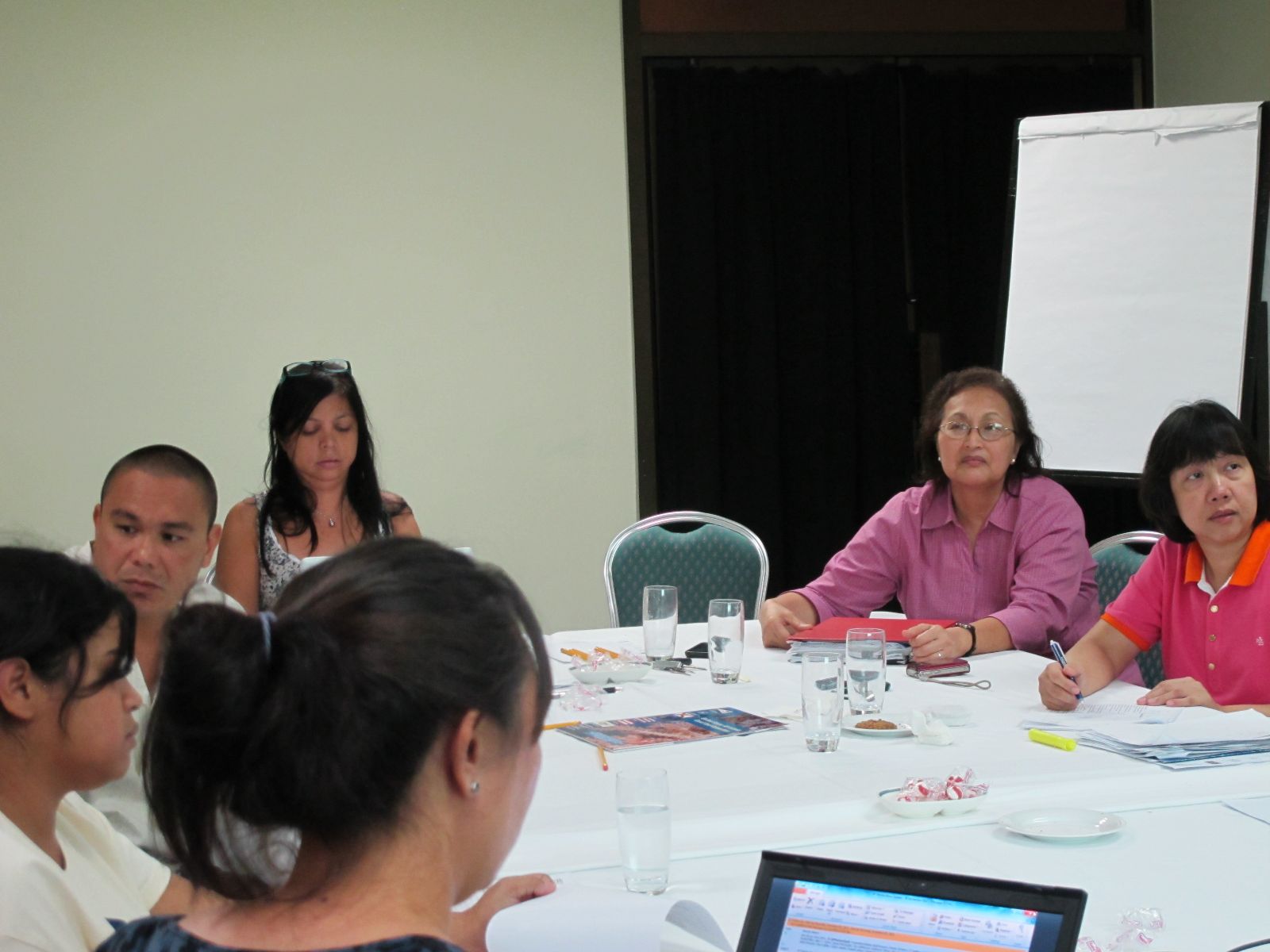 ---
Lions Club members help revegetate Laolao bay!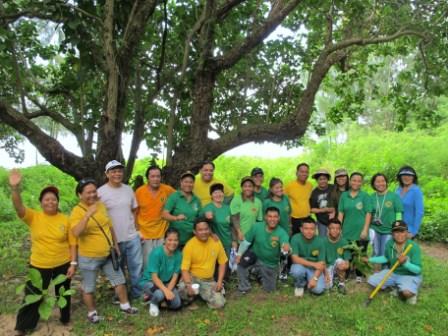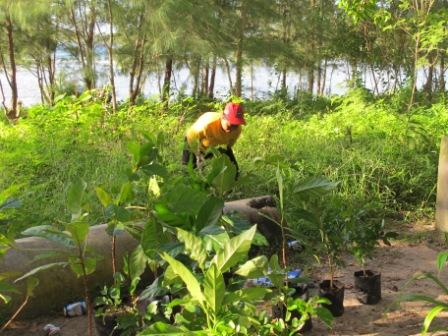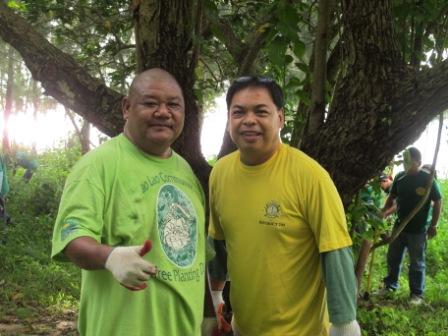 Lions Club members gathered one sunny day to help revegetate our beautiful Laolao bay beach. Armed with pick axes, shovels, and a whole lot of elbow grease, these guys helped prevent even more sediment and runoff that would otherwise hurt our precious coral reefs!
---
CTSI gives Susupe Park an Eco-friendly makeover!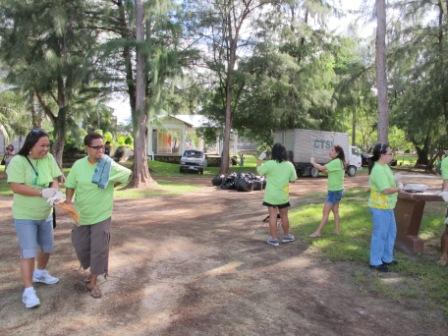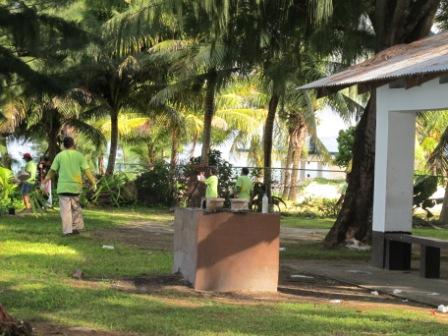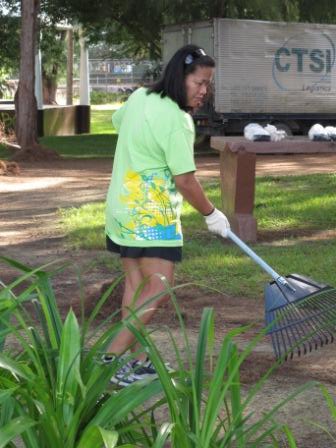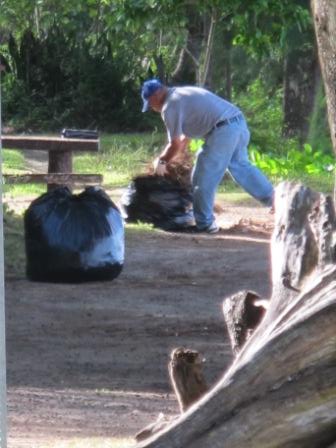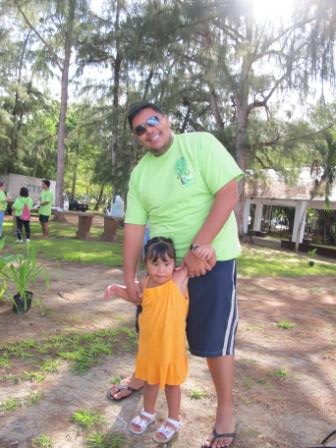 Another fun and productive day at Susupe Park where folks from CTSI came out and gave back to their community. Picking tons of trash left from beach-goers, even the kids came out and gave a helping hand! Two thumbs up for these hard working individuals!
---
September 2011 Extras!
---
Moving Planet CNMI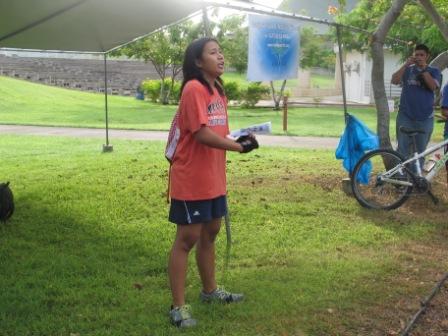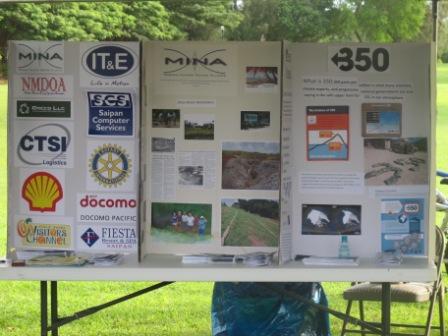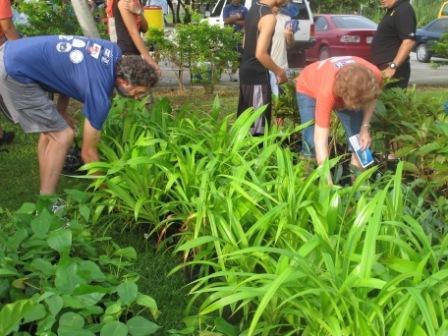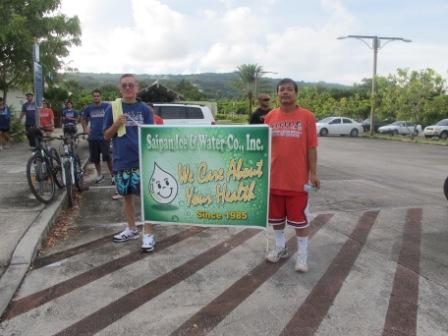 The Science of 350
Scientist say that 350 parts per million CO2 in the atmosphere is the safe limit for humanity. There's currently 389 parts per million (ppm) in the atmosphere. For more information, please click HERE for science factsheets, click HERE for policy facts, and click HERE for solution facts. Please visit their website at www.350.org to find out what the rest of the world are doing to bring awareness to our world leaders.
---
International Coastal Cleanup
Hard Rock Cafe & Mt. Carmel High School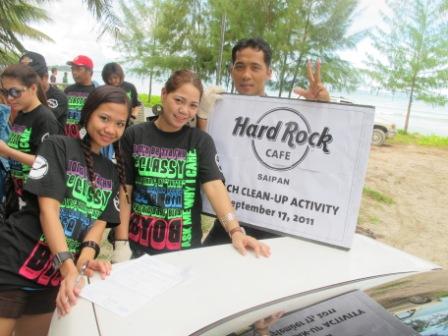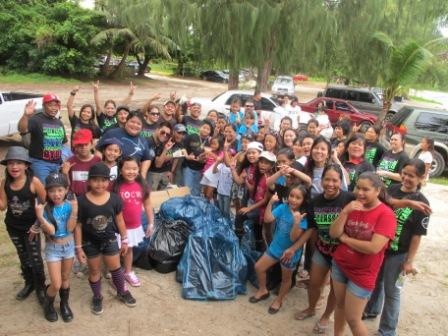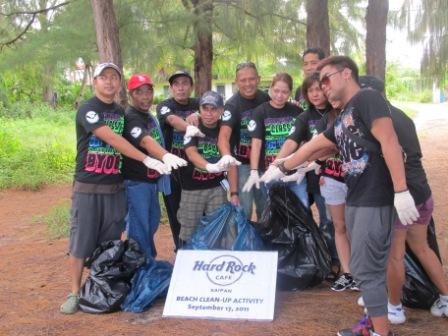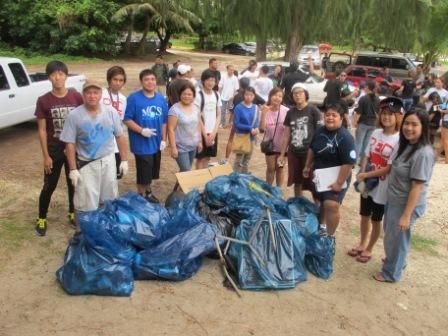 Hard Rock Cafe & Mt. Carmel High School students joined efforts to participate in the 2011 International Coastal Cleanup at Sugar Dock and beach behind Aquarius Hotel. The amount of marine debris collected on this day alone was about 98 lbs. or 42 bags filled with bottles, cans, plastic bags, metals, and numerous small items. Good Job Everyone!
---
Let's keep our beaches clean. It's everyone's responsibility.
---
No Need Bag Photoshoot Teaser!
---
This picture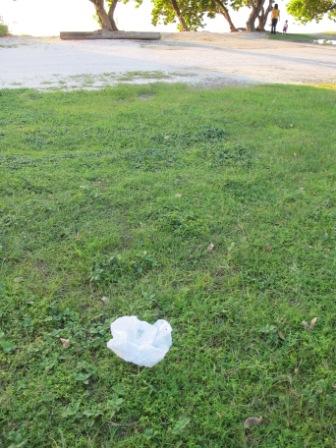 equals this picture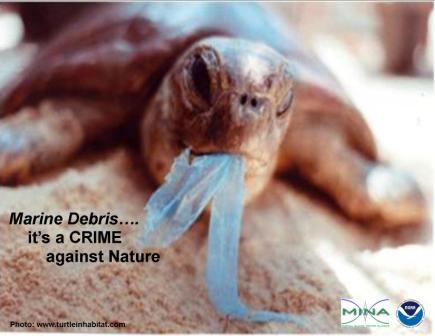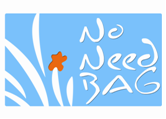 MINA pushes for Plastic Bag ban in CNMI
Plastic State of Mind is a music video from Green Sangha and New Message Media in the San Francisco Bay Area of California, using the power of humor and music to convey the message far and wide: the human species' obsession with short-term convenience is proving to have long-term devastation to our environment. Not only is plastic polluting our ocean, our air, and our landscapes, but even our own bodies. On top of banning single-use plastic bags and other community solutions, each of us needs to examine how we fulfill our own role to stopping our personal convenience addiction and starting to heal our environment. For more information or interview on the message behind the film, contact Stuart Moody at Green Sangha: Stuart@greensanha.org.
This video from YouTube summarizes one of our main goals for our upcoming campaigns... ENJOY!
MINA continues to partner with CRM and DEQ for the "No Need Bag" Campaign. If you would like to volunteer or want more information, please call us at 233-REEF, or email us at admin@minapacific.org.
---
Governor Fitial Signs House Bill 17-94
January 27, 2011, marked a monumental moment for the CNMI. Gov. Fitial signs House Bill 17-94 into law which prohibits any person from possessing, selling, offering for sale, trading, or distributing shark fins in the CNMI. This bill, now public law 17-27, is intended to address the harvesting of sharks for commercial purposes only. "Although shark finning is not an industry in the CNMI but it is a fact that we do have a market that serves shark fin base menus." says Aric Bickel of DEQ.
Aric also says "We wanted to show the international community that the CNMI does not support shark finning and also to avoid or prevent the possibility of establishing such industry here in the CNMI." Authored by Representative Diego Benavente, House Bill 17-94 is now Public Law 17-27. The Governor's office received an overwhelming support for the bill with very few oppositions. "I'm really happy that the legistlature passed it and now that the Governor signed it - it's the law! I'm truly impressed that our leaders and members of the community continue to endorse the Governor's committment to the Micronesia Challenge" says Sam Sablan, MINA Executive Director. Rob Steward, the Director of the numerous award winning film "Sharkwater" was there to capture the Governor signing the bill that will be later shown worldwide
---
House Local Bill 17-26 HS1!
As concerned citizens of the CNMI and Members of MINA, we kindly request for your comments on House Local Bill # 17-26 HS1 authored by Representative Stanley Torres. This bill will drastically change the future landscape and zoning laws on Saipan. Please CLICK HERE to read our new board member Herminia M. Fusco's letter to Governor Fitial, Lt. Gov. Eloy Inos, Rep. Tebuteb and Rep. Palacios to oppose this bill.
To learn more about House Local Bill 17-026 HS1 and about the CNMI's Zoning Laws, CLICK HERE.
To voice your opinion and contact our Government leaders directly, please CLICK HERE.
---
First Friday Film Voting!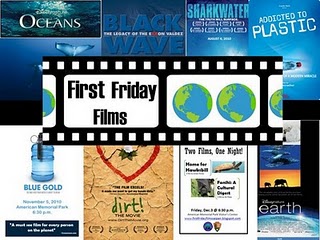 For the annual Environmental Awareness Month (EAM) put on by the Division of Environmental Quality, First Friday Films will be screening a number of movies throughout April, and we want your help to decide which ones will be shown!

Voting can be done on our First Friday Film home page (http://firstfridayfilmssaipan.blogspot.com/) throughout the month of March.

We will have 4 categories that fans can vote in:

Previously Shown Family Films

New Family Films

Previously Shown Environmental Films

New Environmental Films

The winning film from each category will be shown a couple times in April (the schedule will be posted on April 1st).
For more information please click here!
---
Please Sign Petition OPPOSING Telephone Poles to be Installed At Marpi Area!
The Office for Capital Improvement Projects is proposing the installation of new telephone poles to provide additional lighting at Marpi area. However, MINA would like to ask the community to join our efforts and oppose such projects that will change, and possibly ruin the natural and serene beauty that Marpi provides to the local residents and tourists alike. Although the installation of the telephone poles may be made temporary to accomodate future underground installation of ground power wires, we would like to be given the opportunity to voice our concerns and offer alternative solutions other than what is being currently proposed. To support this, please sign the petition today!
---
First Friday Films - Garbage!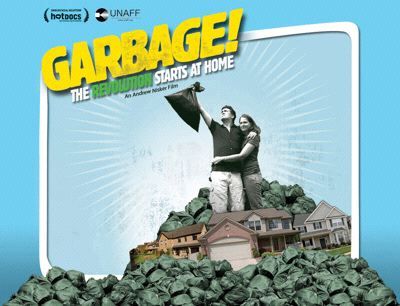 How much trash can one family generate and where does that garbage go? Come to the next First Friday Films on May 6 to find out. Garbage! The Revolution Starts at Home follows the revealing journey of one family after it decides to keep every scrap of garbage for three months.
Writer and director Andrew Nisker takes an average urban family, the McDonalds, and asks them to keep every scrap of garbage that they create for three months. He then takes them on a journey to find out where it all goes and what it's doing to the world.
From organic waste to the stuff they flush down the potty, the plastic bags they use to the water they drink out of bottles, the air pollution they create when transporting the kids around, to using lights at Christmas, the McDonalds discover that for every action there is a reaction that affects them and the entire planet.
The Pacific Historic Parks (formerly the Arizona Memorial Museum Association) Bookstore, located inside the visitor's center, will be open until 8:30pm. All proceeds go to community education programs.
As always, First Friday Films is free and open to the public, and is made possible with sponsorship from the Tan Siu Lin Foundation. For planning purposes, the movie runs 1 hour and 17 minutes long; find more information about the film at HERE.
---
Addicted to Plastic - First Friday Films!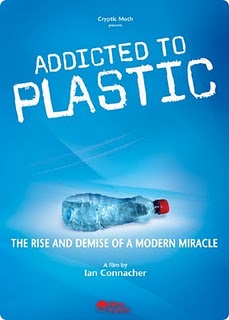 Our next First Friday Film - Addicted to Plastic -reveals the history and worldwide scope of plastics pollution, investigates its toxicity and explores solutions. The show starts at 6:30 p.m. on Feb. 4 at American Memorial Park. Come early to check out our informative lobby displays.
From styrofoam cups to artificial organs, plastics are perhaps the most ubiquitous and versatile material ever invented. No invention in the past 100 years has had more influence and presence than synthetics. But such progress has had a cost.
Addicted to Plastic shows the cycle of many different types of plastics we use everyday, the many threats they pose to our oceans and health, and the challenges with recycling plastic. It is "a wake up-call…a sort of eco-horror movie!" said Dr. M. Cervino of the Woods Hole Oceanographic Institute. It also presents unique and bizarre solutions to reducing, reusing, and recycling this useful yet toxic material.
For planning purposes, the movie runs about 85 minutes long. As always, First Friday Films is free and open to the public. Limited seating is available; please arrive early to ensure entry.
First Friday Films: Disney OCEANS
Disney's OCEANS will be featured at the next First Friday Films event-the first film for 2011. Bring the whole family to enjoy this beautifully shot movie on Friday, Jan. 7 at 6:30pm at American Memorial Park. A trailer for the documentary could be found here.
Nearly three-quarters of the Earth's surface is covered by water and OCEANS boldly chronicles the mysteries that lie beneath. Directors Jacques Perrin and Jacques Cluzaud dive deep into the very waters that sustain all of mankind-exploring the harsh reality and the amazing creatures that live within. Narrated by Pierce Brosnan and featuring spectacular, never-before-seen imagery captured by the latest underwater technologies, OCEANS offers an unprecedented look beneath the sea in a powerful motion picture.


The Pacific Historic Parks (formerly the Arizona Memorial Museum Association) Bookstore, located inside the visitor's center, will be open until 8:30pm. All proceeds go to community education programs. 


First Friday Films is a monthly film series brought to you through a partnership with the National Park Service and the Division of Environmental Quality, with generous support from community groups such as the Mariana Islands Nature Alliance.


For planning purposes, the movie runs about 80 minutes long. As always, "First Friday Films" is free and open to the public. Find more information at www.firstfridayfilmssaipan.blogspot.com. Subscribe to the blog for regular updates on upcoming events.
Calling On All Volunteers!
As part of our on-going effort to increase public awareness of debris polluting Saipan shores, MINA would like to call on its members and all other interested individuals to volunteer their time to help promote an Island Culture of Recycling, aimed specifically at reducing the debris found in the waters surrounding our island. Your time and efforts will assist us in meeting the Micronesian Challenge and improving our solid waste management. If you wish to volunteer and make a difference, you may contact Sam Sablan or Jon Igitol at the MINA office at telephone number 233 – REEF (7333), or send us an email at admin@minapacific.org.
2010 EXTRAS
December 2010
THANK YOU KATHY YUKNAVAGE & KAREN T. CABRERA!
Kathy Yuknavage, our Marine Debris Project Manager and Karen T. Cabrera, our Admin.Assist. & Outreach Coordinator are no longer working for MINA. Kathy Yuknavage is now working full time at their Brabu Pharmacy while Karen Cabrera moved to the states.
Kathy Y. was responsible for managing the marine debris project and has done an excellent job in making it a success. She established and implemented the Adopt-A-Bin program, the Litter Patrol Officers, School Presentations, the Volunteer Program, and other aspects of the project that contributed to its popularity and success. Although her contract expired in October 2010, she remains an active member of MINA and a proud co-founder.
Karen T. Cabrera resigned from MINA in late September 2010. She handled all administrative duties, updated our websites on a weekly basis, and is responsible for designing our new MINA t-shirts for both members and marine debris volunteers, invitations, and other materials used for outreach and education.
November 2010
First Friday Films: Double Feature!
Coming up on Friday December 3rd at 6:30pm, First Friday Films will be screening two short films at the American Memorial Park Visitors center that highlight two threatened and endangered species here in the CNMI; the Fanihi (Marianas flying fox bat) and the Hawksbill seaturtle.

Fanihi: A Cultural Digest, a short film shot in the CNMI by Jonathan Fowler, discusses the complex issue that is the conservation of this import animal. The film examines the ecological role the Fanihi plays on our islands as well as the cultural importance it has with the chamorro people.

Home for Hawksbill, a short film by Jordan Plotsky, tells the inspiring story of how three distinctly different cultural groups in the Solomon Islands came together to help protect this endangered species. The film details how these communities went from hunting the turtle to localized extinction to providing a safe haven for the animal that mutually benefits all the groups involved.

For planning purposes, the two films combined have an approximate run time of about 50 minutes. As always, First Fridays Films is free and open to the public. Find more information here.
October 2010
Fourth Installment of First Friday Films: Blue Ribbon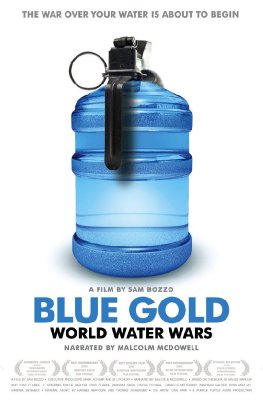 On Friday November 5th, First Friday Films will be screening the film Blue Gold: World Water Wars at 6:30pm at the American Memorial Park Visitors Center.
Four-time "Best Documentary" award winner, Blue Goldsheds light on the waste and overuse of one of our most precious resources: fresh water. The film discusses the practices that have lead to the dwindling supply of this limited resource and follows various examples from around the globe of people struggling to maintain their access and rights to water.
"differs from many others of the same vein in offering opinions and ideas from a varied number of professionals and experts that could lead to tangible solutions."
- HESO Magazine
"A must see film for every person on the planet."
- Greenmuse.com
Please join us for this wonderful film. For planning purposes, the film is 90min long. You can see the trailor below or learn more about the film by visiting their website here.
Thanks for getting "Trashed" with us on Friday!
A Letter From Aric:
Hello Friday Flickers,
Thanks for everyone who made it out to Trashed on Friday; it's great to see some of the same faces every month along with a bunch of new ones, so thanks for continuing to make these events a success.
Attached to this email are two great resources. One is a very simplified home composting how-to; the other is the DEQ overview of available recycling programs here in the CNMI. Please feel free to distribute, and especially to use. Additionally, below are two links to good composting sites that can give you a bit more information and some alternative methods depending on how serious of a composter you would like to become:
As announced Friday, next month we will be screening the film Blue Gold on November 5th. The film examines the wasting and over use of limited global fresh water supply and the conflicts that are building because of it. More information on the film including the trailer can be found at the website below:
As always, keep checking our website for more updates and more information on upcoming events.
Cheers,
Aric
Coral Management Fellow
Division of Environmental Quality
PO box 10001, PMB 59
Saipan, MP 96950
Phone: 670-664-8513
Fax: 670-664-8540
aricbickel@deq.gov.mp
Fourth Installment of First Friday Films: Trashed
By Aric Bickel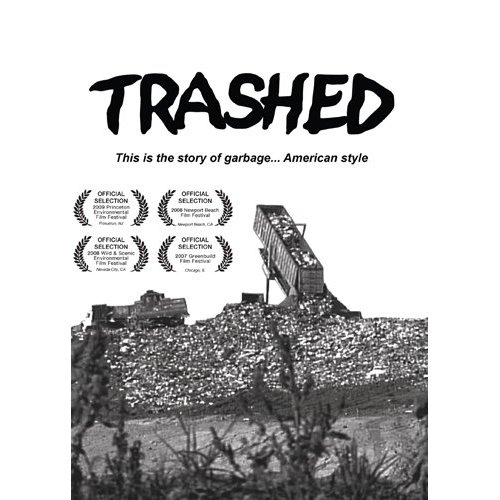 Official selection of the Newport Beach Film Festival, TRASHED takes us headfirst into the world of garbage. The documentary aims to show the world just what happens to solid waste after it leaves our hands and homes. TRASHED encourages viewers to rethink the way that we consume products, reconsider the amount of waste we produce, and refocus on the pervasive environmental issue of over-consumption.
Following the film, Steve Hiney from the Soild Waste division of Public Works will be talking a little trash and taking questions from the audience.
For planning purposes the movie is 77min long and starts at 6:30pm at the American Memorial Park Visitors center, but come early as we will have reusable grocery bags courtesy of DEQ for the first 50 attendees and a bunch of great lobby exhibits for you to browse through (doors open at 6:00pm).
As always the event is free and open to the public. For more information on this movie and our other films, including trailers, please visit our website at firstfridayfilmssaipan.blogspot.com
We hope to see everyone this Friday!
MINA and PMRI Welcomed Coral Reef Task Force with Happy Hour Event
September 15, 2010 The Board of Directors and staff of MINA busied themselves preparing for the Coral Reef Task Force welcoming event. Initially deciding between two different venues and a lengthy list of local dishes, MINA was able to settle on the grounds of the Saipan Museum with just a handful of local finger foods ranging from chicken kelaquen and titiyas, to tuna poke, mutsiyas, and tamales gisu. On September 14th, the members of the Coral Reef Task Force began arriving in rented vehicles and hotel shuttles around 5:30 PM, just as the "Ice Chest Band: because we're cooler than you" began to strum the beat of island acoustic rhythm. Upon their initial arrival, members began intermingling with each other and with representatives from MINA, PMRI, DEQ, and other involved government entities, including the Governor himself.
Coral Reef Task Force members and other invited guests appeared to have been involved in pleasant conversations regarding their current visit to the island and the events that had been taking place. About 30 minutes later, MINA Chairwoman Fran Castro asked everyone to kindly stand and say grace. Some guests began lining up to eat while other guests carried on with their conversations, and eventually made it to the food table to partake in the meal awaiting them. Coral Reef Task Force members and all other guests listened to presentations by Reina Camacho of Mariana Islands Nature Alliance and Dr. Peter Houk of Pacific Marine Resources Institute while eating dinner. After Dr. Houk concluded his presentation, guests made their way into the Saipan Museum. Visitors remarked on how fascinating the museum was due to the ancient latte stone sketches, gold acquired from the sunken ship The Concepcion, and other art forms displayed that depicted the past that once lived in the Marianas.
A little before 8:30 PM members of the Coral Reef Task Force were settled into the hotel shuttle or in their rented vehicles and seen leaving the premises; an early ending to prepare the members for the Conference scheduled for the following day. The Mariana Islands Nature Alliance and Pacific Marine Resources Institute was delighted to host the members of the Coral Reef Task Force.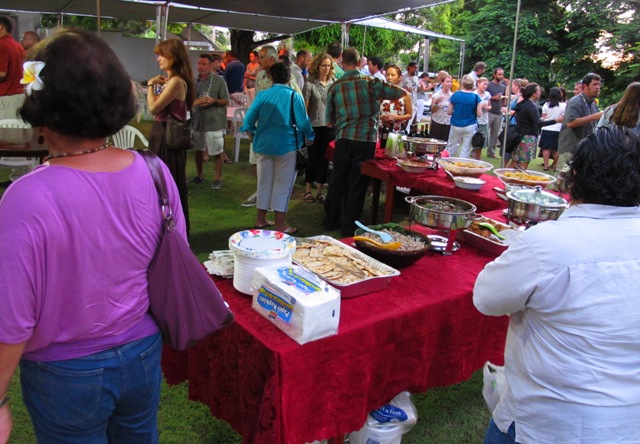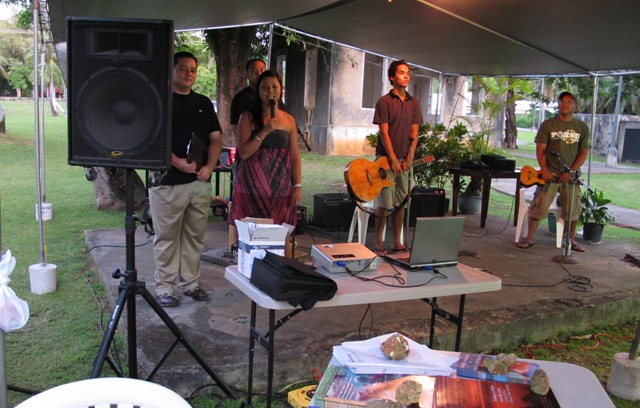 Guests seen socializing prior to eating dinner. MINA Chairwoman Fran Castro asked everyone to rise and say grace.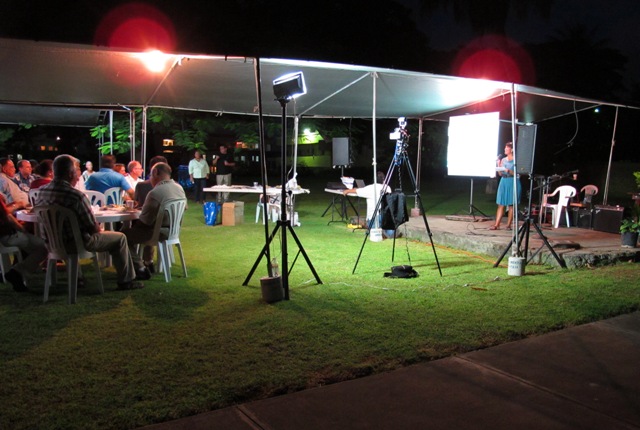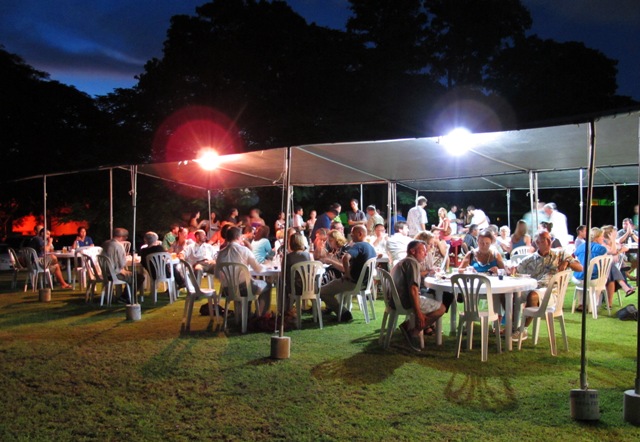 Reina Camacho delivers a presentation during dinner. Guests listening and engaging in conversation during Dr. Houk's marine presentation.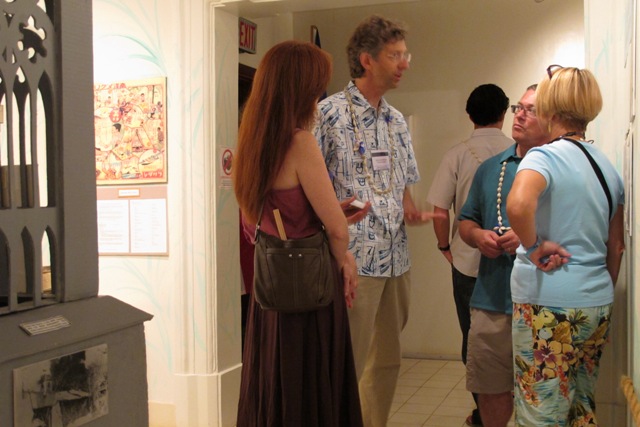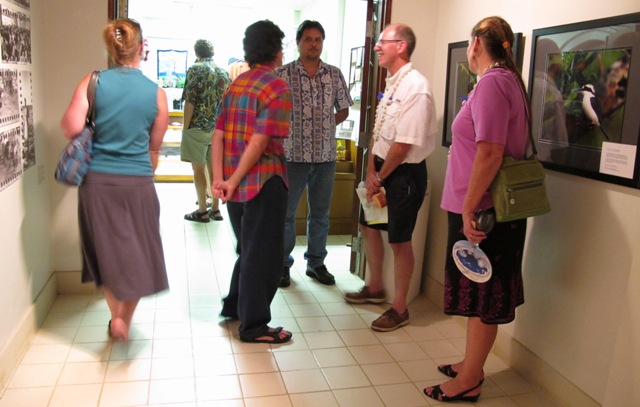 Members conversing inside the Saipan Museum. Members of the Coral Reef Task Force seen conversing with
the Saipan Museum Director Robert Hunter.
---
Third Installment of First Friday Films: Dirt!
It's once again time for us to meet at the American Memorial Park Visitor's Center to enjoy September's First Friday Film Dirt!
Think that dirt is simply the brown or black stuff stuck to the bottom of your sandals on a rainy day? Think again because dirt is so much more that that; "We depend on dirt to purify and heal the systems that sustains us."
Join us tomorrow night, September 03, 2010 at 6:30 PM to watch the documentary that won four awards, including the official selection of the 2009 Sundance Film Festival, Dirt!
We hope to see you there!
For more information check out the First Friday Film on Blogspot or watch the official trailer!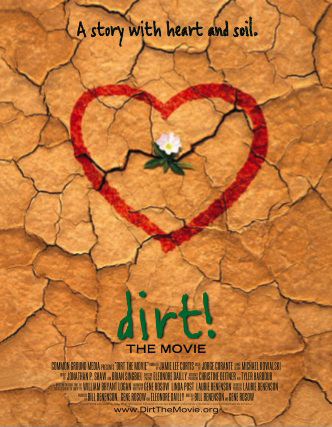 August 2010
Dr. Tighe presents Eco-tourism
Marine Science and Policy advisor Dr. Stacey A. Tighe, based in Honolulu, HI, discussed the many aspects of ecotourism and why it would be beneficial to the CNMI economy during a special presentation held at the American Memorial Park auditorium on August 11, 2010.
Dr. Tighe left nothing out of her one-hour presentation, covering everything from Why ecotourism? and Why the CNMI? to the Themes, Scale, and "Flavors" of sustainable tourism. She offered a memorable quote regarding how ecotourism should be treated, saying "Take Nothing but Pictures, Leave Nothing but Footprints and Waste Nothing but Time", which was listed as one of the basic fundamentals of sustainable tourism.
Prior to the beginning of her presentation Dr. Tighe thanked all the individuals present and MINA for promoting the event amongst its members and members of the local community. The presentation was well attended by all interested individuals.
Click here to see media coverage by the Marianas Variety and Saipan Tribune.
---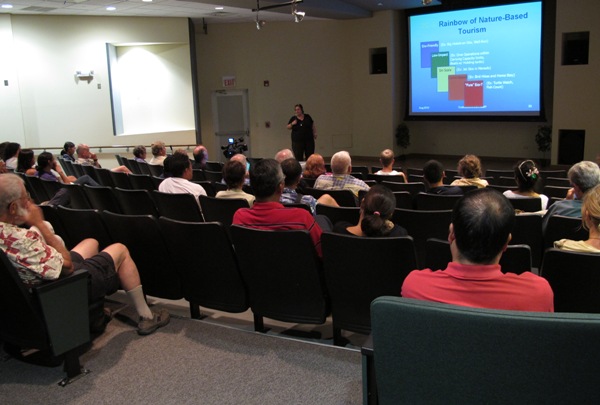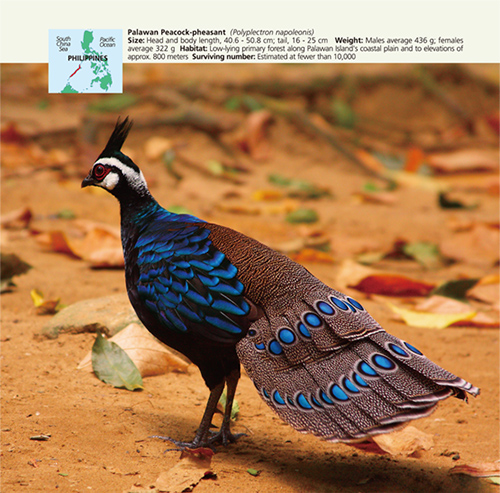 National Geographic & Canon Photo of the Month
Photographer Kurt W. Baumgartner donated ten high resolution photos featuring some of the endangered species found in the Marianas to MINA in May of this year. The photos were shipped to Saipan just in time to be displayed at MINA's annual General Membership Meeting. In front of a full house of then existing and new members, MINA moved through the agenda, but not before thanking the photographer and highlighting his photos, which were displayed around the venue for all members to enjoy. Ranging from the Marianas Crow, to the Marianas Fruit Bat, to the common Tree Snail, MINA members were impressed with the photos, evident by their unending warm comments and expressions of gratitude.
Since then MINA has been displaying the photos at DFS Galleria, and in the coming months this photo presentation will be moved to another venue (that will be announced at a later date) and to the CNMI Museum for the scheduled Coral Reef Taskforce meeting taking place next month. Additionally, Kurt W. Baumgartner's photo of a Palawan peacock-pheasant was featured in July's issue of National Geographic, selected by Canon as that month's issue of Wildlife As Canon Sees It.
---
Pacific Ocean Is Home of Rare Coral
An underwater survey of an atoll in the Marshall Islands accidentally lead Australia's Centre of Excellence for Coral Reef Studies researchers to discover a colony of the world's most rare coral, the Pacific elkhorn, scientifically known as the Acropora rotumana.
Further information, including a photo of the Pacific elkhorn coral, can be found here.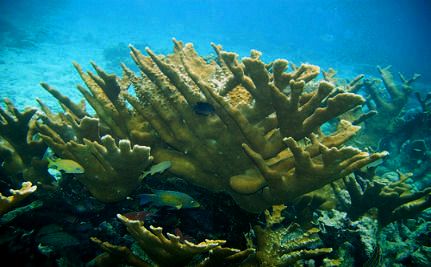 A talk on "Eco-tourism - good for the CNMI?"
will be presented by Stacey A. Tighe on Wednesday, August 11, at 6:00 p.m. at the American Memorial Park auditorium (place not yet confirmed). She will discuss costs and benefits of alternative options, and their compatibility, feasibility in the CNMI. Tighe holds degrees in marine policy, biology and geology, and currently serves as Senior Regional Coordinator and Program Integrator for U.S. support to the six countries on the Coral Triangle Initiative (Indonesia, Philippines, Malaysia, Timor Leste, Papua New Guinea and the Solomon Islands).
July 2010
---

Second Installment of First Friday Films: Sharkwater
Queue the shark music and mark your calendars for the 31 time international award winning documentary Sharkwater. The second installment of First Friday Films will feature a free showing of the film on August 6th, 7:00 PM at the American Memorial Park Visitor's Center.
Sharkwater offers a unique insight of the important role sharks play in our oceans. Director Rob Stewart, addresses how the fear of sharks had led to their mismanagement and how the killing of sharks is damaging to ocean ecosystems and ultimately to humans.
This film along with every other "First Friday Film" is free and open to the public. Any further information can be found here.
---
Saipan Tribune features MINA's Endangered Species Display at DFS Galleria
(a copy of the following article can be found here)

DFS photo exhibit showcases NMI's endangered birds
By DENCIO MANGLONA
Student Intern

Tourists browsing through merchandise at the Duty Free Galleria Saipan are currently being treated to a photo exhibit featuring some of the CNMI's endangered birds.

Veteran nature photographer Kurt Baungartner, in coordination with the Mariana Islands Nature Alliance, came up with the exhibit to support the Micronesian Challenge, a preservation effort by Micronesian territories to preserve their natural resources. In this case, the culturally essential birds of the CNMI.

"We wanted to showcase the wildlife of Saipan," said DFS assistant general manager Vicente Babauta.

The DFS exhibit displays just a few of the photos taken by Baumgartner and includes the Nightingale Reed Warbler and Golden White-eye birds.

Baumgartner's contribution to MINA's efforts in the Micronesian Challenge was well received by the MINA board, according to board member Agnes "Sam" Sablan. MINA received numerous fauna photographs from Baumgartner earlier this year and, together with his wife, arranged for them to be displayed to promote public preservation awareness.

"We're catching up with FSM [Federated States of Micronesia] and because of this [contribution], the people of Saipan," Sablan said.

Copies of the photographs are currently available for purchase and proceeds will fund MINA projects.

MINA members got the chance to look at the photos at the organization's annual membership meeting last April this year.

Baumgartner is a long-time conservationist photographer and has been a member of MINA since the nature organization's inception in May 2005. His photos have been featured in magazines such as the National Geographic.

The exhibit displayed at DFS will be moved around to other public areas, according to Sablan, with the Northern Marianas College being the next venue
MINA Takes Third Place at the Make-A-Wish "A Child's Wish." Sandcastle Competition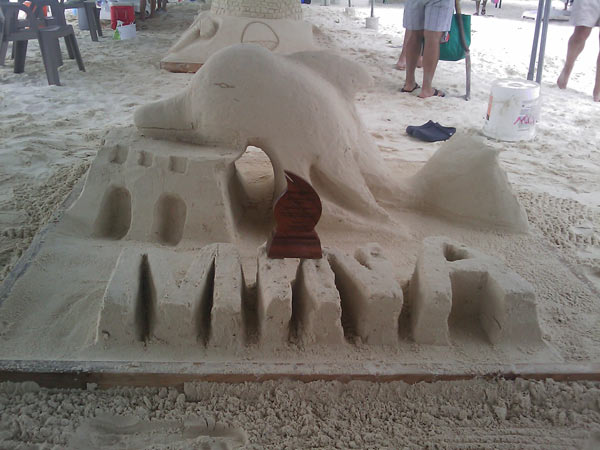 The MINA board, composed of MINA officers Alex Sablan, Ben Babauta and Ron Smith as well as MINA member Wongduen "Moon" Phanthajaitham spent a day at the beach hauling water and shoveling sand to help benefit the Saipan Make-A-Wish Foundation. Hours of sweat and toil paid off unexpectedly in a third-place finish. The MINA entry, showing a dolphin on top of a building, expresses a child's wish that endangered and threatened species will be able to survive and eventually overcome the pressures caused by human activiites. MINA donated back the $100 cash third prize to the Make-A-Wish Foundation.
MINA Sponsors First Friday Film - Black Wave
The Mariana Islands Nature Alliance (MINA) together with the Division of Environmental Quality (DEQ) is sponsoring the First Friday Films which will commence on Friday, July 2, 2010 at the American Memorial Park Visitors Center. The first feature film will be Black Wave, a film about the 20-year legacy of the Exxon Valdez oil spill in Alaska. A discussion will follow about the ongoing oil spill disaster in the Gulf of Mexico.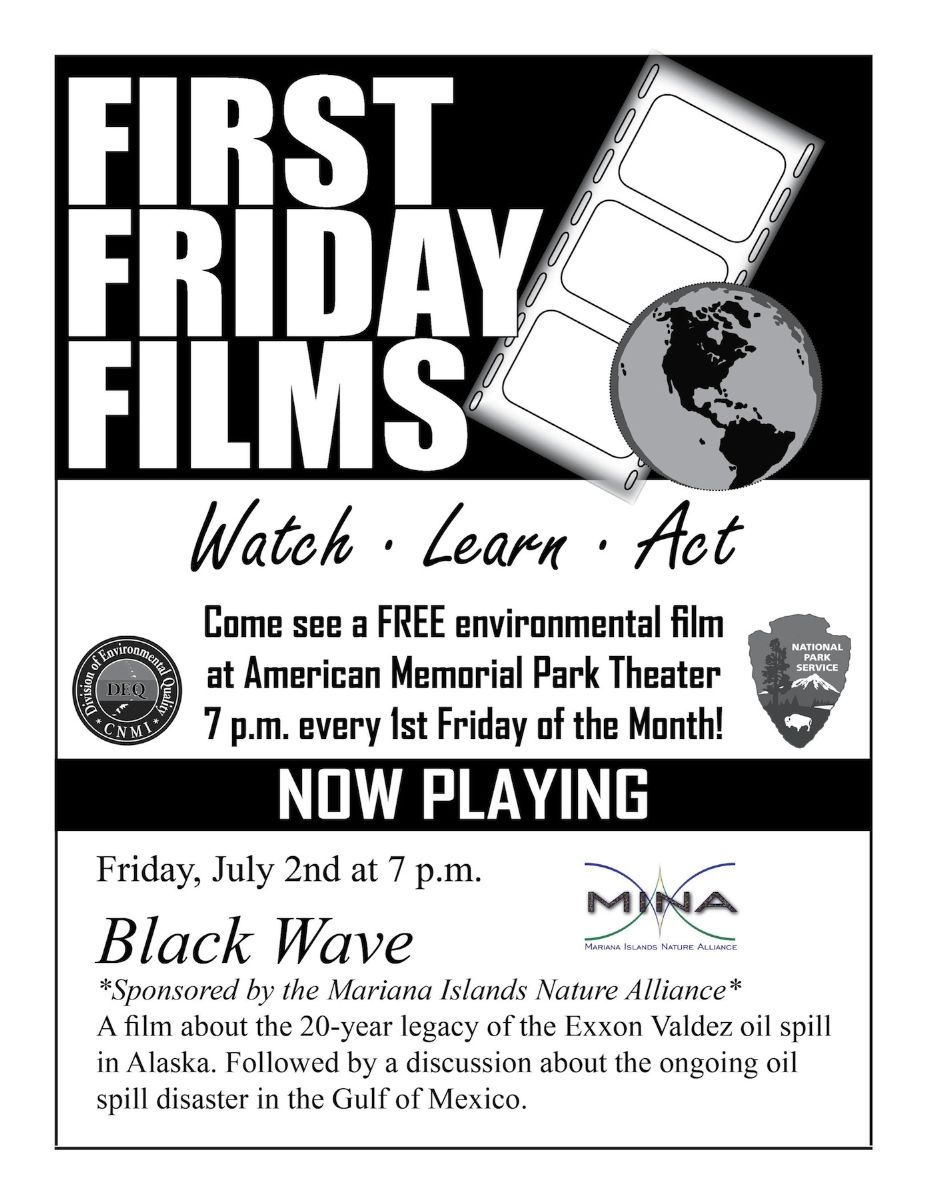 January 2010
MINA Receives $200 from Marianas Bikini Open 2010
MINA was chosen as the receipient of the proceeds from the Marianas Bikini Open 2010 by Hard Rock Cafe and Event Coordinator Sharmaine Esquero. The event featured contestants wearing costumes made from recycled materials, formal wear, and other clothes provided by sponsors such as Hard Rock Cafe. The event is intended to highlight environmental issues among the youth on the islands.

2009 Extras!
November 2009
Educators explore connections between land and sea
Educators from around the island explored ways to bring coral reef education into their classrooms at the 2009 Teacher Camp.
The teacher workshop based on the "Ridge to Reef" theme looked at the connections between land and sea, and explored ways in which teachers can share that knowledge with students. Land-based pollution is one of the greatest threats to coral reefs today.
Together with field experts, the teachers toured Kagman Wetland Education Island, Garapan Watershed and Tank Beach - part of the Forbidden Island Marine Sanctuary. The camp was held Saturday, Nov. 21.
Teachers took home activity folders, which will help them develop lesson plans. As a follow-up to the camp, upon completion of three "Ridge to Reef"-related lesson plans, teachers and their classes will embark on educational field trips funded by Mariana Islands Nature Alliance (MINA).
The camp is a combined effort of MINA, Coastal Resources Management Office, the Division of Fish and Wildlife, the Division of Environmental Quality and the CNMI Coral Reef Initiative.
The following is a list of camp presenters and topics:
Brooke Nevitt, Coastal Resources Management: Ridge to Reef: Making the Connections
Lisa Eller, Division of Environmental Quality: Watersheds
Laura Williams, Division of Fish and Wildlife: Wetlands
Kathy Yuknavage, Mariana Islands Nature Alliance: Marine Debris
To learn more about upcoming Teacher Camps, contact Brooke Nevitt, CRM Education and Outreach Coordinator at 664-8300.
Kids4Kids Carnival RESCHEDULED to November 11th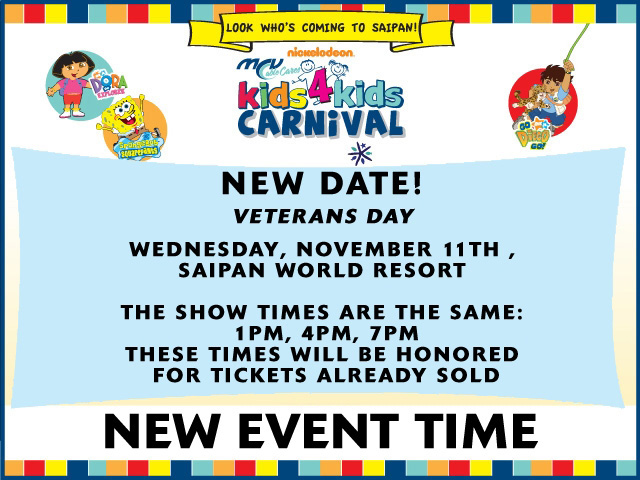 Please join us November 11th at the World Resort Jungle Park to meet Sponge Bob and Dora the Explorer. Stop by MINA's Marine Debris Removal learning station to find out what you can do to keep Sponge Bob's home free and clear of marine debris.
October 2009
MINA organizes 350 event - A Call for Climate Action
On October 24th—People from around Saipan will gather to participate in the largest day of climate change activism ever. Participants will join more than 2,000 communities in over 150 countries as part of a global day of action coordinated by 350.org to urge world leaders to take bold and immediate steps to address climate change and reduce carbon emissions.
Events in Saipan will include:
A marine monitoring demonstration at one of several coral bleaching sites

An eco-bag giveaway to promote recycling and reuse at Payless Supermarket

A gathering of church members in recognition of the issue of climate change to form a human 350 at Mt. Carmel Cathedral lawn

A gathering of ocean sports athletes at a community-wide canoe paddling competition at the Fiesta Resort.
All events will occur at approximately 9:00 a.m. on October 24, 2009.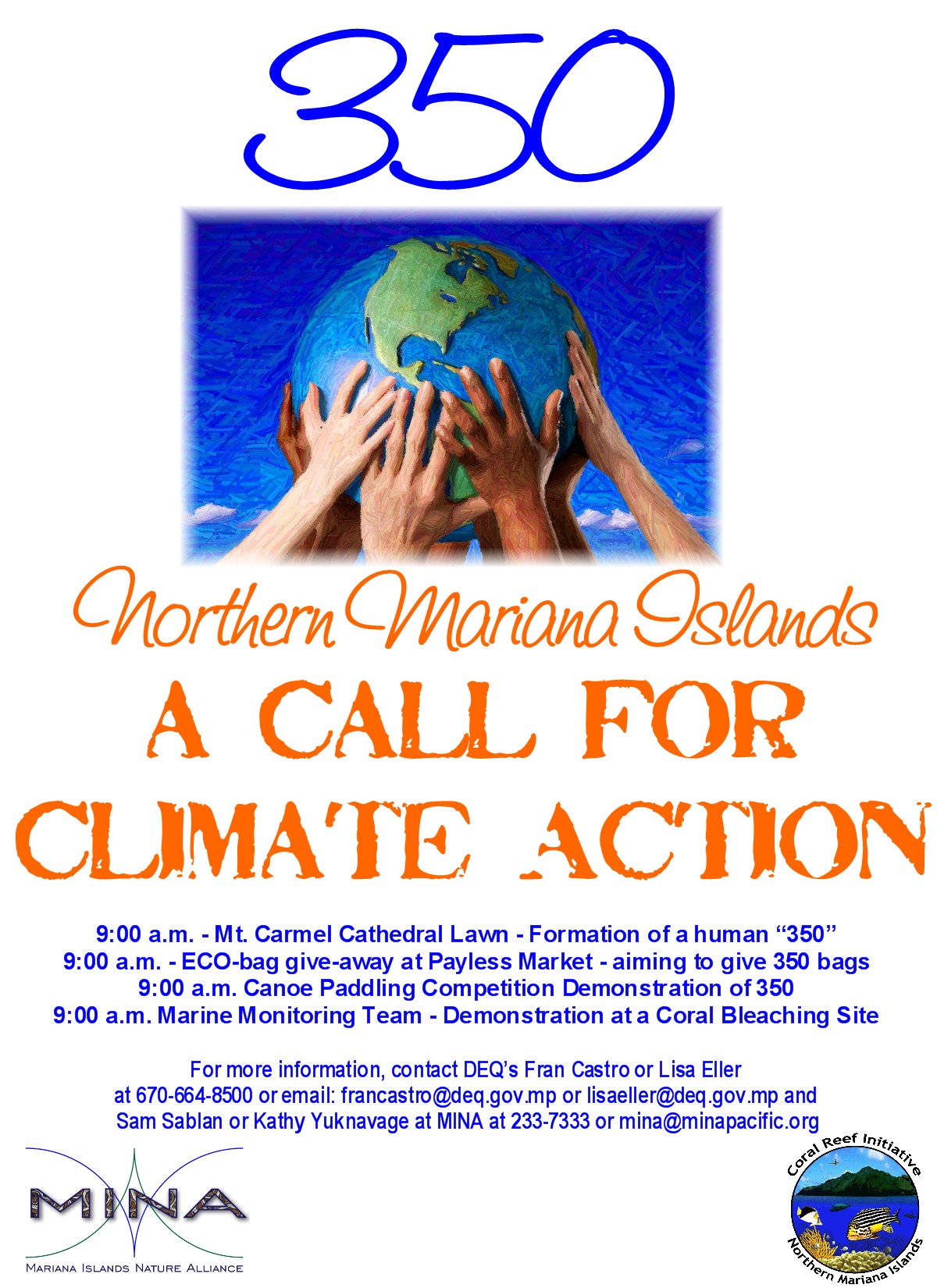 September 2009
MINA Receives Marine Debris Grant
The Mariana Islands Nature Alliance (MINA) aims to cut the amount of Saipan's marine debris and promote recycling through a project newly funded by the National Oceanic and Atmospheric Administration's Marine Debris Program.
A local nonprofit, MINA received a $100,000 competitive grant from NOAA to fund its project titled, "Establish an Island Culture of Recycling to Reduce Marine Debris in Saipan's Waters."
Through the grant, industrialized recycling bins will be purchased and placed in 7 high visibility beach sites. The project objectives are to: 1) prevent harm to living marine resources by reducing the amount of land-based marine debris entering Saipan's waters; 2) restore natural scenic views to revive the CNMI as an eco-tourism destination; and 3) extend the life of Saipan's Landfill through increased recycling.
MINA will accomplish these objectives by conducting an 18-month Marine Debris Education and Outreach Campaign to increase public awareness of debris impact by 25% and to establish an Island Culture of Recycling, through the promotion of proper waste separation and disposal, thereby reducing the amount of land-based sources of marine debris by 70%. These strategies will remove both real and perceived barriers to proper waste disposal, resulting in a decrease of beach litter and marine debris.
MINA will also partner with businesses to promote a community "Adopt-A-Bin" Program, which will pay for recycling bin acquisition and, maintenance and waste hauling. Each business will be able to place their logo on bins, sponsoring them for one (1) or more years. The program will promote and provide recognition for Saipan's eco-friendly and community-oriented businesses.
The grant also provides job opportunities for a part-time Executive Director and a project manager for the Marine Debris program.
MINA is a nonprofit organization dedicated to the conservation of the diverse natural resources of the Northern Mariana Islands. MINA's members come from all walks of life and are united by the clear understanding that the people of the Northern Mariana Islands have the right and responsibility to act as stewards of their natural inheritance.
For more information, please contact the MINA Office at 670.233.7333, email mina@minapacific.org or visit http://minapacific.org.
June 2009
Pacific Islands Environment Conference
Register for the Pacific Islands Environment Conference which will be held on June 22-26, 2009 at the Saipan World Resort. You can register online at www.deq.gov.mp. Topics include: alternative energy, climate change, the Micronesia Challenge, Marianas Military Buildup, Coral Reefs and Watersheds, Brownfields, Water and Wastewater and Education and Outreach.
February 2009
US Military Expansion
Would you like to comment or express your concerns about the proposed expansion of US military training exercises in the CNMI?
A copy of the draft Environmental Impact Statement (DEIS) for the Mariana Islands Range Complex as well as a comment submission form is available at the Mariana Islands Range Complex Environmental Impact Statement website.
NEPA workshop
Public hearings are an important part of the National Environmental Policy Act (NEPA) process. Want to learn more about your role? MINA will be co-hosting a NEPA workshop for the general public this Summer in coordination with the National Park Service. The specific date and time will be announced via email and on this webpage approximately two weeks before the event.
Talakhaya revegetation continues!
A total of 21, 498 tree and grass seedlings were planted at the Talakhaya watershed.
The watershed is located on the island of Rota. It has suffered from illegal burning and severe soil erosion. Local resource agencies, schools, community organizations and volunteers are partnering to restore this watershed.
MINA continues to assist in this revegetation project in facilitating the payment of volunteer stipends to approximately 25 unemployed residents of the island of Rota. Future revegetation efforts are in the planning phase.
September 2008
Coral Reef Teacher Camp

On September 4th and 5th Coastal Resources Management Office, Mariana Islands Nature Alliance, and the Pride Campaign hosted the 2008 Coral Reef Teacher Camp. Working in conjunction with PSS Professional Development days, the Teacher Camp was an opportunity for teachers to learn about the CNMI's coral reefs and how to incorporate coral reef education into their lesson plans.
During the two day camp, experts from the Division of Fish and Wildlife, the Division of Environmental Quality, Coastal Resources Management Office, and MINA discussed with teachers a range of topics from coral reef biology to enforcement. The group also went on field trips to talk and learn about coral reefs outside the classroom and in the field.
In addition to these activities, teachers met Primo, the Yellow Crowned Butterflyfish. As the mascot for the CNMI Pride Campaign, Primo's mission is to introduce the community to his special species and remind people about the importance of caring for our reefs. The Yellow Crowned Butterflyfish is found only in the Marianas—no where else in the world! If you see Primo at school, at the Street Market, or any other event, be sure to say "hi."
To successfully complete the camp, each teacher will contribute three lesson plans. Two of which will take place in the classroom, and one which will take students out into the field for a "hands-on" learning experience. And, it doesn't end there. These lesson plans will be shared with other teachers and incorporated into next year's teacher camp program.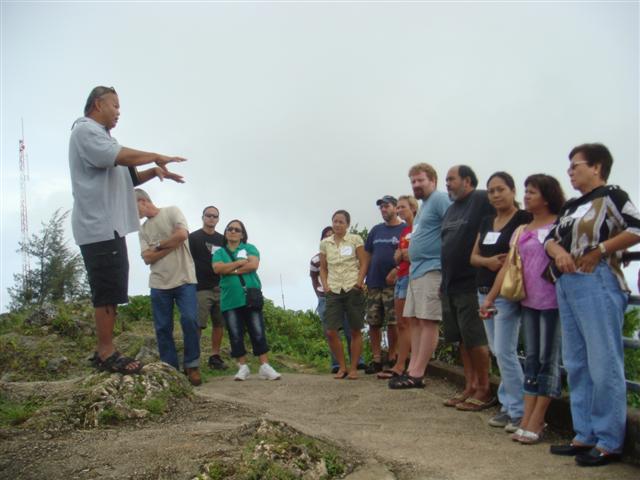 For more information, or to participate in the next Teacher Camp, call Brooke Nevitt at Coastal Resources Management Office 664-8320 or send an e-mail to pridecnmi@gmail.com.
May, 2008
Thank You Light in the Eve!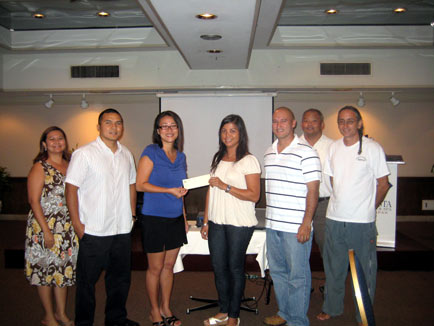 L-R MINA Board Member Reina Camacho, LITE's Peter Sablan, LITE President Teresa Kim, MINA Chair Fran Castro, MINA Vice-Chair Laurence Boyer, MINA Secretary Chuck Sayon
and MINA Board Member Ron Smith accept the check from Light in the Eve.
The Mariana Islands Nature Alliance (MINA) received $6,000 from the Light in the Eve Foundation (LITE) at MINA's annual general membership meeting held on Friday, May 30 at the Fiesta Resort and Spa. The $6,000 will go towards the 2008 Teacher Summer Camp.
New Board Member
MINA would like to welcome their new board member, Ms. Agnes M. Sablan also known as Sam. Sam has recently moved back to her home in Saipan. She is also a member of Famoksaiyan, a successful nonprofit organization in Northern California. Sam also attended the Government of New Zealand and the South PacificCommission's (SPC) Fisheries Training Section for Seafood Enterprise Operations and Management for Pacific Island Women, and also graduated from the School of Culinary Arts in San Francisco.
Board Size Reduced
By vote of the board, the MINA By-Laws have been amended to reduce the number of the Board of Directors to 9.
Current Board Members
Frances A. Castro, Chair
Laurence Boyer, Vice-Chair
Chuck F. Sayon, Secretary
Vacant, Treasurer
Kathy L. Yuknavage, Board Member
Reina C. Camacho, Board Member
Ron Smith, Board Member
Agnes M. Sablan, Board Member
November 2007
Obyan Rehabilitation Project:
Over 25 volunteers from the Mariana Islands Nature Alliance (MINA) membership, and other government, and non-government organizations within the Beautify CNMI! coalition, toiled in the rain on November 10, 2007 to address erosion at Obyan Beach. Several coirs of natural fiber were installed as a non-point source pollution prevention best management practice. Volunteers learned how to roll and secure the coirs using "nanaso" (Scaevola sericea) shrubs to create a stormwater barrier for dispersing run off.
Historical Preservation Office Archaeologist, Ronnie Rogers, assisted with the planting and noted that erosion has been a problem for some time at the site, "so much soil has been removed from some areas that we were seeing pit features, including burials, exposed after hard rains. Blocking off the area to prevent vehicular access and re-establishing plants has stabilized the site and protected it from further damage. This project is a good example of how protecting natural resources can also protect our cultural resources."
MINA Project Coordinator, Kathy Yuknavage, said that "Saturday's planting was successful thanks to guidance from NRCS and DLNR Division of Forestry; and the materials provided through grants from the US Fish and Wildlife Service and NOAA." She also thanked the Beautify CNMI! coalition for donating refreshments towards the cause. At the end of the day two lucky volunteers won water park passes to attend MINA's fundraising event held at PIC on Veteran's Day.
Update 01/28/2008: Then & Now:

Lower Parking Area, before and after

First Access, before and after
Also see "Improving Beach Access"
Last Updated 2/20/2009 11:14:05 AM